Noah Kim feeling steady in QB competition heading into Michigan State's spring scrimmage
3 min read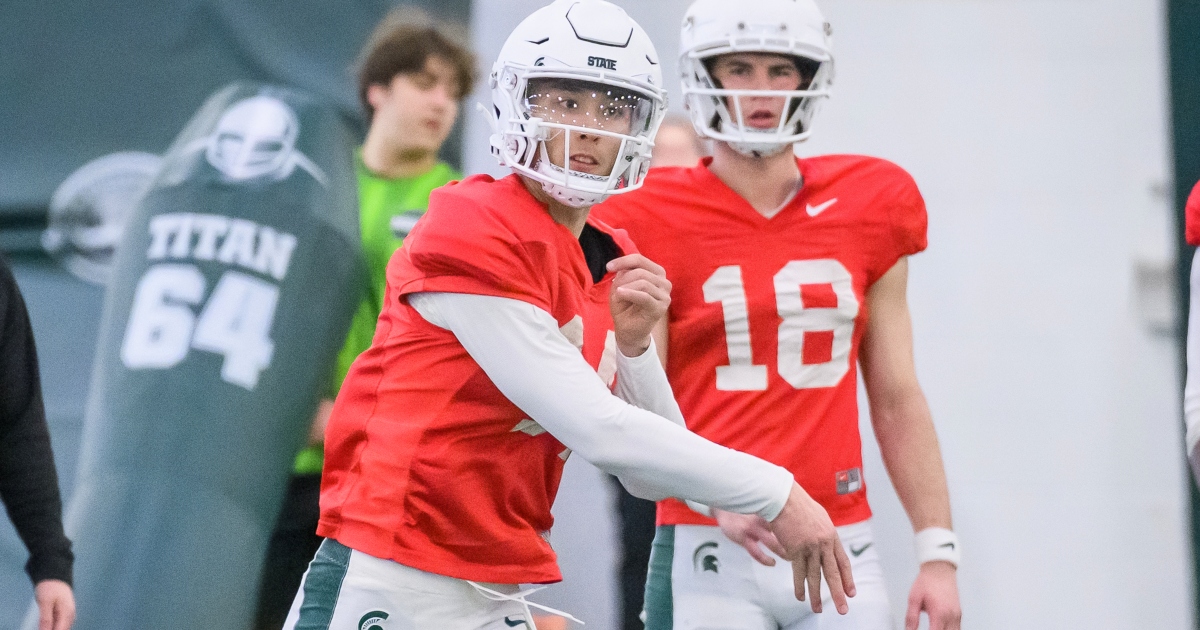 East Lansing, Mich. – Noah Kim needed to have a strong spring at Michigan State in order to gain ground on returning starter Payton Thorne in the competition for the starting quarterback position. Coaches likely won't reveal to the public who the starter will be for the season opener in September until minutes prior to kickoff. But all indications are that Kim hasn't hurt his candidacy this spring.
The coaches want open competition at all positions, and Kim is doing his best to keep things in doubt heading into the summer. Both veteran quarterbacks, and redshirt-freshman Katin Houser, will complete the spring primaries at 2 p.m., Saturday, during the annual spring scrimmage at Spartan Stadium.
Thorne (6-2, 210, Sr., Naperville, Ill.) has 26 career starts. His 49 career TD passes rank No. 4 in school history. 
Kim (6-2, 185, R-Jr., Centreville, Va.) saw his first action as a college QB last fall, appearing in four games for the Spartans. He completed 73 percent of his passes and threw three touchdown passes on just 19 attempts. He was 14-of-19 for 174 yards on the year.
"I try not to think about what happened last year and who did this and who did that," Kim said after practice on Tuesday, when team officials made him available to media. "I'll take a few things that I thought I did well last year and try to keep doing that consistently, or a few things I need to work on and improve in those areas."
Michigan State media relations personnel said Houser will be available for interviews after the scrimmage on Saturday.
Sources tell SpartanMag that Kim has played well in each of the two closed scrimmages this spring.
In the three-player QB race, Kim is often the overlooked one in the bunch. Thorne has the most experience, having been the starter for the past two seasons. Houser arrived with more recruiting hype than the others, having risen to four-star status in 2022 and a No. 210 spot in the On3 Industry Rankings.
Kim is entering his fourth year in the program. He has toiled as a reserve since he enrolled in 2020, which is reason some fans may overlook him and get excited about the latest arrival – Houser. But Kim hasn't stopped progressing. And he's not concerned about outside perceptions.
"I don't really think about being the overlooked one in the room," Kim said. "If Spartan fans want to know about me, they should know I'm a hard worker and I come to practice every day ready to work."
Although Kim doesn't have the experience or hype around him as others in the competition, that hasn't affected his preparation. In practice, and in brief appearances on gameday, he has shown the ability to rally a huddle with his body language and verbal cues.
All three quarterbacks have taken reps with the first and second string this spring. Kim feels good about the strides he's making, including a TD pass to Montorie Foster during last Saturday's scrimmage, which created some buzz around the building.
Kim also noted that he has put on a few pounds during the off-season to his slim build. He is listed at 6-foot-2, 185 pounds on Michigan State's spring football roster but he says he's about 190-195 pounds now with some more room to grow.
If Kim is closing ground on Thorne, he says little has changed within his mindset. Meanwhile, he doesn't begrudge the attention Houser has received as the interesting newcomer.
"We try not to make it seem different," Kim said. "A lot of people can see it as being different, but we try not to make it seem that way because you want everybody to come into college when you're a freshman thinking that it's an open competition. That's the way it should be. At a high level program like Michigan State, we try to bring in the best recruits that we can. They are supposed to push everybody in the program that is already here. That's what we are doing right now."
(SpartanMag publisher Jim Comparoni contributed to this report).
The post Noah Kim feeling steady in QB competition heading into Michigan State's spring scrimmage appeared first on On3.