Norchad Omier's mentor, Art Alvarez, reflects on the big man's unlikely path to Miami and the Final Four: "He can't believe it"
3 min read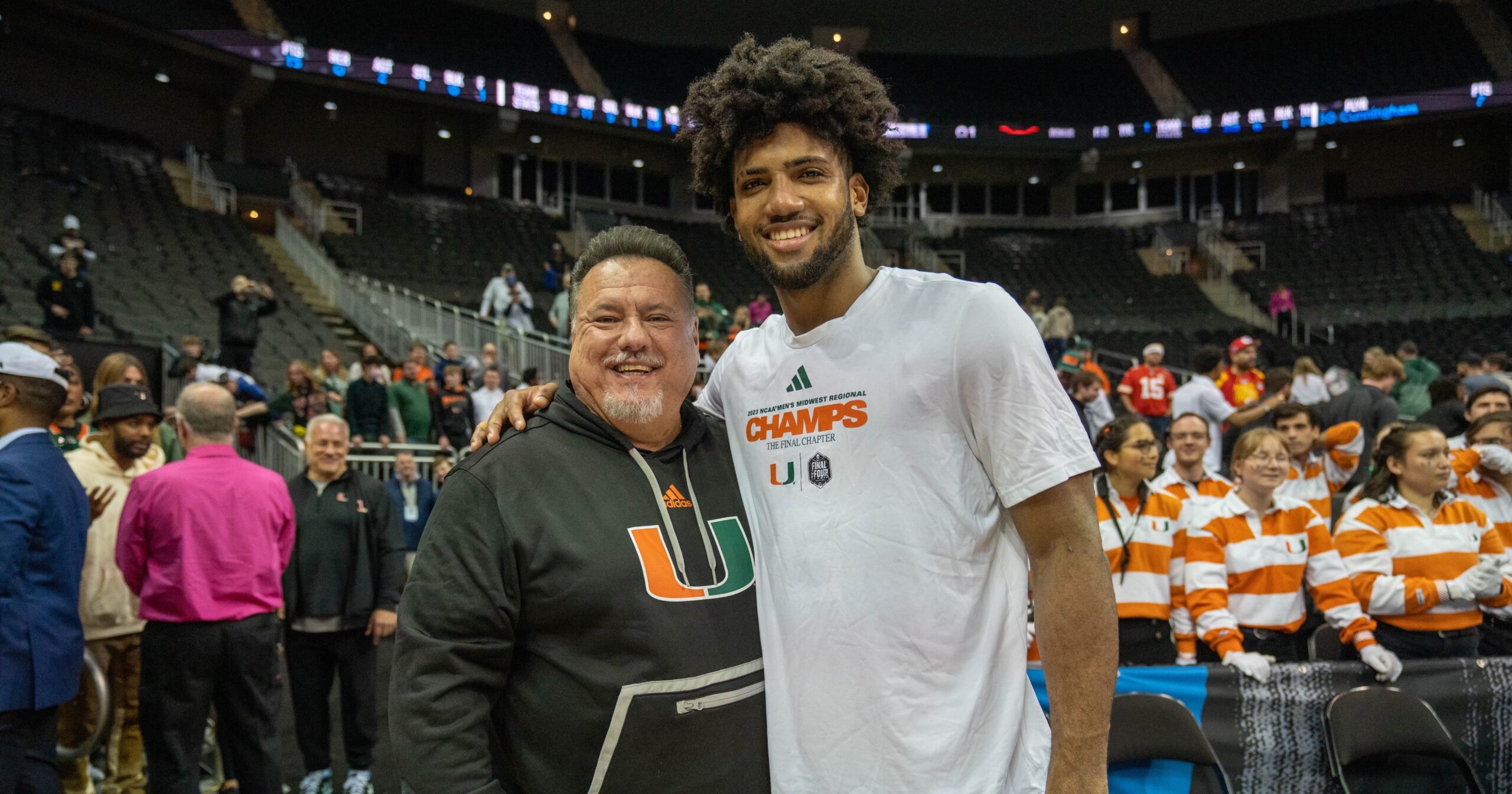 From his modest origins in Bluefields, Nicaragua, to dominating the Sun Belt Conference and now lifting the 2023 Midwest Regional title in the NCAA Tournament with the Miami Hurricanes, Norchad Omier has had one person by his side since the beginning of it all.
Art "Pilin" Alvarez, the long-time mentor of Omier and founder of Miami Prep School, has seen the Hurricanes forward meteoric rise to stardom and feels there is no one else more deserving of this moment as Miami gears up for its first Final Four appearance in program history against the UConn Huskies. 
"From his perspective, he can't believe it," Alvarez said. "He's had so many people reach out to him, and the entire country of Nicaragua is watching the games all the time."
Alvarez was among the Hurricanes' friends, family, and supporters on hand during the team's Elite Eight clash in Kansas City against Texas as Miami advanced to the 2023 NCAA Tournament Final Four in Houston.
Following the contest, the two shared a moment that Alvarez will cherish forever as they celebrated the Hurricanes' historic win.
"It was just a big hug and tears in our eyes," Alvarez said. "It happened twice: after the Houston game and on the court after the game against Texas. It's kind of surreal for us. If he had gone to Mexico to play basketball, nobody would've known who Norchad Omier was. It's kind of like God put him there to do this. It's been special for us as a relationship. As his coach, as the person that brought him here and helped him get a scholarship at Arkansas State to now."
Alvarez has been at most, if not all, of Omier's games throughout the Hurricanes' regular season and tournament run and has no plans to change that as he prepares to travel to Houston to watch the national semi-final matchup.
"I have dropped everything that I'm doing just to be able to be with him," Alvarez said.
As a native of Miami, Alvarez understands just how much this historic run means for the City of Miami, Omier, and longtime friend and Hurricanes head coach Jim Larranaga.
"I think it would be huge, and the person that deserves it the most is coach Larranaga," Alvarez said. "He's really fought for this, and at 73 years old, he's worked really hard for it, so I would be so happy for him. Of course, I would be so happy for Norchad as well. It will be a first for Norchad, Coach L, and the program. It'll be great for the town and Coral Gables."
Not only will Miami be happy, but Alvarez firmly feels that Omier's native Nicaragua may be equally … or even more thrilled … if the Hurricanes are able to win a national championship.
"If they win it out there, Nicaragua will go crazy," Alvarez said. "I can't imagine seeing Norchad go back with that trophy. They'll have the biggest parade and showing in Nicaragua for this kid because he's a folk hero. It's something so special that you can't explain it."
Throughout this unprecedented journey, Omier has fought an ankle injury, but he has stayed the course and overcome adversity. Alvarez can attest to Omier's determination and drive to succeed since he is not only competing for himself but also for the University of Miami and Nicaragua.
"One, he can't believe it, and two, he's excited," Alvarez said. "Norchad is a believer, and if you take a look after the Texas game, he took four or five of his teammates to half-court to pray. It's kind of like the best thing to ever happen to him. He knows that he's carrying his flag, and he knows that he is carrying his country with him. He wants to do it for them—his family and the people of Miami. He's ready, and I feel like they'll get it done."
The post Norchad Omier's mentor, Art Alvarez, reflects on the big man's unlikely path to Miami and the Final Four: "He can't believe it" appeared first on On3.