Northwestern guard Boo Buie declares for 2023 NBA Draft, will maintain college eligibility
3 min read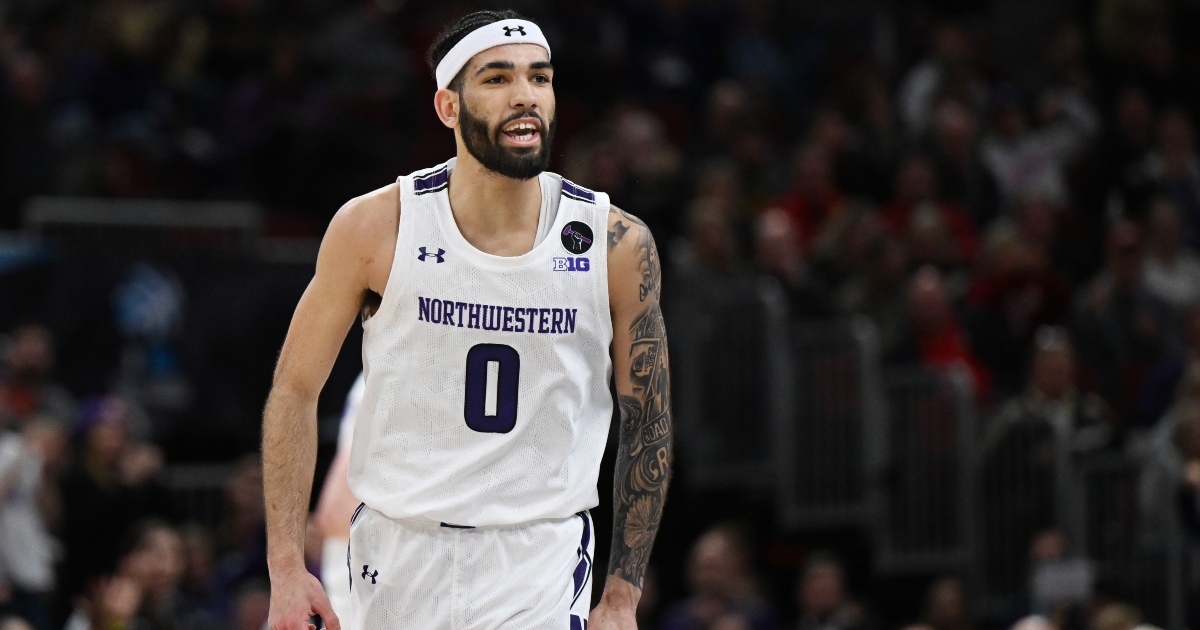 Northwestern guard Boo Buie officially declared for the 2023 NBA Draft on Sunday evening, but will maintain his college eligibility. He made the announcement via his Twitter page late Sunday evening. This season, he established himself as one of the most complete players in college basketball, as he led the Wildcats to the 2023 NCAA Tournament, averaging 17.3 points, 3.4 rebounds, and 4.5 assists per game.
He helped propel the Wildcats to the Round of 32 in this year's NCAA Tournament, where they lost to the UCLA Bruins, 68-63. It was Northwestern's first NCAA Tournament appearance since 2017. Buie earned first team All-Big Ten honors this year, becoming the first Wildcats' player in 11 years to land on the first team. He does have one more season of eligibility remaining, and in his announcement, he left the door open for a potential return for one more year.
Check out his announcement below.
He wrote: "Northwestern basketball, has given me so much–even when everyone believed we would be nothing. It has given me teammates and brothers for life. It has given me friendships and connections with coaches that will last forever. I want to thank Coach Collins and the rest of his staff for believing in me and giving me this opportunity to play at the highest level when no one else did. I wouldn't be where I am today without my family, teammates, and coaches. This season and what we have accomplished as a team is something I will forever be extremely proud of," Buie wrote.
"With that being said, after talking with my family and loved ones, I have decided to pursue my lifelong dream and enter the 2023 NBA Draft, while still maintaining my college eligibility. I look forward to this exciting opportunity," Buie wrote in his statement. "I could not be more grateful for everything and everyone Northwestern University has given me. –Buie #0"
More on the 2023 NBA Draft
The 2023 NBA Draft is set to take place on Thursday, June 22, 2023, in Brooklyn at Barclays Center. Round 1 of the draft will be announced by NBA Commissioner Adam Silver, while Deputy Commissioner Mark Tatum is expected to handle the second round of picks.
To be eligible for the NBA Draft, players must be at least 19 years in age during the calendar year that the draft is held and at least one NBA season from their high school graduation date, or the date that would have been if they are not graduated. It is not required that player spend that one year playing college basketball, though. Players can play in either college, abroad, or the G League Ignite if they choose so.
While this is a significant change from what the rules once were, players are eligible to enter their names into the NBA Draft pool and explore their options by hiring an agent to go through the process, while still keeping their college eligibility. The deadline to make that move is on April 23 beginning at 11:59 p.m. ET. Players have until June 12 at 5 p.m. ET to withdraw their name from the pool and return to college.
The NBA Draft Lottery will be held on May 16, which is also the start of the NBA Conference Finals.
The post Northwestern guard Boo Buie declares for 2023 NBA Draft, will maintain college eligibility appeared first on On3.