Notre Dame increasing recruiting efforts in two key Southern states
4 min read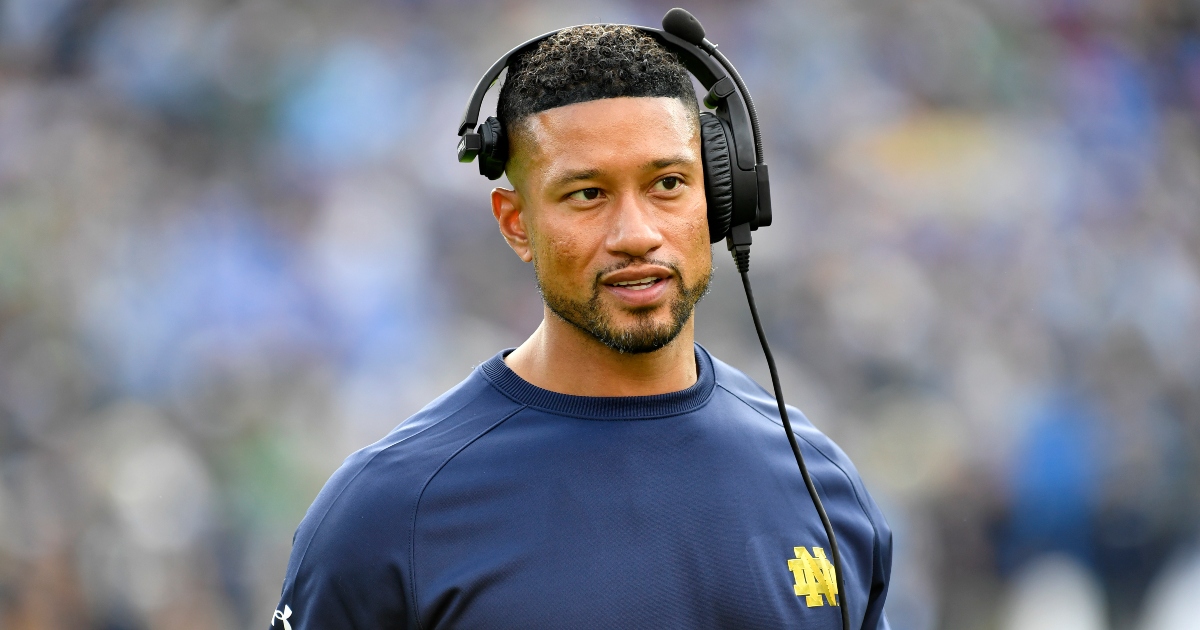 After Notre Dame signed Kyle Hamilton in the 2019 class, there was a sense that the Irish were just getting things started in the state of Georgia. Along with the future first-round safety pick, Notre Dame also signed linebacker JD Bertrand and defensive back KJ Wallace from the Peach State in that class.
In the following 2020 class, however, Notre Dame did not sign any high school prospects from Georgia. But In Brian Kelly's last full recruiting cycle (2021) as the Irish's head coach, Notre Dame signed four players from Georgia: receivers Jayden Thomas and Deion Colzie, tight end Cane Berrong and defensive back Khari Gee.
Wallace spent three years at Notre Dame before transferring out and picking Georgia Tech. Gee didn't last very long in South Bend and also transferred to Georgia Tech. After a couple years in the program, Berrong left for Coastal Carolina.
In the 2022 cycle, Notre Dame signed one Georgia recruit in tight end Holden Staes, and in the 2023 class, the Irish didn't sign any Georgia prospects.
To recap, the Irish signed eight high school prospects from Georgia over the span of five recruiting classes. But the staff is back rolling in the Peach State for the 2024 cycle.
Notre Dame scored spring commitments from Hoschton (Ga.) Mill Creek EDGE Cole Mullins, Roswell (Ga.) High offensive lineman Anthonie Knapp and Warner Robins (Ga.) High receiver Isiah Canion. As things currently stand, Notre Dame is unlikely to add any additional 2024 prospects from Georgia.
For the 2025 class, Notre Dame is in pursuit of Warner Robins (Ga.) Houston County's Antwann Hill Jr., Atlanta Woodward Academy receiver Jerome Bettis Jr., Alpharetta (Ga.) High tight end Ethan Barbour, Milton (Ga.) High tight end Ryan Ghea, Roswell (Ga.) Fellowship Christian School offensive tackle Josh Petty, Atlanta Woodyard Academy defensive lineman London Merritt, Buford (Ga.) High cornerback Devin Williams and a few others.
The Notre Dame coaching staff has been out on the road 12 days during the spring evaluation period, and keep in mind that at the end of the weeks (three Fridays), the staff often brings their travels back to the Midwest. Notre Dame has had at least one coach in Georgia in eight of the 12 days they've been on the road thus far.
Texas also key for Notre Dame
A source of mine in the Brian Kelly regime said that recruiting in Texas for Notre Dame was like "beating your head on the wall." The current Irish staff is disproving that.
In the 2020 and 2021 classes, the Irish didn't sign a single player from the Lone Star State. Notre Dame signed two in the 2019 class in defensive linemen Nana Osafo-Mensah and offensive lineman Hunter Spears.
Notre Dame ended the drought in the 2022 cycle by signing Jadarian Price out of Denison.
After signing just three players from Texas over the span of four classes, the Irish signed four recruits from the state in the 2023 cycle alone. The group included a trio of receivers in Frisco (Texas) Reedy's Kaleb Smith, Austin (Texas) Westlake's Jaden Greathouse and Round Rock (Texas) Stony Point's Braylon James. They also signed Houston The Kinkaid School cornerback Micah Bell.
Notre Dame has a 2024 commitment from Round Round (Texas) High cornerback Leonard Moore and the Irish are after Lufkin (Texas) High running back Kedren Young, Katy (Texas) Paetow EDGE Loghan Thomas, Cibolo (Texas) Samuel Clemens safety Paul Mencke Jr. and El Campo (Texas) High safety Oliver Miles are all key targets for the Irish. It's not totally unrealistic to say that Notre Dame sign all five of those prospects listed in the previous sentence.
The Irish have no shortage of targets in Texas for the 2025 class either. The staff is after Lucas (Texas) Lovejoy receiver Daylan McCutcheon, Red Oak (Texas) High receiver Taz Williams Jr., Southlake (Texas) Carroll tight end Jack VanDorselaer and Dallas South Oak Cliff linebacker Kelvion Riggins are among those prospects.
Why the focus on these two states?
With Notre Dame's fan base and recruiting efforts being so national, the staff will of course recruit all over the country, and supporters will inevitably bring up states like Illinois, Ohio and California as other crucial states for recruiting. And yes, it's absolutely true, but those have been and will continue to be priority states for the staff.
But the point of this article is to show an increase for Notre Dame under Marcus Freeman in Georgia and Texas.
A Notre Dame source pointed out to me that there were 30 players from Texas and 23 from Georgia who were selected in the 2023 NFL Draft. Only Florida with 36 topped those states.
In other words, Georgia and Texas has a lot of really darn good high school football players, and the Irish staff is prioritizing those states. The ND staff feels that it can make an impact in Georgia and Texas.
The post Notre Dame increasing recruiting efforts in two key Southern states appeared first on On3.