Notre Dame spring transfer portal needs: One position makes sense to address
5 min read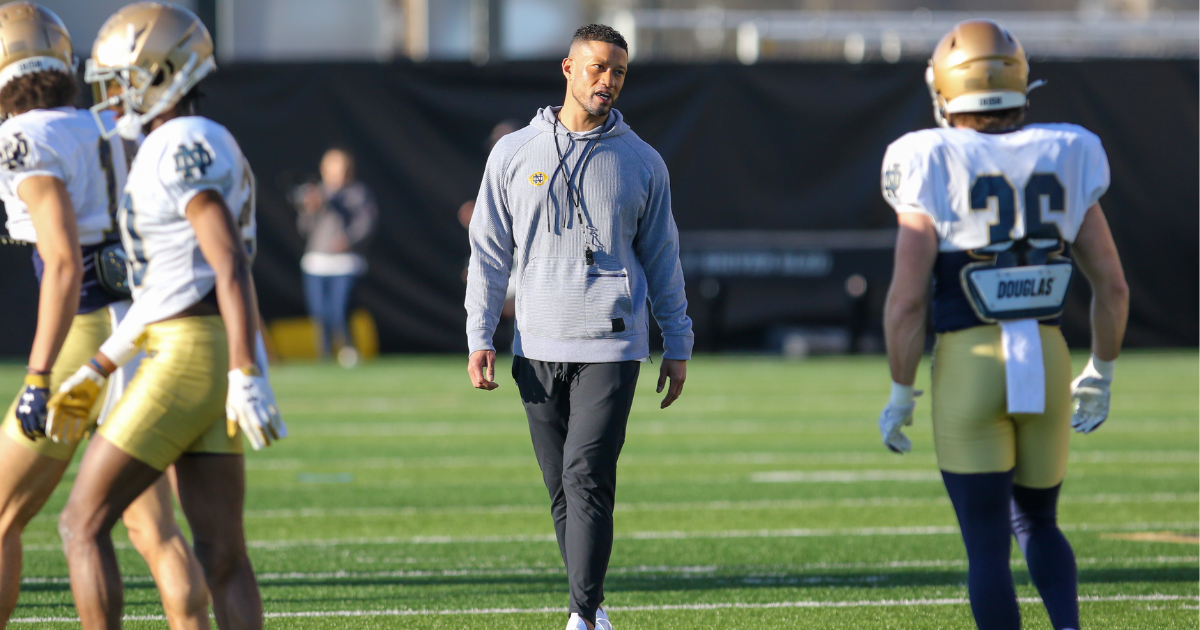 Marcus Freeman knew after one practice the discussion needed to be had at some point this spring. He probably even knew going into that first practice. Notre Dame's safety unit, which stood at six players entering the spring, might need a boost from the transfer portal.
Freeman said in March a talk with defensive coordinator Al Golden, safeties coach Chris O'Leary and others would be had. Golden said Saturday after the Irish's 11th practice that those discussions had not yet been held.
"We're not there yet," Golden said. "Right now, we're just trying to evaluate today and see where we're at."
That time is near, though, if not already here. The spring transfer portal window for all players to enter began Saturday and runs through April 30. A fresh batch of options at all positions will become available over the next two weeks. Even if Notre Dame has yet to make up its mind, Golden acknowledged the state of the position, which might put everyone on the same page before they even meet.
"But clearly, number-wise, we still need help," Golden said.
Safety ought to top Notre Dame's spring transfer portal shopping list. It might be the only item on the list, or at least the one that feels closest to a must.
Notre Dame has practiced with three healthy scholarship safeties – sixth-year player DJ Brown, senior Xavier Watts and senior Ramon Henderson – since April 12 and will do so the rest of the spring, including the Blue-Gold Game.
None of the injuries are long-term, though, and the group should be fully healthy well before preseason camp. Grad transfer Thomas Harper (shoulder) has been a limited participant all spring. Freshman Ben Minich had surgery last week to repair a thumb injury. Freshman Adon Shuler has sat out spring while he recovers from February shoulder surgery.
Six safeties sounds like a fine number. The Irish had six last year and gave five of them at least 200 defensive snaps.
But when two are freshmen in a unit that wants to rotate four players, it doesn't sound like so many. There are questions beyond 2023 as well. Brown and Harper are in their final year of eligibility. Watts, who has the makings of a breakout star, could have a pro decision to make if he plays to that potential. The long-term outlook took a hit when freshman Brandyn Hillman was released from his letter of intent in March and junior Justin Walters medically retired.
To O'Leary, it's a matter of when, not if, the Irish dip into the portal.
"We'll continue to add a piece here or there, whether it's in May or after next season," O'Leary said April 4. "But right now, we have a really good group."
Freeman was complimentary of the top three, all of whom are multi-year contributors and played more than 300 snaps in Golden's defense last year. They have all received first-team work this spring.
"It's really good to see those three I'm talking about — DJ, Ramon, and Xavier — all really play with the ones, really all continue to improve and practice at a high level," Freeman said Saturday.
The Irish have a sufficient base at safety when Harper returns in a safety/nickel hybrid role. The top group confirming the idea they can be reliable in 2023, though, doesn't necessarily erase the need for a transfer safety. It changes what kind of player the Irish might pursue.
A player with multiple years of eligibility left who might make a bigger impact in 2024 than 2023 seems like the ideal target, especially after already adding Harper in January as a one-year transfer. Notre Dame's 2024 safety room could be Henderson, Shuler, Minich and however many freshmen the Irish sign in their 2024 recruiting class.
That possibility begs for another veteran who has been in the program for a year to take some pressure off freshmen and keep the numbers at an acceptable level. Maybe that's an up-transfer from a Group of Five team who could benefit from a developmental year before assuming a bigger role. Maybe it's a Power Five underclassman who's staring at several names ahead of him on the depth chart and who could get through Notre Dame's tricky undergrad transfer process.
If the Irish add only one transfer this spring, safety feels like the safe bet. But it likely won't be the lone position discussed for portal hunting, even if those talks result in deciding to pass.
The Irish kicked around the idea of adding an interior lineman earlier this spring and were in contact with Maryland grad transfer Mason Lunsford, but chose not to pursue seriously. Could that be re-examined after the spring?
Offensive line coach Joe Rudolph seemed content with the outlook at both guard spots, where sophomore Billy Schrauth and grad student Andrew Kristofic have taken most of the first-team reps. But that's different than Rudolph trusting them as starting-caliber players in April or confidently projecting them to get there by August. Rudolph will likely let the battle continue through the summer, but an obvious starter who hits the portal might be worth a look.
Elsewhere, Notre Dame pursued Western Michigan grad transfer defensive tackle Braden Fiske in the winter, but he chose Florida State. The Irish did not pursue others and wanted to see what they had in several inexperienced tackles before re-evaluating the need. Junior Jason Onye's emergence as a projected role player seems sufficient.
Wide receiver Kaleb Smith, a grad transfer from Virginia Tech, announced his retirement from football Saturday. Notre Dame still has 10 scholarship receivers, though, after moving running back Chris Tyree there. Spring practice has revealed a receiving corps that looks deeper and more talented, even if it's still lacking proven starters.
A possible move of Lorenzo Styles to cornerback might trigger a look into the portal, but that still wouldn't make a transfer receiver feel like a must. This group has made a compelling case to move forward with them. Case in point: Smith did not earn many first-team reps despite having more yards last season than nine of the other 10 receivers have in their careers.  
The post Notre Dame spring transfer portal needs: One position makes sense to address appeared first on On3.