Observations and insights from Tuesday spring football practice
3 min read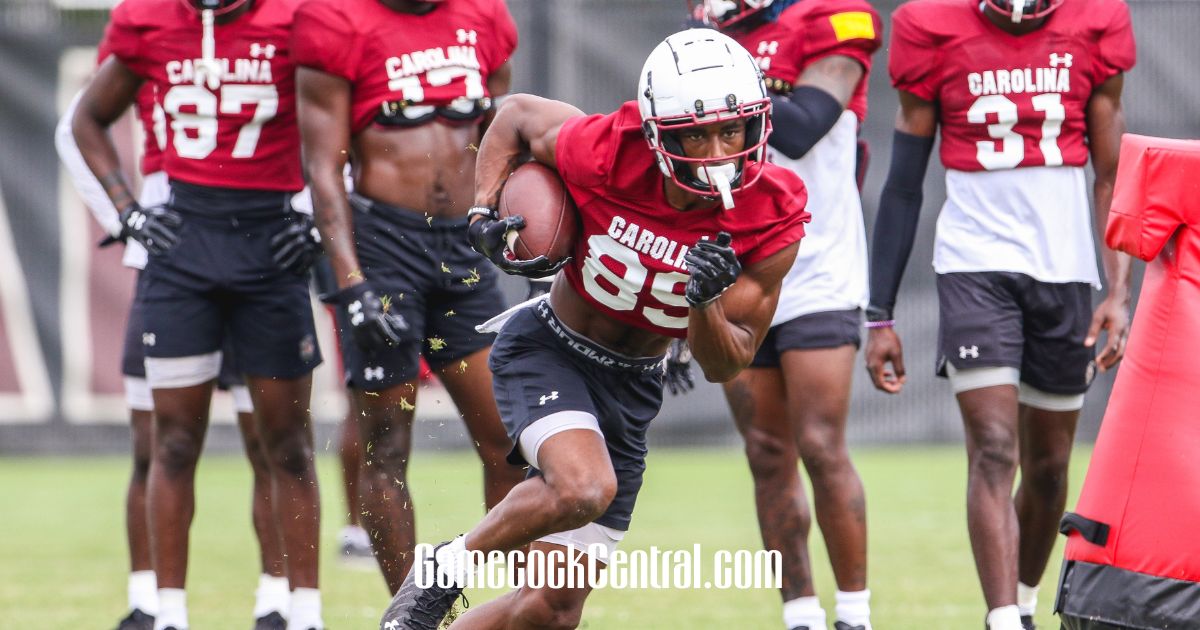 The South Carolina football team was back on the practice fields Tuesday morning for spring practice No. 10 and for the fourth time this spring, Gamecock Central was on hand for the first six sessions of the workout and has observations and insights below.
South Carolina once again worked through some full 11-on-11 team action during the portion of practice that was open, giving us at least a glimpse at who was working with the ones and twos on Tuesday.
Keeping in mind that some of this depth chart is heavily influenced by injuries — Marcellas Dial, Keenan Nelson and Peyton Williams were all out — this is how the Gamecocks lined up during the portion that we saw.
Offense 1s vs. 1s
QB: Spencer Rattler
RB: Juju McDowell
OL (left to right): Jaylen Nichols, Nick Garguilo, Vershon Lee, Trai Jones, Tyshawn Wannamaker
WR: Juice Wells, Xavier Legette, Ahmarean Brown (slot)
TE: Trey Knox
Defense 1s vs 1s
EDGE: Tyreek Johnson, T.J. Sanders
DT: Alex Huntley, Nick Barrett
LB: Debo Williams, Stone Blanton
N: Kajuan Banks
CB: O'Donnell Fortune, Isaiah Norris
S: Nick Emmanwori, DQ Smith
Offense 2s vs 2s
QB: Luke Doty
RB: DK Joyner
OL (left to right): Sidney Fugar, Markee Anderson, Ryan Brubaker, Chase Sweigert, Grayson Mains
WR: Payton Mangrum, O'Mega Blake, Eddie Lewis (slot)
TE: Joshua Simon
Defense 2s vs. 2s
EDGE: Donovan Westmoreland, Terrell Dawkins
DT: Jamaal Whyce, Dre Martin
LB: Bam Martin-Scott, Pup Howard
N: Deangelo Gibbs
CB: Judge Collier, Landon Grier
S: Jalon Kilgore, B.J. Gibson (I think)
— While much of the lineup was as it has been during the other open portions of practice, it's interesting that T.J. Sanders continues to play some as an end/edge guy. That partially speaks to his versatility and athleticism and gives the Gamecocks another option to get a bigger guy on the outside. But it also speaks to the lack of depth at that spot.
Shane Beamer said Tuesday that Juju McDowell, Dakereon Joyner and Mario Anderson are 1A, 1B and 1C at running back but Joyner worked with the second group on Tuesday, which could speak to him continuing to come along, something we've obviously heard and written about quite a bit.
— South Carolina worked quite a bit in Saturday's scrimmage on getting the ball to the perimeter on quick throws and that seemed to be a focus in the early 11-on-11 work as Carolina used play-action or RPOs to flow the defense one way and then got the ball out on the perimeter the other way.
In one of the plays, they were able to get the defense pinned inside and Josh Simon showed off his after-the-catch ability to get to the edge. We continue to hear and see that Trey Knox and Simon are going to make their share of plays this year. Knox has great feet in terms of quickness and truly looks like a wide receiver who is now tight-end-sized.
Luke Doty and O'Mega Blake also connected on a nice throw and catch during the 11-on-11.
Video of both of the referenced plays is embedded below.
— At the end of the 11-on-11 session, with all the team gathered near the goal line, Beamer got on the mic and said he wanted for Xavier Legette and O'Donnell Fortune to represent their respective sides of the ball for a one-rep playoff to finish that period of practice.
Legette ended up getting the better of Fortune, despite strong coverage from the Sumter native, as Legette skied into the air and snatched a beautifully thrown fade ball from Spencer Rattler and came down with it in the end zone to give the offense the win.
It was really a good, competitive rep on all sides, again with the pressure of the whole team focused on them.
— If you missed it earlier, make sure you check out this morning's edition of Carolina Confidential, which features some recruiting scoop on visitors.
[Subscribe for free to Gamecock Central's YouTube page!]
The post Observations and insights from Tuesday spring football practice appeared first on On3.