Observations on Michigan running backs from the spring game – one who 'is going to be special'
4 min read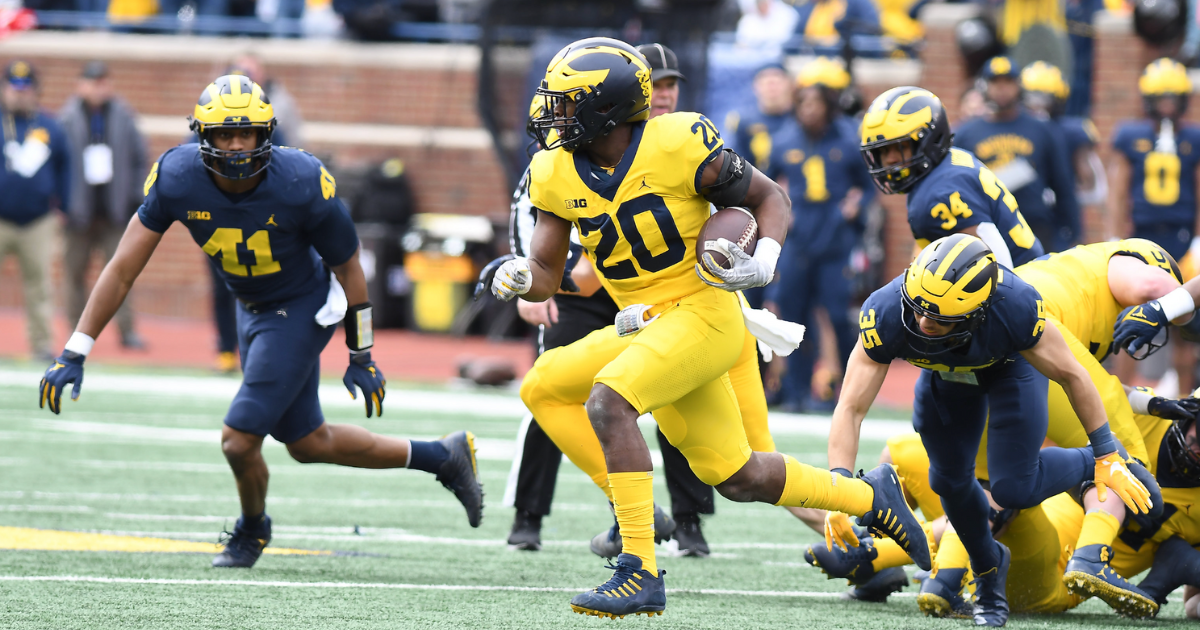 Michigan played its annual spring game without Blake Corum or Donovan Edwards, both still recuperating from last year's injuries. They'll both be back this fall to lead the U-M rushing attack, one that should be among the best in the nation. 
RELATED: Five stock risers from the Michigan spring football game
RELATED: Rapid reaction observations from Michigan spring football game
The good news — others have gotten their reps and had a chance to improve while the dynamic duo recovered. That's helped create an even better running back room. 
"I think we're really deep," Michigan running backs coach Mike Hart, who coached the Mazie team to a 22-21 win Saturday, said. "I feel better this time of year than I did last year. We've got a lot of depth. The guys are going to be competing. I'm just going to go into fall camp definitely feeling really good about the running back room right now … definitely happy with the guys who have been playing. 
"We could show up today and play a game with the guys we have, even without Blake and Donovan. Those are two of the best players on the team … two of the best players in the country. I think we're in a really good situation in the running back room."
That's due in part to the offensive line, which is a well-oiled machine in the running game. You're going to have some leaks in pass protection in a spring game when you're splitting your best linemen — some guys aren't advanced in that area, and you're splitting 10 between the teams — and senior guard and All-American candidate Zak Zinter didn't even play. 
But you can tell guys know what they're doing in the run game with their combinations, etc., and that's a testament to what Sherrone Moore has done with the group. They were getting movement up front Saturday … some guys did a better job than others of taking advantage and finding the holes. 
We were anxious to see sophomore CJ Stokes' progress, but he was held out with an undisclosed injury. 
"Kalel Mullings is doing a great job," Hart said of the Michigan senior. "CJ didn't play today, obviously, but he's been doing a great job."
Mullings runs hard and has a burst. He got the first carries for the Michigan Blue team, and he finished with 9 carries for 35 yards and a score. Eighteen of those yards, though, came on one carry. Other than that, it was 8 rushes for 17 yards. Though there were times he had nowhere to go, there were others in which he seemed too quick to the hole. There was also one where he got shoestring tackled by Michigan sophomore linebacker Jimmy Rolder or he might have taken it to the house or a 50-yarder or so. 
That's one you'd like to see your running back finish. He had a huge hole. On the next carry, he had a nice hole and room left but cut right for no gain on a carry that should have gone for at least 4 yards. Keep in mind, he's still getting back in the groove after having played mostly linebacker since he's been here. 
And then there's Benjamin Hall. "He's going to be special," Hart said, and you could see why. Hall started getting the bulk of the carries at the end of the third quarter … his patience and vision are beyond his years. Yeah, it's "only a spring game." But you can see why he's been talked about all spring. 
He's built like former Michigan back Kevin Grady, but he has Mike Hart's vision and understanding of play development. He knows what his linemen are supposed to do and waits for them to get to their blocks before finding a hole. It was on display especially on his 34-yard run to the one-yard line at the end of the third. 
He's also got the feet and vision. Hall is lacking the breakaway speed, but he's got everything else you're looking for, and he's already ahead of the curve in pass pro. He's also a load to bring down, carrying piles with his huge legs and churning for extra yardage.
We see what Hart saw in him.
Michigan Maize team backs Tavierre Dunlap and Leon Franklin are try-hards and willing blockers, but they managed only 50 yards on 18 carries for their team. They are who they are, and they're great teammates. But the Blue definitely had the advantage at the running back position Saturday, and hall was the biggest reason why. 
If Stokes has improved (as they've said), we feel better about the future of the Michigan running back position after this year than we did going into this game. 
The post Observations on Michigan running backs from the spring game – one who 'is going to be special' appeared first on On3.