Offense hard to come by for Tennessee, four quick takes on a shutout
5 min read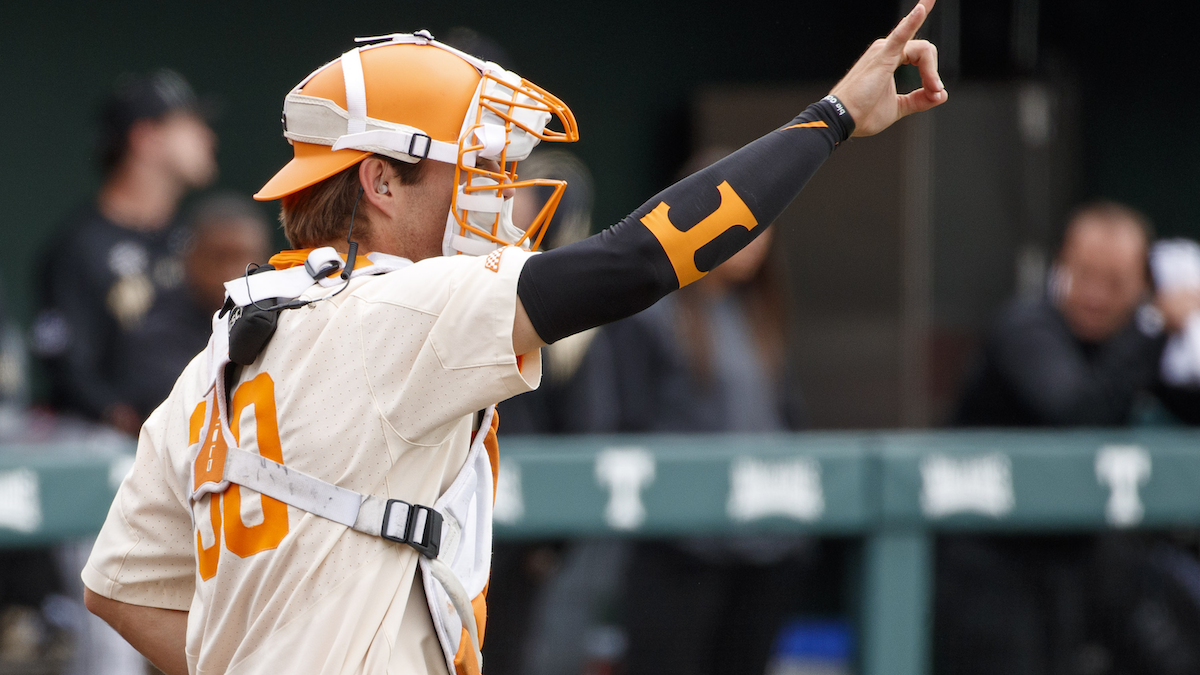 After taking the first two games of the series against Kentucky Tennessee ran into trouble early on Sunday afternoon and fell 8-0 to the Wildcats. Here are four quick takes on the action.
1 — TOUGH START — After taking the first two games of the series from Kentucky it felt like Tennessee was carrying some momentum into Sunday. That feeling didn't last long today.
Drew Beam struggled from the outset. Jackson Gray started the first inning with a lead off single and came home two batters later when Kentucky's Hunter Gilliam poked a home run that just barely cleared the centerfield wall putting the 'Cats up 2-0.
Kentucky wasn't done. Jase Felker reached on a two out single and scored after a deep double to centerfield from Devin Burkes staking the Wildcats to a 3-0 lead out of the gate.
Tennessee got a one out double from Hunter Ensley in their half of the first but the Vols couldn't do anything with it.
Kentucky chased Beam before he could even get through the second inning. Grant Smith hit a solo homer to right field to make the lead 4-0. Beam hung around for two more batters but got the hook after he issued a two out walk to Ryan Wandschmidt.
Beam made it just 1.2 innings, surrendering five hits, two home runs and four earned runs in his brief appearance.
2 — MISSED OPPORTUNITIES — Tennessee had runners on base all day long, they just had nothing to show for it when it was all said and done.
One thing that was a theme all afternoon was that when the Vols didn't threaten to score, those chances more often than not came with two outs.
They had their first golden opportunity for some offense in the top of the fourth.
Kentucky brought in reliever Darren Williams, the third pitcher the Wildcats went to in the first four innings, and Zane Denton ripped a one out double to left center to give the Vols a runner in scoring position.
The next batter, Christian Scott, struck out swinging but things got interesting when Williams hit consecutive Tennessee batters; Cal Stark and Maui Ahuna, to load the bases.
Hunter Ensley couldn't capitalize on the chance though. He struck out looking and the Vols' best chance to put runs on the board to that point in the game was squandered.
It was a similar situation in the bottom of the fifth when Dylan Drilling and Griffin Merritt drew back-to-back walks with two outs. Zane Denton fouled out to left field though to end the inning.
At that point in the game the Vols had put 10 guys on base without scoring a run.
Tennessee would put two runners on base in the sixth, seventh and eighth innings, but again, had no runs to show for it.
Their best shot came in the bottom of the eighth inning when pinch hitter Kavares Tears led off with a single and Ahuna followed that up with a walk, giving the Vols runners at first and second with no outs.
After a Kentucky pitching change Ensley grounded into a double play then Blake Burke flied out to left to end the inning.
In total the Vols put 16 guys on base today and didn't manage to get anyone across the plate.
3 — BULLPEN WAS ACTUALLY PRETTY DECENT UNTIL THE 8th — Given the offensive struggles it was a wasted effort, but Seth Halvorsen had a really solid outing in relief until he gave up a two run home run in the top of the eighth inning.
Halvorsen pitched 4.1 innings following the weather delay and gave up just three hits while striking out six batters. Unfortunately for Halvorsen two of three hits he gave up left the ball park.
Still though, he pitched well enough to have kept Tennessee hanging around if the Vols could have found anyway to get their bats going to take advantage of the numerous scoring opportunities they were able to generate.
Aaron Combs came in for Halvorsen with one out in the eighth and promptly gave up a home run to the first batter he faced, James McCoy, which extended the Kentucky lead to 8-0.
As noted above, starter Drew Beam didn't make it out of the second inning, giving up four earned runs before getting pulled.
A.J. Russell came on to work 1.1 innings in relief of Beam, striking out two batters and keeping the Wildcats off the board prior to the weather delay.
Left-hander Jake Fitzgibbons came on to work the ninth inning giving up one run. He was relieved by Hollis Fanning who recorded the final out of the game after giving up a run.
4 — STILL A DECENT WEEKEND FOR THE VOLS — Losing so emphatically in the series finale leaves a bad taste in the mouth, but it was actually a good weekend for the Vols.
By taking two out of three against the 'Cats Tennessee gives themselves a real chance to move up to fourth place in the SEC East in this last week of the regular season.
Kentucky leaves town in possession of fourth place at 15-12. Tennessee is one game back of them at 14-13. It goes without saying that a sweep would would have been preferable and obviously would have left the Vols in solo fourth place, but they still have a chance to improve their seeding in next week's SEC Tournament in Hoover.
Both teams have tough series to close the regular season, but Kentucky has the advantage of playing at home against Florida. Tennessee, whose road struggles have been well documented, close the regular season at South Carolina this coming weekend.
If Tennessee can bounce back and play well on the road next weekend they would have a chance at passing South Carolina in the standings. The Gamecocks have played one less game due to a cancellation, and they sit at 15-11 in SEC play.
In theory, if Kentucky has a disaster series at home against the Gators and the Vols somehow find a way to sweep in Columbia, they could vault into third place in the SEC East.
The post Offense hard to come by for Tennessee, four quick takes on a shutout appeared first on On3.