Offensive lineman Bodey McCaslin talks visit to Kansas State
3 min read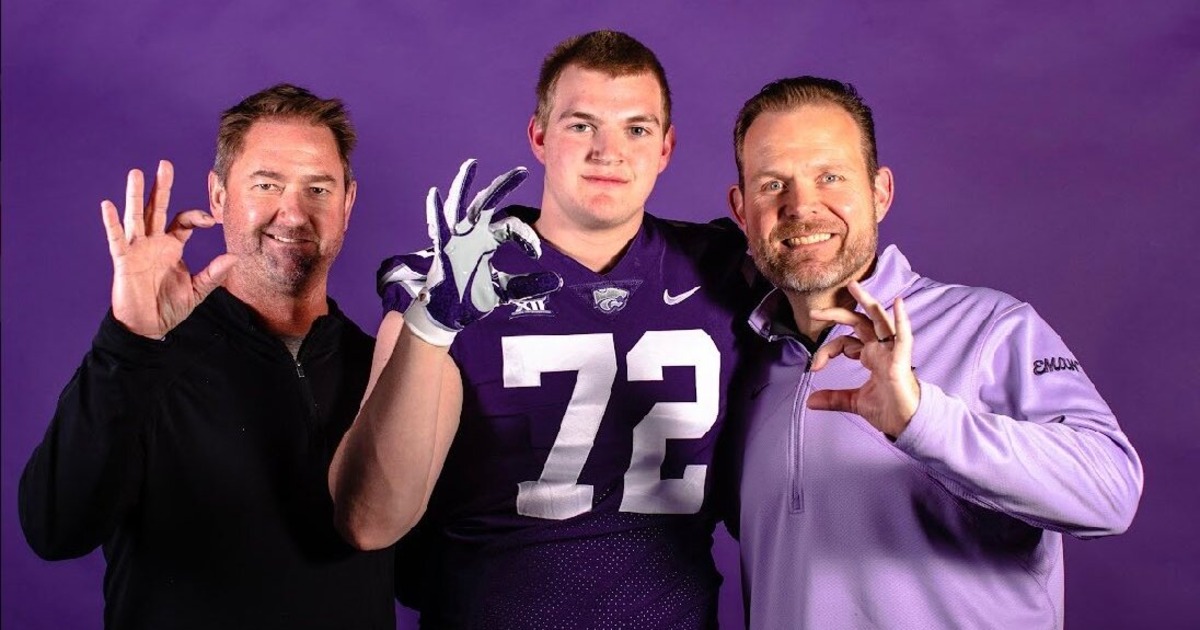 Kansas State has hosted a bevy of 2024 offensive linemen throughout the Spring. It is going to be a big class of offensive lineman that could see K-State take as many as five. The Wildcats already have two in the fold in Mill Valley's Gus Hawkins and Pennsylvania native Ryan Howard.
Another offensive lineman to keep in mind is Illinois' native Bodey McCaslin. He was in Manhattan for a visit on March 28. It was his second time visiting Kansas State. And his stock continues to soar despite the Wildcats being one of the first to show him any attention.
Iowa was the latest to offer him, but that didn't stop him from speaking glowingly about K-State.
"The visit was great," McCaslin said. "It was very detailed, and I started my day by getting to sit in on the offensive line meeting with Coach [Conor] Riley. I saw the campus and the freshman apartments. I also saw all of the facilities, which were impressive. I talked to Coach [Chris] Klieman, and it was really good."
"The offensive line meeting was very cool," he added. "Coach Riley acted the same as he would any other time. And it was cool to see them in their natural state and what they do every day."
He made some additional observations about that experience.
"I'd say getting to meet with Coach Riley and seeing him again was my favorite part," McCaslin shared. "Our relationship is very good. I've know him for a very long time outside of just K-State and recruiting."
McCaslin's discussion with Klieman was also a positive takeaway for him.
"It was good," he noted. "He's a very genuine guy and takes pride in what he is building there. I got a good feeling from him, and it was more of just a catch-up and get to know you conversation. So, it was good."
Thus far this Spring, the three-star lineman from Saint Charles, Illinois has visited Kansas, Wisconsin, Iowa and Notre Dame. He also has visits planned to Penn State and Minnesota. Taking in all the information he can is clearly at the top of the to-do list.
"The day at Kansas, I did the most possible stuff you could do on an unofficial visit without breaking any rules," McCaslin described. "But I can't say one visit was the best compared to the others."
He is in the process of narrowing down his list of schools.
"I can't really say what my top schools are," McCaslin admitted. "With all these visits, it would not be fair to give a list of top schools right now because it could change very easily."
McCaslin is planning to commit to a school between May 20 and June 20. He has a few things he is looking for in that particular program.
"I'm looking for coaches, players and resources available to me that can help me reach my goals as a player and a man," he revealed. "There is a few more, but those are my top ones."
He does hold Kansas State in high regard.
"They were my first Power Five offer and that means something to me, as they were the first to take the chance," McCaslin stated. "And I know that Coach Riley is one of the best in the business."
The post Offensive lineman Bodey McCaslin talks visit to Kansas State appeared first on On3.