Ohio State quarterback commit Air Noland earns Elite 11 finals invite
3 min read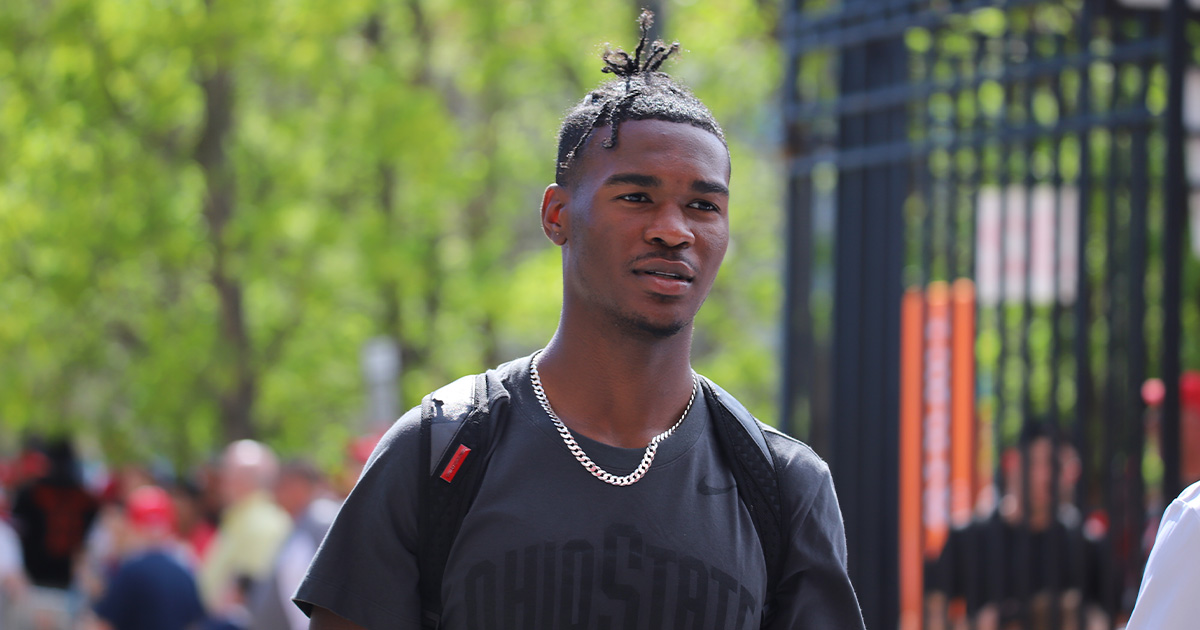 COLUMBUS — Ohio State is no stranger to bringing in one of the best high school quarterbacks in the country into its program.
Four-star Fairburn (Ga) Langston Hughes quarterback and Ohio State commit Air Noland is continuing that legacy for the Buckeyes in the 2024 cycle. The No. 4 quarterback in the 2024 cycle earned one of the highest honors for a preps quarterback on Saturday.
An invitation to the Elite 11 in Los Angeles.
"I'm very blessed and very happy," Noland told On3. "This is a dream come true. It's something I've wanted to accomplish since I was a little kid so it's very exciting."
Other quarterbacks invited to the finals this year so far include Dylan Raiola, Julian Sayin, C.J. Carr, Luke Kromenhoek, Colin Hurley and Trever Jackson.
Under head coach Ryan Day and quarterback coach Corey Dennis, the Buckeyes have had Devin Brown, Kyle McCord and C.J. Stroud (MVP) all attend the prestigious camp.
Noland continues the impressive stretch of quarterback play and recruiting the Buckeyes have experienced in the Day era.
The 6-foot-2, 185-pound left-handed quarterback committed to Ohio State on April 8 after a lengthy recruitment process. He was never going to go the distance in his recruitment. While he didn't commit in December, Noland was thorough in his decision-making process.
He visited Ohio State just once, but that's all it took for him to know it was home.
"They stood at the top of my list once I saw how serious they were about me and serious they were recruiting me before they even offered me," Noland said. "Coming in, I kind of expected the offer. It was more about if Ohio State was the perfect fit for me. They showed me all aspects of why they were the perfect fit for me."
Ohio State has 13 commits in its No. 2 ranked 2024 class. Eleven of those 13 commits are on the offensive side of the ball including five-star wide receivers Jeremiah Smith and Mylan Graham, and elite running back James Peoples.
The Buckeyes' star-studded quarterback commit will head out to California this summer for the Elite 11.
Lettermen Row will have more about Noland throughout the week.
On3 Scouting Report
Instinctual, accurate Southpaw passer who shredded opposing defenses through the air as a junior. Was most productive passer among top 2024 quarterbacks.
Measured in at around 6-foot-2, 185 pounds with a 9-inch hand in the spring prior to his senior season. Has a streamlined frame with thinner shoulders. Had a monster junior season, completing 73.1% of his passes for 4,095 yards (12.7 yards per attempt) for 55 touchdowns against four interceptions.
Led Langston Hughes to a state title in a high classification and helmed an offense that set the state record for most points scored. Shows high-end field vision with the ability to go through his reads and find open receivers. At his best as a reliable distributor to talented skill players. Throws with timing and touch. Accurate to all levels and shows the ability to layer the football and locate throws into small windows.
Arm strength is above average but not his most noteworthy trait. Plays with an advanced feel and shows a nice internal clock against the pass rush. A pass-first quarterback but has some creativity and mobility when needed. One of the safest bets among quarterbacks in the 2024 cycle given his on-field success and production relative to his peers.
On3 Player Comparison – Geno Smith (West Virginia)
Air Noland is a prolific, rhythm passer who has similar physical tools and play style to Geno Smith at the same stage. Noland is a lefty while Smith is right-handed. Smith was similar to Noland from a size perspective but added significant weight in college.
The post Ohio State quarterback commit Air Noland earns Elite 11 finals invite appeared first on On3.