Oklahoma softball earns No. 1 overall seed
2 min read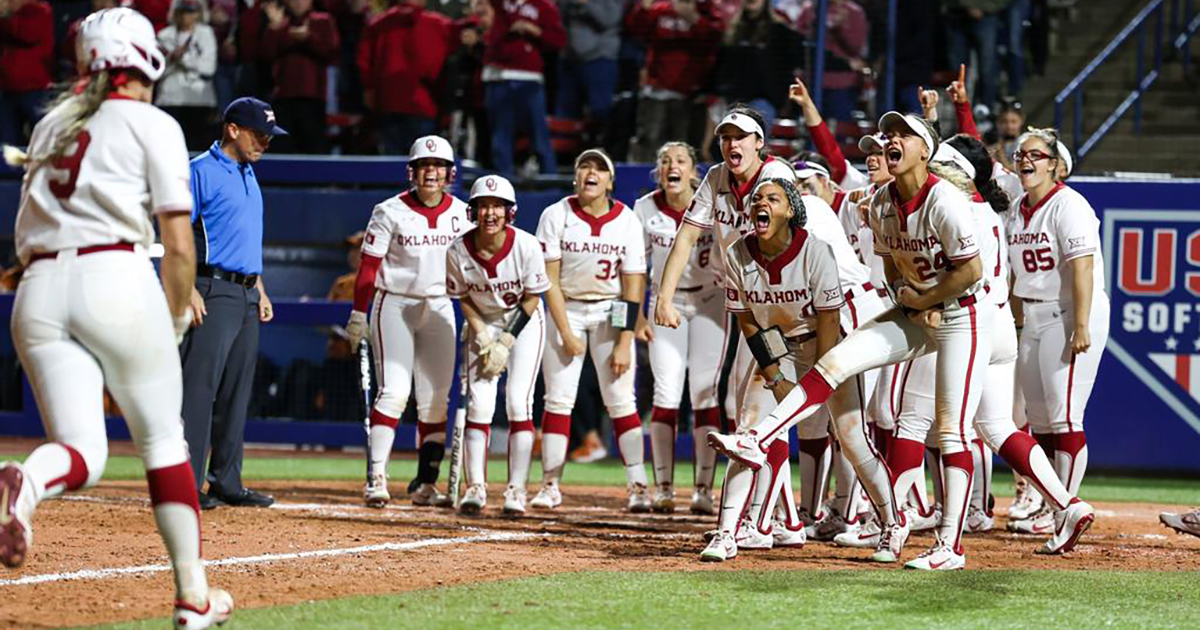 No drama at all for Oklahoma softball. The Sooners had done what was asked of them all season and everybody knew they had earned the No. 1 overall seed for the NCAA postseason.
OU will enter regional play at 51-1 overall and on a 43-game winning streak. The Sooners will begin their quest for a third straight national championship against Hofstra (29-25) on Friday.
Missouri (34-24) vs. California (33-19-1) is the other matchup and the other two teams headed to Norman this weekend for the double-elimination event.
The Sooners were strictly business in dominating the field at the Big 12 tournament in Oklahoma City, outscoring Iowa State and Texas 15-1 to claim another title.
Head coach Patty Gasso has stressed all season about building toward May and June. About the team playing its best softball in the month ahead. They're on schedule.
"We're ready. We just need to rest and have good practices," said Gasso on Saturday. "And make good choices and all those good things. But we're ready. There's nothing else I can practice with them. Well, there is. But we're ready."
Rounding out the top eight? No. 2 UCLA, No. 3 Florida State, No. 4 Tennessee, No. 5 Alabama, No. 6 Oklahoma State, No. 7 Washington, No. 8 Duke.
Gasso loaded up the schedule in 2023, and OU is very familiar with the majority of those teams. OU has already beaten UCLA, FSU, OSU (3x), Washington and Duke.
There is something different about regional play, a different feeling of leaving the conference and playing teams you haven't seen. But it's something OU is fired up about.
"I think it's going to be pretty fun," said sophomore Jordy Bahl on Saturday. "Especially through conference, by the time you get to the tournament, it almost feels like you're playing cat and mouse games at times because you've seen them a lot of times. But they've also seen you.
"So it's just always trying to level up with your preparation and your game plan. I'm excited to see who is going to be in our regional and lock in on them."
Seeds Nos. 9-16: No. 9 Stanford, No. 10 LSU, No. 11 Arkansas, No. 12 Northwestern, No. 13 Texas, No. 14 Georgia, No. 15 Utah and No. 16 Clemson.
OU has beaten Stanford, LSU, Northwestern, Texas (4x) and Utah, a 15-0 record against the rest of the national seeds.
If the seedings hold true, No. 16 Clemson would play at OU in the Super Regional round.
The post Oklahoma softball earns No. 1 overall seed appeared first on On3.