On3 Recruiting Prediction Machine: LSU trending heavily with TE Trey'Dez Green
3 min read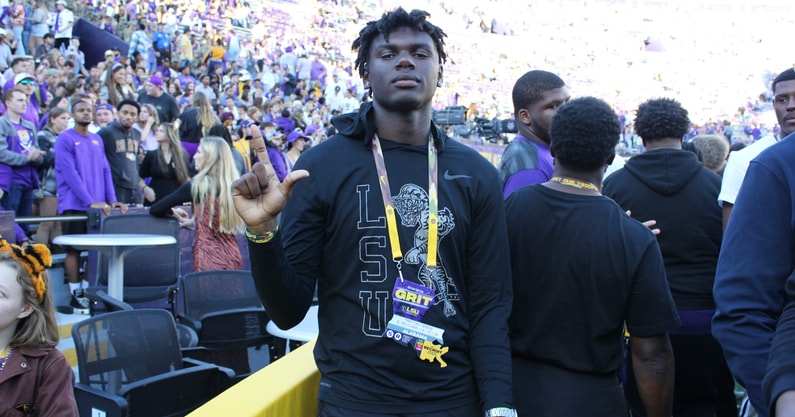 Keeping the top prospects from Louisiana at home is of the utmost importance for LSU and Brian Kelly. And the Tigers have largely done that during his short tenure. Now, with a couple of the top recruits in the country hailing from inside the state, Kelly and Co. have a chance to make another statement. And they're already trending to do so.
After the latest expert pick in the On3 Recruiting Prediction Machine (RPM), the Tigers are heavily favored to land Jackson (La.) East Feliciana four-star tight end Trey'Dez Green. The On3 RPM puts LSU's chances at 97.6 percent, with Ole Miss trailing far behind.
The Tigers have been trending since last winter, when On3 national recruiting analyst Sam Spiegelman placed the first prediction in favor of LSU.
LSU's longstanding pursuit is paying off
"No school has hosted Trey'Dez Green more than LSU, partially because the in-state Tigers are recruiting the 6-foot-6, 225-pounder as a basketball and football player," Spiegelman said. "Green returned to LSU this past week to watch spring practice, and since Brian Kelly has arrived in Baton Rouge, LSU has been trending in his recruitment.
… Ole Miss, Tennessee, and Texas A&M have all continued to recruit him, and he intends to visit some more SEC schools this spring. His basketball season just wrapped up and football recruiting visits are just beginning to pick up. But right now, LSU has definitely set the pace for one of the Boot's top prospects."
In 12 games as a junior, Green racked up more than 850 receiving yards at the tight end spot, and on the hardwood, he was a walking double-double with 27 points and 11 rebounds per contest. The Tigers have made him one of their top targets at any position this cycle and have put multiple coaches on his recruitment.
"Everything has been the same with LSU," Green said in January. "It's home, it's family, it's where I reside at. They've been amazing visits and they treat me just like I'm family. Coach Denbrock, Coach (Joe) Sloan, Coach Jordan Arcement and BK (Brian Kelly) are all recruiting me."
Trey'Dez Green Scouting Report
Green is the No. 56 overall prospect in the 2024 class, according to the On3 Industry Ranking, a weighted average that utilizes all four major recruiting media companies. He ranks as the nation's No. 2 tight end and the No. 2 prospect in Louisiana.
"He's a high flying tight end prospect who plays above the rim on the football field as well as the basketball court. Highly rated basketball player who has serious bounce on the hardwood. 50-50 balls are closer to 70-30 for him with his ability to high point the football. Has rare body control and balance for someone his age with his size. Will have some growing pains as a blocker, but his ability to move and go up and get the football with his size is rare for the position. Arguably the top pass-catching mismatch early on in the 2024 cycle." — Charles Power, On3 Director of Scouting and Rankings
The post On3 Recruiting Prediction Machine: LSU trending heavily with TE Trey'Dez Green appeared first on On3.