On3 Recruiting Prediction Machine: Oregon trending for OT Jac'Qawn McRoy
2 min read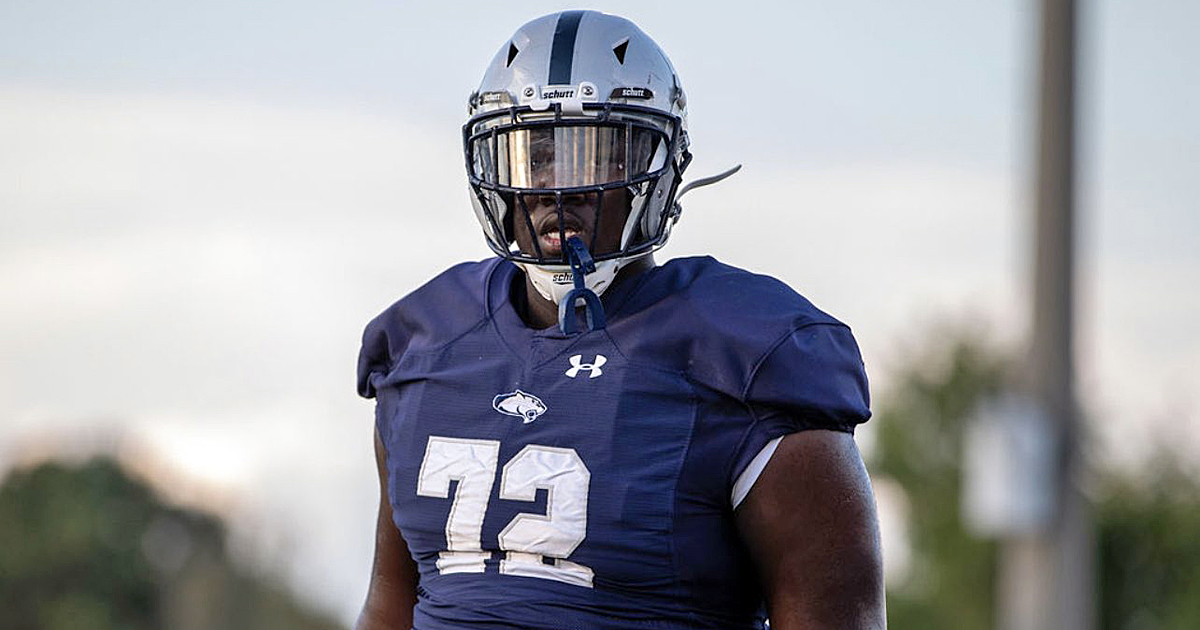 Oregon was one of the schools Pinson (Ala.) Clay-Chalkville four-star offensive tackle Jac'Qawn McRoy grew up a fan of and he recently got his first real feel of what Eugene is all about.
Following recent industry updates and a prediction from Scoop Duck Recruiting Inside Justin Hopkins, Oregon is trending to land a commitment from McRoy according to the On3 Recruiting Prediction Machine (RPM).
The Ducks now hold a 89.3% percent chance of securing McRoy's commitment with Auburn in a distant second. Hopkins logged his prediction with a confidence level of 70% Tuesday afternoon.
McRoy recently visited Oregon and told Hopkins that the Ducks have the best facilities he's ever seen. He also noted that he spent time with Oregon coach Dan Lanning during the visit and the two sat in his office talking for an extended period of time.
McRoy announced his top 10 of Arkansas, Auburn, Florida, Georgia, Kentucky, LSU, Miami, Ole Miss, Oregon and Tennessee on Feb. 4.
"Oregon has been my dream school," McRoy told On3 in February. "It is not about this, but I love how they wear different uniforms. I like the program and I like what they offer in sports management. That is what I want to major in. They have been one of the schools recruiting me hardest."
The 6-foot-8, 340-pounder is the No. 180 overall prospect and No. 14 offensive tackle in the 2024 cycle, according to the On3 Industry Ranking, a weighted average that utilizes all four major recruiting media companies. He is also the No. 11 player in Alabama.
For more Oregon recruiting intel, check out Scoop Duck.
Oregon picking up steam on the recruiting trail
Oregon's picked up three new commitments over the last two weeks and the Ducks are in the mix for several more of the nation's top 2024 prospects.
Following the latest industry updates, Oregon is the favorite for four-star athlete Aaron Butler, four-star cornerback Dakoda Fields and On300 four-star wideout Dillon Gresham.
The Ducks currently sit with the No. 11 class in the country and the No. 1 class in the Pac-12 with eight commitments up to this point.
This month they picked up a commitment Forney (Texas) four-star safety Aaron Flowers, Salem (Ore.) West Salem three-star offensive tackle Trent Ferguson and Saint Louis (Mo.) Hazelwood Central three-star defensive lineman Tionne Gray flipped his commitment from Missouri to Oregon.
Oregon's other commitments include commitments include Newport Harbor (Calif.) four-star wide receiver Jordan Anderson, Philadelphia (Pa.) Roman Catholic four-star wide receiver Tyseer Denmark, Vancouver (Wash.) Evergreen four-star offensive tackle Fox Crader, Yuma (Ariz.) Yuma Catholic four-star EDGE Jaxson Jones and Medford (Ore.) North Medford three-star tight end A.J. Pugliano.
The post On3 Recruiting Prediction Machine: Oregon trending for OT Jac'Qawn McRoy appeared first on On3.