On3 Recruiting Prediction Machine: USC trending for CB Aaron Flowers
2 min read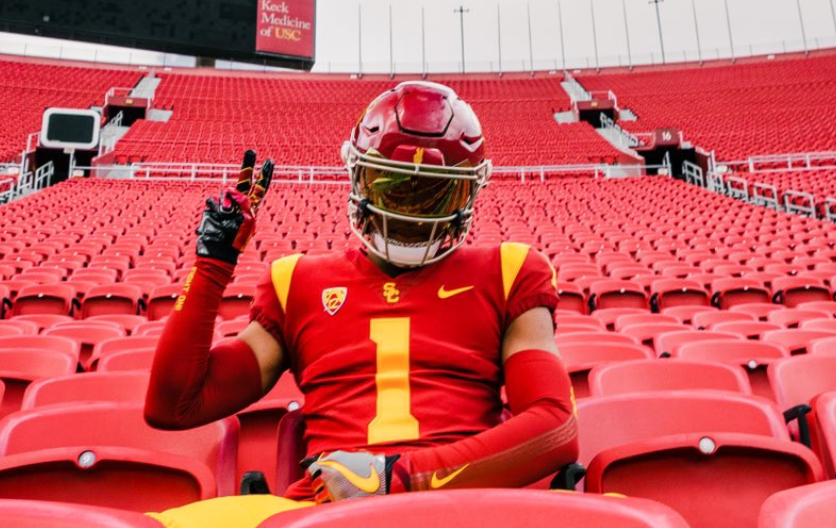 Early in March, Forney (Texas) four-star safety Aaron Flowers narrowed his list of top schools down to 10. Now Flowers is set to pick between those 10 schools on April 7.
One of those 10 schools has emerged as the heavy favorite to land Flowers' commitment according to the On3 Recruiting Prediction Machine (RPM) following the latest expert pick.
On3's Sam Spiegelman put in a pick for Flowers to commit to USC with his confidence level at 60%. The Trojans now have a commanding lead in the RPM for Flowers sitting at 87.4% with SMU and Baylor trailing far behind.
Flowers is the No. 115 overall prospect and No. 10 safety in the 2024 cycle, according to the On3 Industry Ranking, a weighted average that utilizes all four major recruiting media companies. He is also the No. 20 player in Texas.
On3 rates Flowers higher than other recruiting services, according to the Industry Comparison. Per the 2024 On300, Flowers is the No. 70 overall prospect in the country, the No. 7 safety and the No. 15 player in Texas.
Flowers currently has an On3 NIL Valuation of $99K. The On3 NIL Valuation is the industry's leading index that sets high school and college athletes' projected annual value (PAV). The NIL valuation does not act as a tracker of the value of NIL deals an athlete has completed to date. It rather signifies an athlete's value at a certain moment in time.
USC stands out to Flowers following March visit
USC extended an offer to Flowers on Jan. 25 and he didn't take his first visit to campus March 21.
Despite the Trojans getting involved later on, that visit to Southern Cal seems to have left a lasting impact on Flowers. He told WeAreSC's Scott Schrader that he loved the visit and that he definitely planned on returning to campus.
"Everyone knows USC is one of the top programs in the nation and I just want to visit L.A," Flowers told On3 prior to his visit to USC. "I haven't been there ever. So, I just want to visit USC because it's also a nationally ranked school.
"I've been talking to them a lot and they're recruiting me really hard. They said it's going to blow my mind, so hopefully that happens when I go there. I want to see a spring practice, see how the players play and actually see how the coaches are, too."
The post On3 Recruiting Prediction Machine: USC trending for CB Aaron Flowers appeared first on On3.