On3 Recruiting Prediction Machine: Where things stand with top uncommitted five-star prospects
4 min read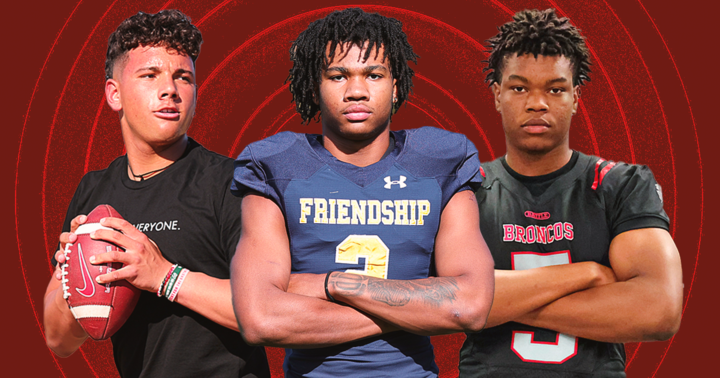 The latest edition of the 2024 On300 rankings dropped Monday and the new list features 11 five-star prospects.
Of the 11 On3 five-star prospects, two have already announced their college decisions. With the help of the On3 Recruiting Prediction Machine, we'll break down the recruitments of the nation's top 20 uncommitted prospects.
EDGE Dylan Stewart
On300 Ranking: No. 1
School: Washington (D.C.) Friendship Collegiate Academy
On3 RPM: Ohio State 44.7%, Alabama 39.1%
On3 NIL Valuation: $320K
The Skinny: Dylan Stewart's visited several of the nation's top programs over the spring including Alabama, Georgia, Michigan, Ohio State and Penn State amongst others. Three of Stewart's official visits are set already as he'll visit Georgia (June 2), Ohio State (June 16) and South Carolina (June 23). While Stewart left left most of his spring visits impressed, Ohio State took the lead in his recruitment according to the RPM as he told On3's Chad Simmons that the visit was 'eye opening'.
DL Williams Nwaneri
On300 Ranking: No. 2
School: Lees Summit (Mo.) Lee's Summit North
On3 RPM: Oklahoma 75.8%
On3 NIL Valuation: $311K
The Skinny: Like Stewart, Williams Nwaneri stayed busy taking several visits throughout the spring but started it all off with a trip to Oklahoma. While his recruitment seemed fairly wide-open entering the spring, the Sooners took a commanding lead in the RPM following Nwaneri's March 4. He told On3 that Oklahoma could be the place for him and included the Sooners alongside Missouri, Oregon and Tennessee as schools he'll take official to.
EDGE Colin Simmons
On300 Ranking: No. 5
School: Duncanville (Texas)
On3 RPM: LSU 44%, Texas 23.7%, Georgia 15.1%, Alabama 12.3%
On3 NIL Valuation: $414K
The Skinny: LSU may hold the lead in Colin Simmons' recruitment according to the RPM but the coveted five-star edge made his way around his home state visiting Texas, Texas A&M and TCU towards the end of March and start of April. He was originally set to visit USC and Colorado as well but canceled each of those trips. After visiting Florida on April 13, he'll round out his spring with a trip to Oregon for the Ducks' spring game on April 29.
WR Cam Coleman
On300 Ranking: No. 6
School: Phenix City (Ala.)
On3 RPM: Auburn 88.6%
On3 NIL Valuation: $146K
The Skinny: Cam Coleman visited multiple schools over the last month but no other school has hosted him quite like Auburn. His first trip to campus was on March 23 and he visited again six days later. He was most recently on campus again on April 8 where he was able to meet with Auburn four-star quarterback commitment Walker White.
QB Dylan Raiola
On300 Ranking: No. 7
School: Phoenix (Ariz.) Pinnacle
On3 RPM: Georgia 41.3%, USC 36%, Nebraska 15.7%
On3 NIL Valuation: $806K
The Skinny: The No. 1 quarterback in the 2024 class, Dylan Raiola visited Georgia, USC and Nebraska each in March. Raiola visited Georgia on March 18 and the Bulldogs took over as the leader in the RPM just over a week later. He's set to take an official back to Athens on June 3 but hasn't any other official visits outside of that.
DL Justin Scott
On300 Ranking: No. 8
School: Chicago (Ill.) St. Ignatius
On3 RPM: Notre Dame 79.4%, Georgia 13.6%
On3 NIL Valuation: $262K
The Skinny: After not being able to visit Notre Dame in January, Justin Scott was finally able to make it back to South Bend on March 25. Scott also attended Miami's spring game on April 14 and set an official visit with the Hurricanes for June 16. On top of that official he's set two more official visits with Georgia for June 2 and Ohio State on June 23..
WR Micah Hudson
On300 Ranking: No. 9
School: Temple (Texas) Lake Belton
On3 RPM: Texas 80%
On3 NIL Valuation: $378K
The Skinny: Micah Hudson spoke with Inside Texas' Justin Wells about his recruitment and noted that Texas and Texas Tech have been two of the schools coming after him the hardest along along with Ohio State, Alabama, Georgia, Florida and Tennessee. He visited Lubbock twice over the spring and also took his first visit to Alabama on April 5. Hudson was scheduled to visit Georgia as well but canceled that trip.
Safety KJ Bolden
On300 Ranking: No. 10
School: Buford (Ga.)
On3 RPM: Georgia 28.4%, Ohio State 16.2%, Clemson 12.6%, Alabama 9.5%
On3 NIL Valuation: $419K
The Skinny: KJ Bolden took visits to Auburn, Florida State, Alabama and Georgia this month. He visited Georgia twice over a two-week span with a trip on April 6 and another on April 15 for the Bulldogs' spring game. Clemson, Georgia and Ohio State will each host Bolden for an official visit over the first three weeks of June while schools like Florida, Auburn and Alabama are all battling to secure an official from him.
OT Jonathan Daniels
On300 Ranking: No. 11
School: Pensacola (Fla.) Pine Forest
On3 RPM: Florida State 90.5%
On3 NIL Valuation: $94K
The Skinny: Jonathan Daniels has visited Florida State more than any other school and was back on campus for the Seminoles' spring game alongside several other top recruits. He told Warchant that it was another great visit and that he plans on taking an official back to campus but that it'll be the last official visit he takes.
The post On3 Recruiting Prediction Machine: Where things stand with top uncommitted five-star prospects appeared first on On3.