On3 Roundtable: Keon Coleman, Payton Thorne entering transfer portal was 'a surprise'
3 min read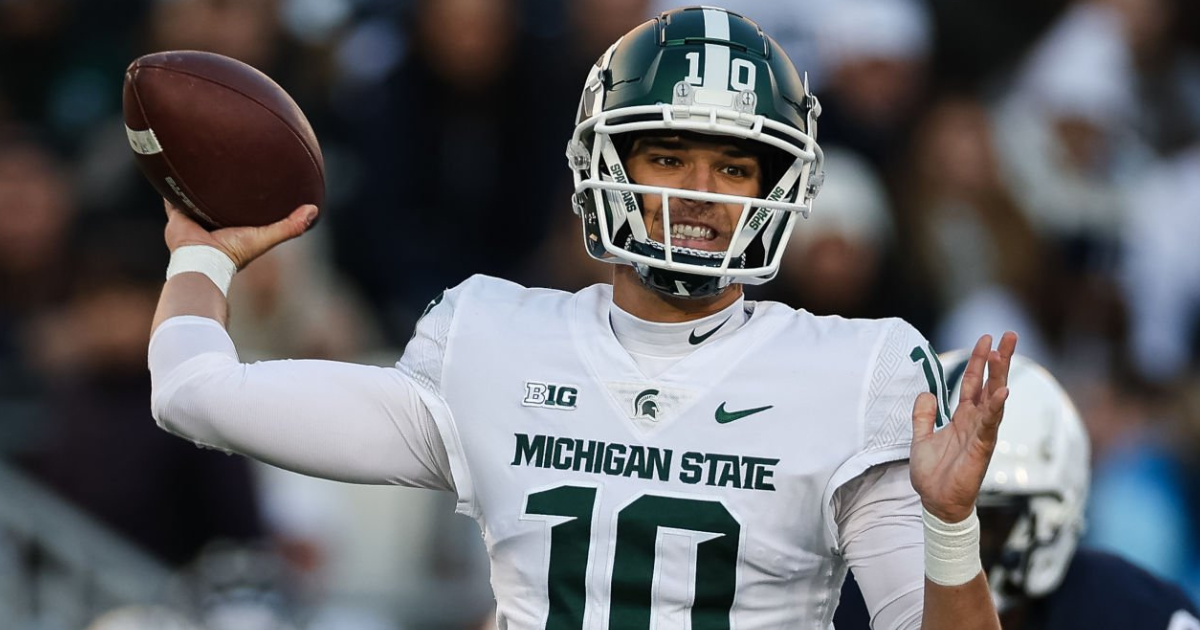 April 30 wasn't the best for Michigan State to say the least as star wide receiver Keon Coleman and incumbent starting quarterback Payton Thorne both entered the transfer portal. Coleman has not yet chosen his future home while Thorne picked Auburn.
Losing two players of that caliber can be an absolutely gamechanger for a program. On3's JD Pickell talked with SpartanMag's Jim Comparoni on On3 Roundtable to discuss what the losses mean for the program.
"It was a surprise for Michigan State fans for that to happen with Keon Coleman," Comparoni said. "It's Michigan State's best player. You talk to Michigan State fans going back decades and decades and decades, this is the first time in an offseason that Michigan State has lost its best player. Of course, the transfer portal has been a new thing, but there's some adjusting going on in terms of what Michigan State's going to do offensively, how the fans are interpreting it. Keon Coleman is a big loss. It comes in a year in which Michigan State does not have a lot of returning talent at the wide receiver position."
While the loss of Coleman is pretty straightforward, there is a little more depth and drama to Thorne leaving. Comparoni explains that while Thorne was the incumbent starter, Noah Kim was putting up a fight to start over him
"You combine that with losing Payton Thorne at quarterback, would have been a third year starter," Comparoni said. "But I tell you what, he was going to have a hard time retaining the job with Noah Kim coming on as a redshirt junior. Noah Kim has three years of eligibility left. And according to a lot of sources of mine, one or two of which have real real good access to what's going on, Noah Kim outplayed Payton Thorne this past spring."
Comparoni then emphasized that Kim didn't win the job in the spring.
"That doesn't necessarily mean he's going to be better in the fall than an experienced senior quarterback but it was a real competition," Comparoni said. "Payton Thorne leaves ahead of that competition maybe coming to fruition with maybe him not being the starter later in the season, maybe at the beginning of the season. He goes elsewhere, maybe has a better chance to start immediately at Auburn, but that was a competition — a true competition."
The loss of Thorne expedites the process of Kim to the starting role but also leaves the team vulnerable at the position with a lack of depth.
Rising redshirt freshman Katin Houser will be the backup quarterback to Kim but after him, there is not much else in the cupboard for the Spartans
"But what you lose there is depth," Comparoni said. "Let's say Payton Thorne had not beaten out Noah Kim for the starting job, you at least still have Payton Thorne as a backup and worst case scenario for Payton Thorne. As it stands now Payton Thorne's gone. Noah Kim, sink or swim. Katin Houser a redshirt freshman and not not much else in terms of a backup situation, which as everyone knows, can become so important in a college football season.
The post On3 Roundtable: Keon Coleman, Payton Thorne entering transfer portal was 'a surprise' appeared first on On3.