On3 Roundtable: Michigan State fans remain 'hopeful' for Mel Tucker
3 min read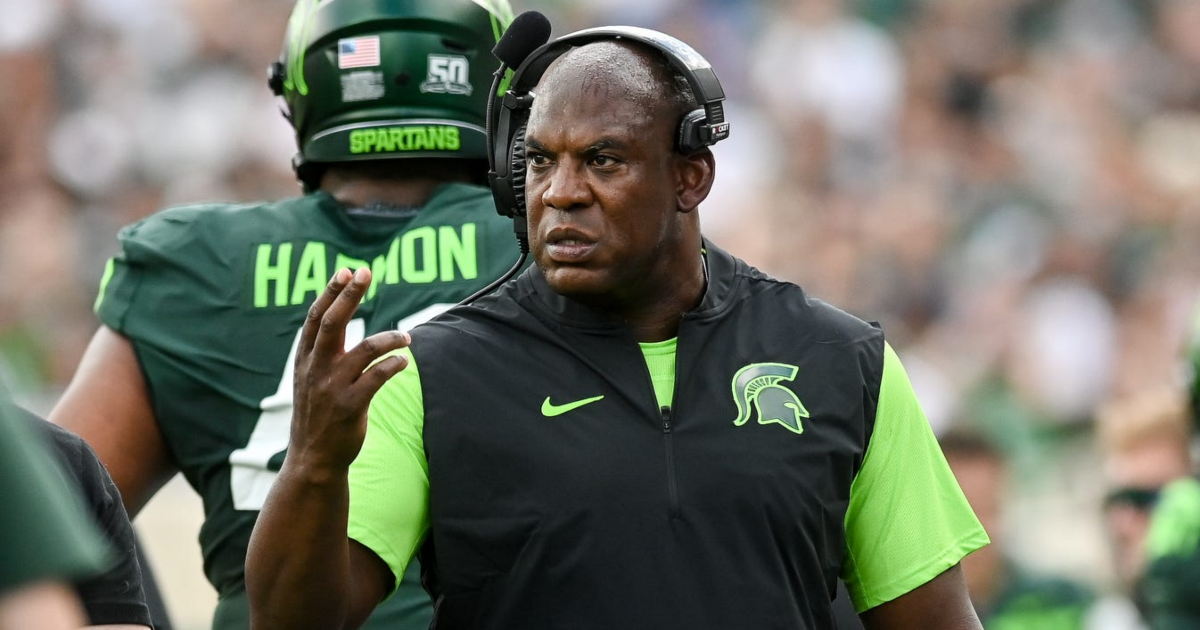 It's been an up-and-down ride for Michigan State coach Mel Tucker in his three years in East Lansing so far. After going 2-5 in his inaugural season, Tucker led the Spartans to an 11-2 record in 2021 only to finish 5-7 this past season.
This offseason MSU saw 19 players enter the transfer portal, including six who left after spring practice. The recent departures of quarterback Payton Thorne and receive Keon Coleman have further put pressure on Tucker entering his fourth year, but SpartanMag's Jim Comparoni explained in a recent On3 Roundtable discussion that fans are still "hopeful" regarding the coach.
"It's hopeful, cautiously optimistic," he said. "There's always gonna be fans that are not sure if 11-2 in 2021, if that was the real deal or just an outlier. But as I look at this, when he was hired and you look at the class of coaches that were hired in 2020 when all of a sudden the nation is slammed with COVID, how upsetting that is for a coach who had one year of experience at Colorado, but other coaches around the country. He was hired in February and inherited a recruiting class. His first recruiting class was the COVID year when everybody in the country was recruiting off of Zoom video. There were no official visits. You didn't get to meet people face-to-face. So that recruiting class is part of it."
After signing the 12th-best recruiting class in the Big Ten in 2021, Tucker's classes ranked fourth in the conference in both 2022 and 2023. His most recent class was his best yet, ranking 22nd in the country according to the On3 Industry Rating, a weighted average that utilizes all four major recruiting media companies.
The recent transfers and a disappointing 2022 season are certainly cause for concern. However, Comparoni urged Michigan State fans to look at other factors with Tucker.
He pointed to a wave of injuries on defense last season that could have led to the lackluster result. He also mentioned how the timing of when Tucker took over, a year before the transfer portal and NIL took off, may have made the coaching transition even more difficult.
To further hammer home his point, Comparoni named off a few coaches who also took over their programs in 2020 such as Dave Aranda at Baylor, Lane Kiffin at Ole Miss, Sam Pittman at Arkansas and several others. Those coaches have each followed a similar pattern to Tucker, with their second season at the helm being their best followed by a dropoff in Year 3.
"His first year at Michigan State, they go 2-5," Comparoni said. "Everybody was disrupted. The next year, they do a great job in the transfer portal with Kenneth Walker, arguably the best player in college football that year. They go 11-2. Last year, they go 5-7. Injuries last year at Michigan State. 26 or 27 individuals started on the defensive side of the ball. So the defense ranked in the 100s in total defense. All those things add up to a 5-7 season.
"What I'm interested to track is those coaches across the country at the Power 5 level that were hired in 2020. They're thrown into the COVID year and the beginning of transfer portal, NIL. All these things that coaching DNA does not prepare you for. Maybe established coaches had a better shot at it. …So in terms of excitement about Mel Tucker, I think there's an understanding that even though he's going into Year 4, in some ways it's already a rebuild and in some ways he's still just getting started if that makes any sense."
Following his 11-2 season, Tucker signed a 10-year contract extension at Michigan State and makes $9.5 million annually. That's another factor to consider when speculating on his future with the Spartans, and certainly puts pressure on him to turn things around quickly after last season.
The post On3 Roundtable: Michigan State fans remain 'hopeful' for Mel Tucker appeared first on On3.