On300 No. 1 ATH Terry Bussey dishes on contenders, visits and decision plans
4 min read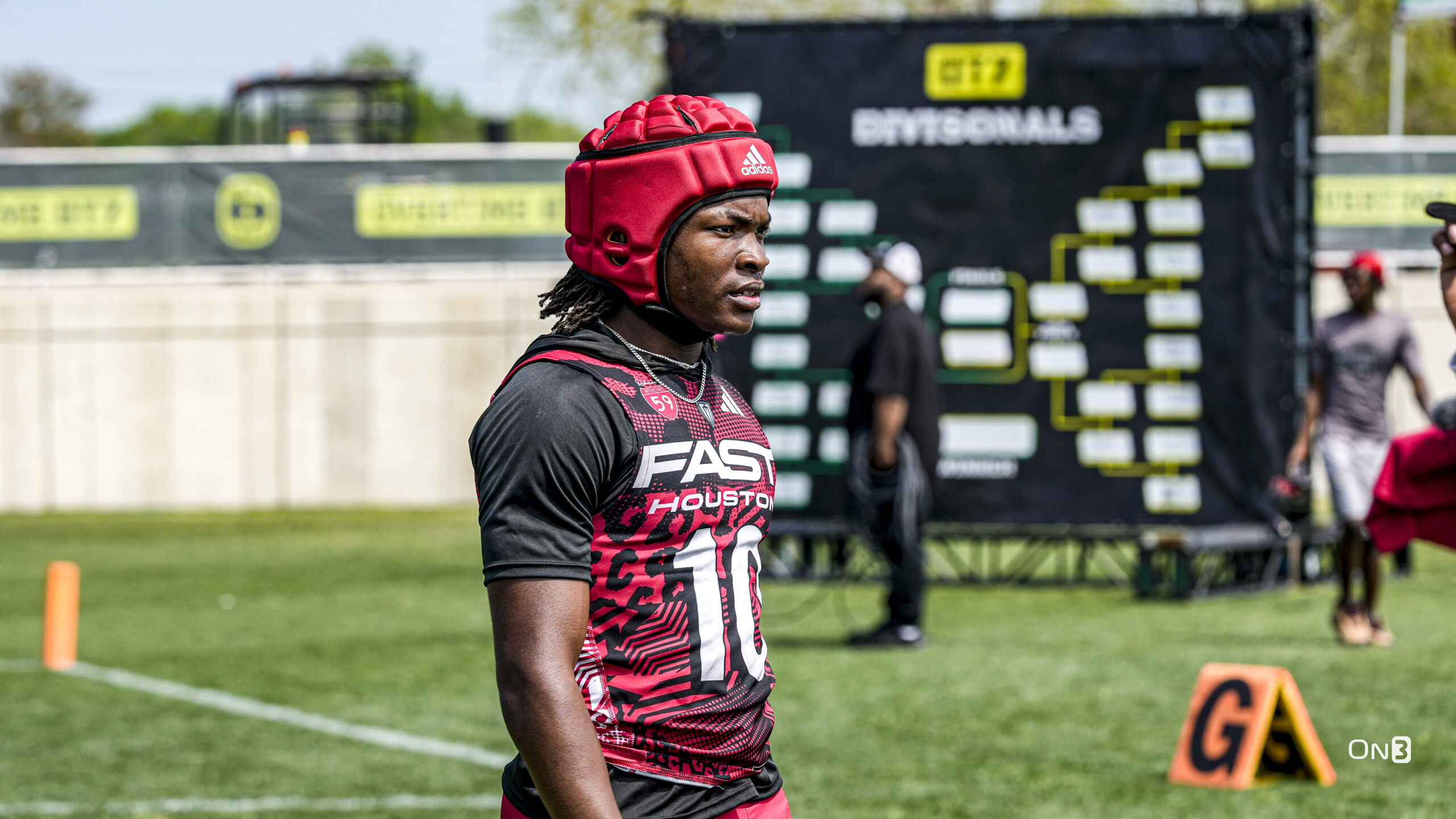 Terry Bussey is the top athlete in the country out of small-town Timpson, Texas.
While his recruitment already has a national feel to it, the elite playmaker getting recruited on both sides of the ball by colleges nation-bound has still hardly dived into it just yet.
Bussey has been juggling a rigid schedule since his junior football season came to a finish in the UIL state semifinals back in December. He's been balancing basketball, track and baseball, along with offseason 7-on-7 and, of course, his classwork.
Bussey visited Texas A&M and Baylor in January. He was slated to be in Baton Rouge to see LSU for the first time this weekend (April 1), but track will keep him in East Texas.
Schools like the aforementioned Aggies, Bears and Tigers are all in the thick of Bussey's recruitment along with Tennessee, Texas, Alabama, Oklahoma and TCU.
"I've been trying to plan visits here and there, but this spring has been busy with track and baseball. I've had to reschedule and miss the visits, but I'm trying to go out and see places," Bussey told On3.
"Basically, a lot of them," the No. 1 athlete in America added.
Aggies have established rapport with Bussey
One of Bussey's earliest overtures came from Texas A&M. The Timpson (Texas) High School do-it-all playmaker has been to College Station more than any other campus early on in his recruitment.
The Aggies are leading the way early on the On3 Recruiting Prediction Machine. Defensive backs coach TJ Rushing is leading the charge for Bussey.
"They just feel like family every time I go up there," Bussey said. "I have good relationships with all the coaches and it's good going up there because every time I'm there I get to know them a little bit more and they get to know me a little more."
"They treat me like family," the No. 13 in the On300 for 2024 continued. "I have good relationships with the staff and when I'm up there, it feels like family."
Texas and LSU working to get Bussey on campus this spring
The coaching staffs at Texas and LSU have been working hard behind the scenes to get the 5-foot-11, 180-pounder from East Texas on campus for spring practices.
The Longhorns offered Bussey in January and the program's ascension has caught the in-state athlete's attention.
"We're building a relationship right now, getting to know each other more and more, and I'm trying to get out there to see it," Bussey said of Texas.
"It seems like they're building something good out there. It's fun to see what they've got going on."
Bussey was penciled in to get to LSU this weekend but instead will compete in state relays. Kerry Cooks and the Tigers' staff have been making themselves very present in his recruitment throughout the spring.
"I was trying to get up there April 1, but I have to reschedule it," he said. "Ever since I've been talking to Coach Cooks, they've been really on me. I have a good relationship with him and I want to get up there and see what it's all about."
TCU, Baylor among Bussey's in-state options
TCU wide receivers coach Malcolm Kelly is an East Texas legend that is aiming to add Bussey to his wide receiver room next year.
Kelly has established the Horned Frogs as contenders with the On300 standout.
"Coach Kelly, he's really a great guy," Bussey said. "I talk to him a lot and we have a strong relationship. He's been in the mix since the beginning."
Baylor defensive backs coach Kevin Curtis has similar pull. The Bears got Bussey on campus in January and have been pillars in his recruitment to date.
"Coach Curtis and I have a strong relationship," he said. "We talk almost every day probably and that's what has Baylor sticking around with me."
Tennessee, Oklahoma and Alabama were among the other programs Bussey mentioned as far as contenders.
"Coach Curtis from Baylor, Coach Rushing from A&M, Coach Kelly from TCU, Coach Coleman (Hutzler) at 'Bama," he said. "It's quite a few (coaches) I've been clicking with recently, quite a few of them I'm building a strong relationship with."
Bussey's decision will stretch into the season
As spring sports hold up Bussey's ability to dive deeper into his contenders, he is not rushing his process.
The On300 athlete believes a decision will come after the start of his senior season at Timpson High School. No teams have been guaranteed official visits, though he hopes to have it narrowed down a bit more by the fall after soaking up some visits.
Academics will be a critical X-factor.
"I'm looking for a great academic program and what feels like home for me," the electric Bussey noted. "I'm a big academics guy and I'll probably major in engineering. It's a great program that'll get me to where I need to be outside of football."
One program has already checked off that box.
"A&M has," he confirmed. "They have a good academic program."
The post On300 No. 1 ATH Terry Bussey dishes on contenders, visits and decision plans appeared first on On3.