OPINION: Longtime Larranaga Assistant Caputo is now a head coach, but a big piece of him will be with Miami at the Final Four
7 min read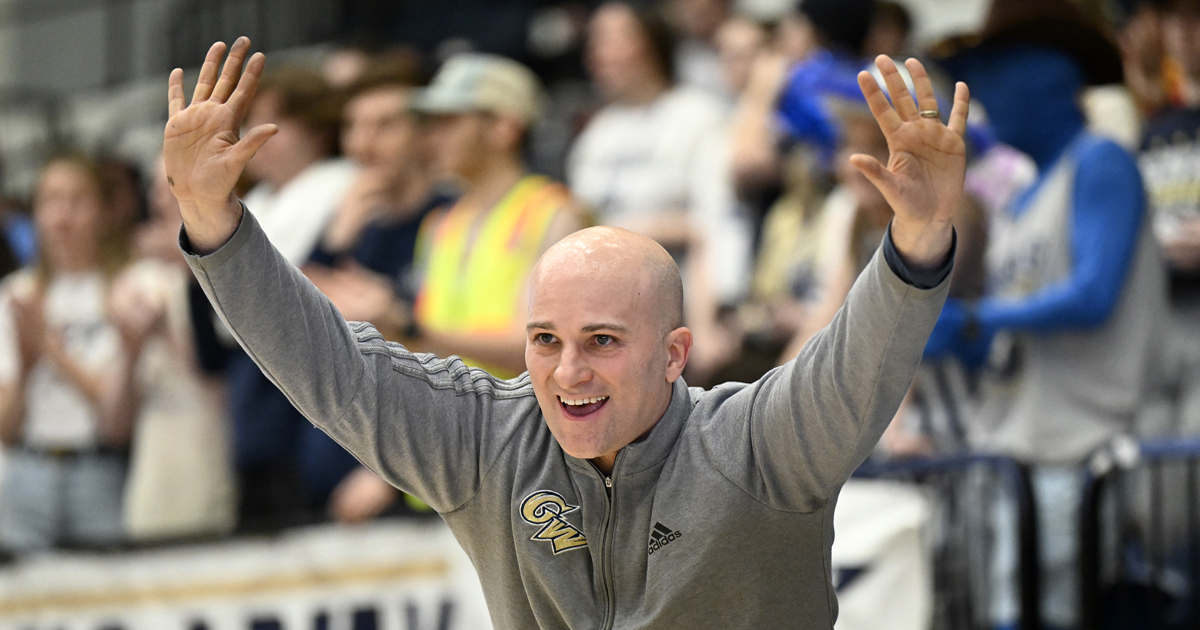 HOUSTON — There is one man I can promise you will be sitting front row behind the Miami Hurricanes bench here Saturday night at NRG Stadium.
Chris Caputo was right by Jim Larranaga's side as his lead assistant for his first 11 years at Miami, and his seven years before that at George Mason University where they went to the Final Four in 2006. He was as big of a part of the foundation laid that has resulted in Miami reaching the Final Four this week as anybody.
Caputo has not been there the past few weeks with Miami to cut the nets though. He left after last year's Elite 8 loss to eventual national champion Kansas to take the head coaching job at George Washington University.
So Caputo was at his home in Virginia watching on television last weekend as Miami dispatched Houston and Texas in Kansas City.
"We set out to do a job when we got there 12 years ago," Caputo told CaneSport this week. "Coach L had a vision for what the program could be. I feel a sense of content about what I was a part of and that the program has become one of the best in the country.
"Going to the Final Four takes it to a whole other level. It's easy for me to be happy for them getting there since I'm not there preparing for this weekend. I'm sure those guys now want to finish it off.'
Caputo went 16-16 in his first season at George Washington, 10-8 in the Atlantic 10 conference. He is learning the nuances of being a head coach and there is little doubt that when the day comes that Larranaga retires at Miami that Caputo will be among the candidates to replace him just because of his familiarity with the program and connections to the UM administration.
"We had the most wins since 2017 and the first winning record in the conference since 2017," Caputo said of his first season as a head coach at George Washington. "We had some good wins. We are on our way to getting this thing going.
"It's great being a head coach. I have learned so much from Coach L through the years. I came here so prepared due to that experience and have tried to do a lot of the same things."
Caputo joined Larranaga's coaching staff at George Mason as the director of operations and video coordinator in 2002. He became a full assistant coach in 2005, the season where the Patriots reached the Final Four. They reached the NCAA tournament two more times and the NIT once before 2011 when Larranaga was hired by Miami and brought Caputo with him.
The program quickly reached new heights under their direction. This is Larranaga's sixth NCAA Tournament appearance and fourth trip to the Sweet 16, second to the Elite 8 and first to the Final Four. In just their second season (2012-13), Miami won ACC regular-season and tournament titles and won the ACC regular season title again this year. He has won 25 games five times. The achievements go on and on.
It was natural and easy for Caputo to reflect on all of that as he watched Miami battle Texas Sunday.
"They were making everything," Caputo said of the Longhorns. "But then they (Miami) were just able to start to string together some stops and Texas got tight.
"I felt like a nervous parent watching, a nervous family member. I felt like the people in the stands. It all was pretty damn cool if you think about it. I was just so happy for everyone there and obviously I know the amount of work that went into building the program over 12 years."
Now that there is something as tangible as the Final Four on Larranaga's lasting legacy, Caputo feels a greater sense of accomplishment for the effort that went into getting the program to this point.
"You gotta give Coach all credit. You know, he's the one with the vision," Caputo said. "Our job as assistant coaches is to sort of make that vision a reality. I think when we first got to Miami, it was sort of the idea of like, `Hey, this is a place that's won five national championships in football and four national championships in baseball. Why can't it be done in basketball?'
"I think when you look at the University of Miami and its location and its academic standing, the brand in general, I think Coach felt like, yeah, this can be done in basketball.  But it was going to take work. And so, I think he saw that, and then, you know, we worked diligently for a long time to make it happen. And it's not just the Final Four. It's the Sweet Sixteen's and Elite Eight's and ACC Championships, all the things that have happened. If you start thinking about the level of consistency, it's pretty impressive."
There were tough times when it was difficult to get students to come to games and in those two-plus seasons blown up by the FBI.
But the past two seasons, the students rallied behind the team and Larranaga and his staff stepped up their recruiting game and put together a generational team that now has made the Elite 8 twice in a row and may not be done. We will see what happens this weekend, but forward Jordan Miller is the only player whose eligibility is up. If Isaiah Wong stays for example, Miami might begin the 2023-24 season as a favorite to get back to the Final Four.
"I know that there is a thing that basketball shouldn't be a big, big thing at Miami," Caputo said. "But you have a really neat arena that's right there on campus next to all the dorms. It's walking distance. It's big-time ACC basketball. It used to be that you have to play a good team and people will come out. Now  it's like, no, no, no, we're a good team. People should come out. It took time to be able to create that in the program.
"So I do think it all means a lot. Coach has done an incredible job and has consistency of success, which I think is maybe the hardest thing to do. But when you when you go to the Final Four, it's immense. Your program, your coaching staff, the head coach, is seen as a legitimate place. And so, here's a guy who probably should have his name on the court at two schools and should be in the Naismith Hall of Fame."
Caputo was asked what has made Larranaga so consistently successful.
"I think he's got a great way about himself with the players," Caputo said. "He has an ability to make them feel like it's about them and not him, that he's got their best interest in mind. He is flexible and adaptable. I think when you think about a people doing things the right way, and that that term gets thrown around a lot, I think he really has done things the right way."
Larranaga has built a reputation as a coach who is masterful at getting his teams ready for the postseason, a notion that was confirmed last year when Miami was 30 minutes away from the Final Four and this year when it has gotten there.
"The magic is calm. I think there's a level of calm to it," Caputo said. "And I think when the players are calm, it allows them to just kind of be where their feet are and stay on task. They are in the present. They are thinking one play at a time.
"I think his ability to quickly download information on a quick turnaround is probably really good as well. You know, when you have the single elimination, one day prep, keeping the main thing the main thing and being able to send those messages to the players is very significant to success. You know with Jim, I think it's really good."
This time around, Miami has a full week to get ready for Saturday night's game against Connecticut. That is giving Larranaga time to focus on all details, such as finding maximum shooting time for his players Thursday and Friday in Houston to acclimate to playing in a domed football stadium that he says gives the feeling of playing basketball outdoors.
Caputo knows Miami will show up ready to play and he doesn't expect this overall run of excellence by the Hurricanes to end any time soon.
"I just think he loves coaching. He loves working with players. He loves basketball. He loves teaching and being around the players. He loves the community," Caputo said of Larranaga. "I don't think he could see himself doing anything else. I think it just is what makes him tick, you know. It shows you how much he loves it because to go through what we went through with the FBI investigation and having to start over, you'd have to love it.
"It's like building a sandcastle and then someone just kind of walks through it. You know it's gonna take some time to put that thing back. But it was put back up better than it was ever before."
The post OPINION: Longtime Larranaga Assistant Caputo is now a head coach, but a big piece of him will be with Miami at the Final Four appeared first on On3.