Oregon center Kel'el Ware drawing interest from marquee programs after entering transfer portal
3 min read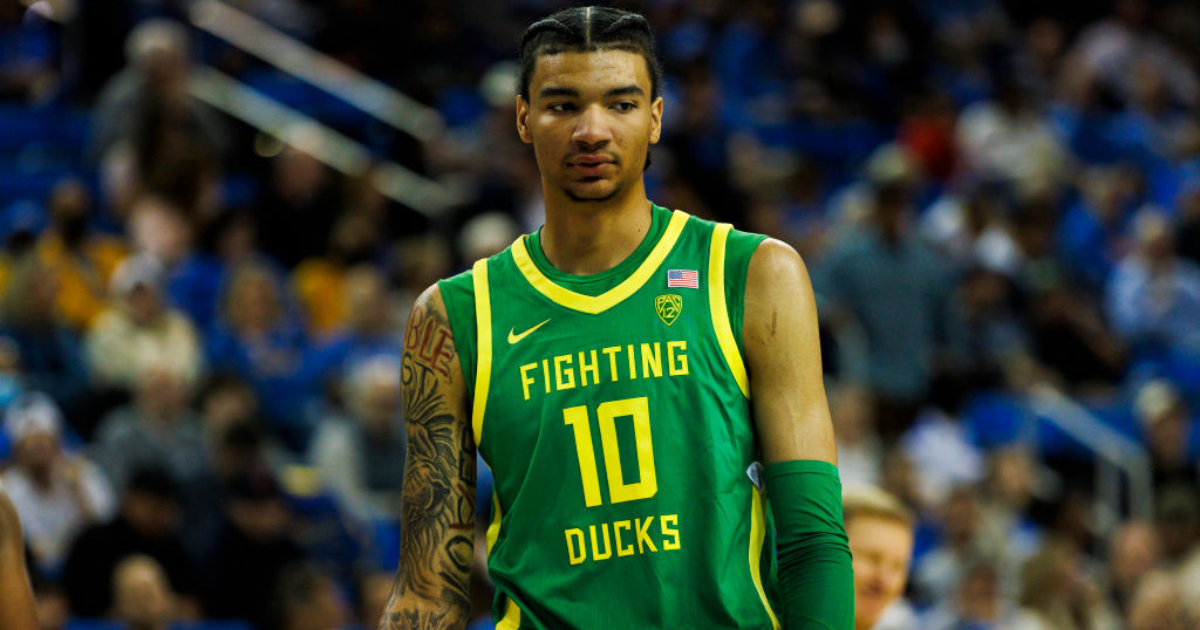 It's been less than 24 hours since Oregon center Kel'el Ware entered the transfer portal and the former 5-star signee is already drawing interest from some of the top programs in the nation.
Ware, the No. 6 overall prospect in the class of 2022, announced on Monday that he is entering the portal. His departure from the Oregon program comes after a rocky freshman season during which he struggled for consistent playing time under Dana Altman.
On Tuesday, On3's Joe Tipton reported that Ware has already heard from more than a dozen programs.
Ware arrived at Oregon as the second-highest-rated signee in program history, but his time in Eugene didn't exactly go according to plan.
In 35 games this season, the 7-foot freshman averaged 6.6 and 4.1 rebounds in 15.8 minutes per game. He flashed incredible potential at times, and his athleticism and length stood out whenever he was on the floor. But according to Altman, his effort and energy went missing far too frequently.
On numerous occasions, Altman publicly criticized Ware's effort.
"We've had a lot of conversations," Altman said of Ware during a media availability in January. "They haven't gone as well and haven't been as constructive as we want them to be. I was disappointed in his effort. I let him know that. He's gonna have to make some adjustments or I've got to make some decisions. His time has been reduced. That doesn't help us, because he is talented."
A Little Rock, Ark., native, Ware chose Oregon out of high school over Arkansas, Texas, and countless others.
Transfer portal background information
The NCAA Transfer Portal, which covers every NCAA sport at the Division I, II and III levels, is a private database with names of student-athletes who wish to transfer. It is not accessible to the public.
The process of entering the portal is done through a school's compliance office. Once a player provides written notification of an intent to transfer, the office enters the player's name in the database and everything is off and running. The compliance office has 48 hours to comply with the player's request and that request cannot be refused.
Once a player's name shows up in the portal, other schools can contact the player. Players can change their minds at any point and withdraw from the portal. However, once a player enters the portal, the current scholarship no longer has to be honored. In other words, if a player enters the portal but decides to stay, the school is not obligated to provide a scholarship anymore.
The database is a normal database, sortable by a variety of topics, including (of course) sport and name. A player's individual entry includes basic details such as contact info, whether the player was on scholarship and whether the player is transferring as a graduate student.
A player can ask that a "do not contact" tag be placed on the report. In those instances, the players don't want to be contacted by schools unless they've initiated the communication.
The portal has been around since Oct. 15, 2018 and the new calendar cycle within the portal begins each August. For example, the 2021-22 cycle started Aug. 1. During the 2020-21 cycle, 2,626 FBS football players entered the transfer portal (including walk-ons). That comes after 1,681 entered during the 2019-20 cycle and 1,709 during the abbreviated 2018-19 cycle. In comparison, 1,833 Division I basketball players entered the portal during the 2020-21 cycle after totals of 1,020 in 2019-20 and 1,063 in 2018-19.
The post Oregon center Kel'el Ware drawing interest from marquee programs after entering transfer portal appeared first on On3.