OU mailbag: Who is OU's toughest opponent other than Texas?
7 min read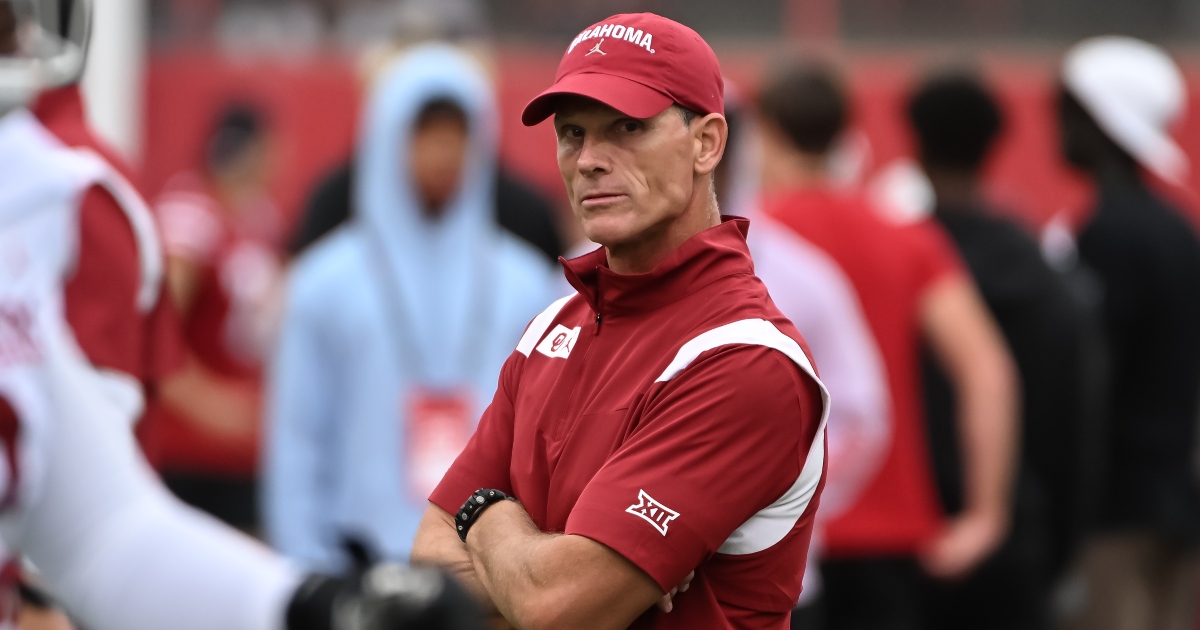 Every Monday, SoonerScoop.com and On3's George Stoia will be answering your questions in his weekly OU mailbag. This week, Stoia takes a look at OU's schedule, how NIL affects recruiting, and what position battles will take place in the fall.
Below are Stoia's answers for Monday, May 15.
How long is the Big 12's current contract with the Softball Hall of Fame to host the Big 12 tournament? And Do you think OU/SEC will try to move it there or is it "too far west" for the SEC?
I reached out to the folks at the Big 12 and asked this question and have yet to hear back. But I would imagine the Big 12 will continue to play at ASA Hall of Fame Stadium. Currently, the SEC rotates venues and with OU soon to have a new stadium, I wonder if they host the tournament in 2025.
It also seems that the SEC is shifting a lot of events to Nashville. It wouldn't surprise me if that's where a lot of things end up, including the football championship game when the Tennessee Titans get a new stadium in 2027. 
Let's say that Todd Bates strikes out on Xadavien Sims, David Stone, Joseph Jonah-Ajonye, Nigel Smith, & Williams Nwaneri, would that speak to something deeper like NIL, something the average fan does not know about, or what?
First off, I would be shocked if Bates whiffs on all five. But for the sake of this question, I don't think NIL would be the excuse. OU is playing the NIL game — maybe not to the level of others, but if they really want one of those kids, I believe they will pony up. 
The reality is that OU needs to still change the perception on defense. Brent Venables and his staff have done a good job doing that so far without the production on the field. But the reason the Georgia and Alabamas of the world land that elite talent isn't just because they have NIL money. It's because they produce draftable talent. Oklahoma has to convince those kids they can do that in Norman. And Bates has a good track record from Clemson of doing that. 
So, yeah, every once and while you might lose a kid or two because of NIL. But if OU doesn't land any of those five guys, there's a larger issue with the program than NIL. 
What specifically are you looking at for BV to show signs of improvement this year?
No. 1 has to be game management. Using his timeouts at the proper times, having the offense slow down when needed, and when to be aggressive on fourth downs. Those areas have to be improved in Year 2. 
And specifically on defense, they need to be better on third down. OU ranked 81st in third-down defense – opponents converted 40.4% of third down last season, which is worse than any OU defense under Alex Grinch. That's not good. 
Haven't heard anything about Thad Turnipseed in months. What's happening with him? What changes are going on?
Turnipseed isn't someone who is readily available to the media, so it's hard to get regular updates on what he's working on. But I assume he has a major role in the new facilities that are being planned. I think there's a chance we have the first renderings for that at the Board of Regents meeting in June. And again, just guessing, Turnipseed will be a part of that. He's been pushing for updated facilities since his arrival. 
Outside of Texas, what is OU's most likely game to lose in your mind in 2023? Also, prediction for the records of the top of the Big 12?
There are three games other than Texas that I would circle as possible losses. At Cincinnati, at BYU and TCU at home. And even in those games, I'd pick OU to win. But those feel like teams that Oklahoma could slip up. I don't think Cincinnati is going to be good, but it's an early-season road game against a new opponent, who knows what could happen? BYU is in the same situation – I don't think they'll be good, but on the road late in the season could be a tough game. TCU definitely won't be as good as they were a year ago, but they're always a tough game and on a short week maybe they catch OU off guard. 
Some will say Bedlam, but I just don't think Oklahoma State will be good next year. Iowa State at home the week before Texas could be interesting, but I don't trust Hunter Dekkers. And at Kansas could be a tight game and that might be one I should add to the group above.
The more I look at the schedule the more I think there should be no excuse to go worse than 10-2. It's just a question of who is going to be this year's Kansas State. And is that team on OU's schedule? 
Do you think Kip Lewis will get increased playing time? Is it his weight that is holding him back?
I do think Lewis will have more playing time, but he also only played in five games last year so the bar is low. The problem for Lewis is that he plays WILL behind Danny Stutsman, who I don't expect to come off the field much. He does need to put on a little weight – probably 10 pounds – but I don't think that's what's holding him back. 
They just have a lot of depth at linebacker right now and Stutsman has more experience. I do think you could see him rotate in early in the season and he will definitely be on special teams. 
What position group needs to be way better for OU this season?
Defensive end without question. They were so bad at setting the edge last season and couldn't get after the quarterback unless they brought an extra rusher. There's a reason they added more at that position than anywhere else this offseason in both the portal and in recruiting. They know they have to be better there. 
And I think they will be. I'm buying Rondell Bothroyd stock. He's a much more consistent player than anyone who played on the edge last season. 
What would you say is your greatest asset/strength/area of knowledge that you bring to SoonerScoop and what do you need to improve on/brush up on now that you are back in town?
Oh boy. Greatest strength? I feel like I have a good understanding of the fanbase and what they want to read because I grew up around it. And I think my best asset as a reporter is my ability to write long-form features in a way that they don't feel long. Those are my favorite stories to write and I know they're not always deep in the Xs and Os, but I do think they're valuable. Also, I know I'm not a "football guy" according to some, but I do understand the game thanks to my dad, who was an offensive coordinator at Navarro and Blinn junior colleges. 
I can always improve my writing. I'm really hard on myself about that. In terms of coverage of the team, I need to get to know this staff more. There's obviously been a lot of turnover since I was last here, so just source-building over the next year. 
With the current trajectory of OU recruiting, what is the most optimistic timeline for reaching an SEC Championship game?
2025 – that's the best-case scenario and I don't think it will happen, but they will have a quarterback good enough to get there. And if the defensive recruiting keeps trending in the right direction, then they could be really good on that side of the ball in a couple of years. Realistically, though, I think they will make the 12-team playoff before the SEC title game. 
It will also largely depend on how the SEC schedules conference games. They could get totally screwed their first few years in the conference and draw Alabama or Georgia or both. 
What are you looking forward to seeing in fall camp? I know you are just getting to know the staff, but how many starting spots do you really think are up for grabs in August?
I've said this every week, but wide receiver is a position I'll be watching. I just have no idea who is going to play there because there are a lot of options, but also very little experience. Someone will emerge, but it may not be until Game 5. 
Starting spots that I think are up for grabs: cheetah, safety, cornerback, linebacker, defensive end, running back, wide receiver, center, and both left and right guard. There's a lot of returning production, but there are quite a few spots that will have battles in the fall. 
Bonus/rapid fire
Fact or Fiction: The Oklahoma 2024 DL class will rank #1 in the country?
Fiction, but that doesn't mean it won't be arguably the best Oklahoma defensive line class in the past two decades. 
Does OU have a record of 10-2 this year?
That's my current prediction. 
What's a successful year look like for us this year?
10-2 and an appearance in the Big 12 title game. Don't even have to win the Big 12, but win double-digit games and that's a success. 
Were you named after George Costanza from Seinfeld?
No, but we do have many of the same qualities. 
When is The Summer of George playlist dropping?
You can find the official Summer of George playlist here. 
The post OU mailbag: Who is OU's toughest opponent other than Texas? appeared first on On3.