Out-of-state JUCO DB grateful for Miami Hurricanes offer: "Receiving the offer was insane to me"
3 min read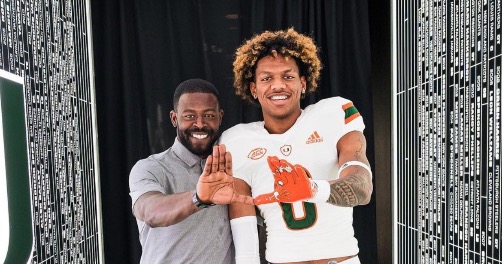 After receiving an offer from the University of Miami on March 19, College of San Mateo defensive back Sione Laulea quickly made his way to Coral Gables for an unofficial visit with the Hurricanes.
The 6-foot-4, 185-pound defensive back has a 79-inch wingspan and runs a sub-11-second 100-meter sprint in 10.8 seconds.
"Miami was just a surprising offer in general," Laulea told CaneSport. "As soon as I stepped off the plane, the atmosphere was crazy. Not only weather-wise, but the people around were amazing. I always talked to my family about Miami when I was younger and used them in the NCAA football game. It's just a big school that's always noticeable with those colors and the big U. Receiving the offer was insane to me, and as soon as I got it, the first thing coach Cristobal was talking about was getting me on campus." 
Miami head coach Mario Cristobal and the Hurricanes have made it apparent that they want Laulea to join their program and have made it clear to him.
"It made me feel more wanted," Laulea said. "It meant so much to me that he wanted me down on campus and in person on such quick notice."
Laulea got the opportunity to speak with coach Cristobal in depth during his visit to Miami and was extremely impressed with what he had to say.
"He's a great person that's straightforward and always informative," Laulea said. "He'll mention how good of a player I am, but he won't overdo it to the point where he's doing it too much. He just tells me what it is and what I need to get done. He did a really good job of just explaining the program and what the Hurricanes have to offer."
Laulea also spoke with defensive back coach Jahmile Addae, who feels Laulea can make an instant impact at Miami.
"He mentioned that I have the potential to come through and make an impact as soon as I step foot on campus," Laulea said. "I think that's great and would love to do that, which also means a lot to me."
Before being offered by the Hurricanes, Laulea was contacted by Alonzo Highsmith, Miami's general manager of football operations, who praised the California native and compared him to Seattle Seahawks Pro Bowl defensive back Tariq Woolen.
"He hit me up and gave me some info on his background and where he's coming from," Laulea said. "He also told me how he could better me as a player with the whole program that they've got going."
Laulea's recruitment has skyrocketed since the beginning of the spring, with offers from BYU, Utah, Florida State, USF, USC, and Miami. Laulea noted that the schools he is currently most interested in are USC, Utah, and Miami.
Laulea hopes to commit before his sophomore year and will take official visits throughout the summer before enrolling in the winter following the season. 
"Especially after that visit, I would say Miami is up there with Utah," Laulea said. "That visit to Miami was great; I loved everything that I saw. The area is nice, the people are great, and the classes have a 12 to 1 teacher-to-student ratio, which is great. Overall, it just seems extremely high-end and a good place to be." 
CaneSport's take 
Laulea's recruitment has just begun to pick up, and we expect it to continue to do so in the coming months. With Miami being one of the first schools to offer and get Laulea on campus, that may bode well for the Hurricanes in the long run as his stock continues to rise. Regarding Miami, Laulea says he would like to see the program continue to grow as well as strengthen his budding relationship with the entire staff.
The post Out-of-state JUCO DB grateful for Miami Hurricanes offer: "Receiving the offer was insane to me" appeared first on On3.