Overview of Buckeyes transfer additions who have yet to shed black stripe
5 min read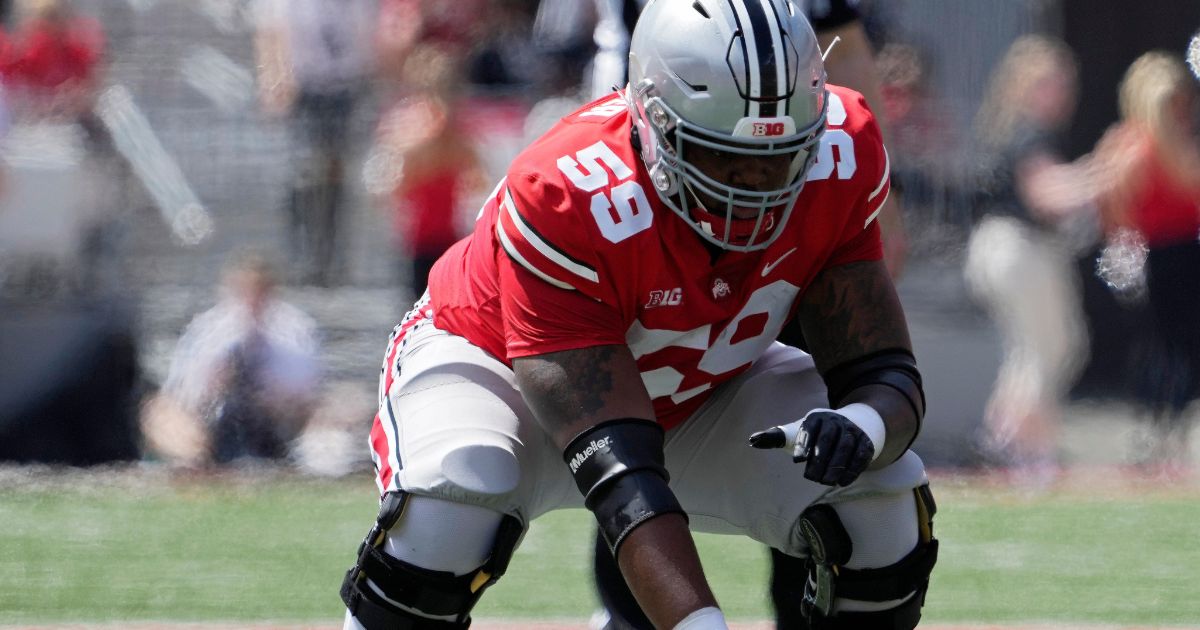 COLUMBUS — Ohio State was unusually active, for program standards anyway, in the transfer portal this year. Although the Buckeyes remained tactical in targeting areas of need, they brought aboard a combined nine scholarship players in the winter and spring windows.
In other words, Ohio State wasn't using the portal as a spot treatment of sorts. It turned to the portal for reinforcements.
Some of the Buckeyes' transfer additions will have a chance to start right away. Others are depth pieces who could climb the depth chart during their time with the program.
Two are already well on their way to making their mark at Ohio State. Sophomore Ole Miss transfer cornerback Davison Igbinosun and seventh-year Oregon State grad transfer quarterback Tristan Gebbia shed their black stripes during spring practice, officially becoming Buckeyes.
That leaves seven transfer additions who have yet to remove the black stripe from their Ohio State helmets.
Lettermen Row has an overview of each of those remaining seven newcomers.
SAF Ja'Had Carter (transferred from Syracuse)
Former Syracuse three-year starting safety Ja'Had Carter might have joined Igbinosun and Gebbia had it not been for the right knee injury he suffered on Student Appreciation Day. Carter was limited the rest of the spring season. Nevertheless, it appears as if Carter, like Igbinosun, has helped raise the level of competition in the secondary this offseason. He brought 1,765 career defensive snaps to the table, after all. Carter was repping with the second team at nickel before his injury, however, the Buckeyes' staff made it clear that the All-ACC performer can also play at the "adjuster" or "bandit" safety positions.
IOL Victor Cutler Jr. (transferred from Louisiana-Monroe)
Victor Cutler Jr. was the first of two transfer offensive linemen Ohio State reeled in this offseason. Cutler came from ULM, where he started a total of 21 games at center, right tackle and left tackle over the last three seasons. As soon as Cutler joined the Buckeyes, though, he moved inside. He spent most of the spring playing center. In the spring game, he served as the second-team center while redshirt freshman Carson Hinzman emerged as the frontrunner for the starting job. It will be interesting to see if O-Line coach Justin Frye moves Cutler to guard following the return of Jakob James, a fourth-year center who initially was expected to be Luke Wypler's successor but missed spring with injury.
LS John Ferlmann (transferred from Arizona State)
Ohio State head coach Ryan Day and his staff didn't announce winners of position battles this spring, including those on special teams. But all signs are pointing to John Ferlmann taking over as the Buckeyes' next starting long snapper. He handled every long snap in the spring game, and that's after he appeared in 12 games for Arizona State last season. Rubio's Long Snapping had him as a five-star prospect and the No. 7 long snapper in the country while he was at Boulder Creek High School in New River, Arizona. Mason Arnold, who filled in for the injured — and now departed — Bradley Robinson down the stretch of last season, transferred to Michigan State this offseason. Enter, Ferlmann.
K Casey Magyar (transferred from Kent State)
Casey Magyar is still competing with Jayden Fielding and Parker Lewis for the starting place kicker job. What was a four-man race became a three-player competition when Jake Seibert — now with Northern Illinois — entered the portal in the spring window. Fielding and Parker appear to be in the lead, given they were the two kickers called upon to attempt field goals during the spring game: Fielding missed from 40, and Lewis converted from 38. Magyar did, however, knock in the day's final PAT. Magyar appeared in just two games for Kent State in 2021 and then entered the portal last July. But he's getting a fresh start at Ohio State. Whoever wins the kicking competition will have to replace Noah Ruggles, who made 90.2% of his field goals the last two seasons.
Note: The line distinguishes between winter and spring window transfer additions. The spring window newcomers arrived after spring ball and therefore haven't had a chance to shed their black stripes.
CB Lorenzo Styles Jr. (transferred from Notre Dame)
Lorenzo Styles Jr. spent the last two seasons playing wide receiver at Notre Dame, but he made the switch to cornerback this offseason. He's continuing that transition at Ohio State, where his younger brother (safety Sonny Styles) currently plays and his father (linebacker Lorenzo Styles Sr.) played in the '90s. Styles piled up a combined 54 catches for 684 yards and a pair of touchdowns at Notre Dame. Now on the other side of the ball, Styles can add cornerback depth this season with an eye toward serving a larger role in the Buckeyes' defense next year. Ohio State is well stocked at corner right now, but last year's injury bug highlighted the importance of numbers in the back end.
DL Tywone Malone (transferred from Ole Miss)
Ohio State was locked and loaded with its top-three defensive tackles this spring: Mike Hall, Ty Hamilton and Tyleik Williams. Beyond that, though, the Buckeyes were relatively thin. That's why they went out and got former Ole Miss defensive tackle Twyone Malone in the spring window. Malone, the No. 1 prospect in New Jersey during the 2021 cycle, still has a high ceiling. He can win with speed-to-power, and he can move off blockers pretty well, thanks to quick reaction time and strong hands. His 13 total tackles and two sacks across 106 career defensive snaps don't pop off the page. His athleticism at 6-foot-4, 300 pounds does. Malone figures to be part of Ohio State's deep defensive line rotation.
OT Josh Simmons (transferred from San Diego State)
It's no secret the Buckeyes were searching for an offensive tackle when the spring window opened. And they got one in Josh Simmons, who started at right tackle for San Diego State as a redshirt freshman. Simmons immediately will be thrust into the right tackle competition with Tegra Tshabola and Zen Michalski, who took turns repping with the first-team offense during spring ball. Simmons allowed four sacks and 24 pressures last year, but he has one thing Tshabola and Michalski don't: game experience at right tackle. Simmons has lots of it, 799 snaps to be exact, according to Pro Football Focus.
The post Overview of Buckeyes transfer additions who have yet to shed black stripe appeared first on On3.