Playfly transition team has clear, distinct goals when it comes to deals with schools
8 min read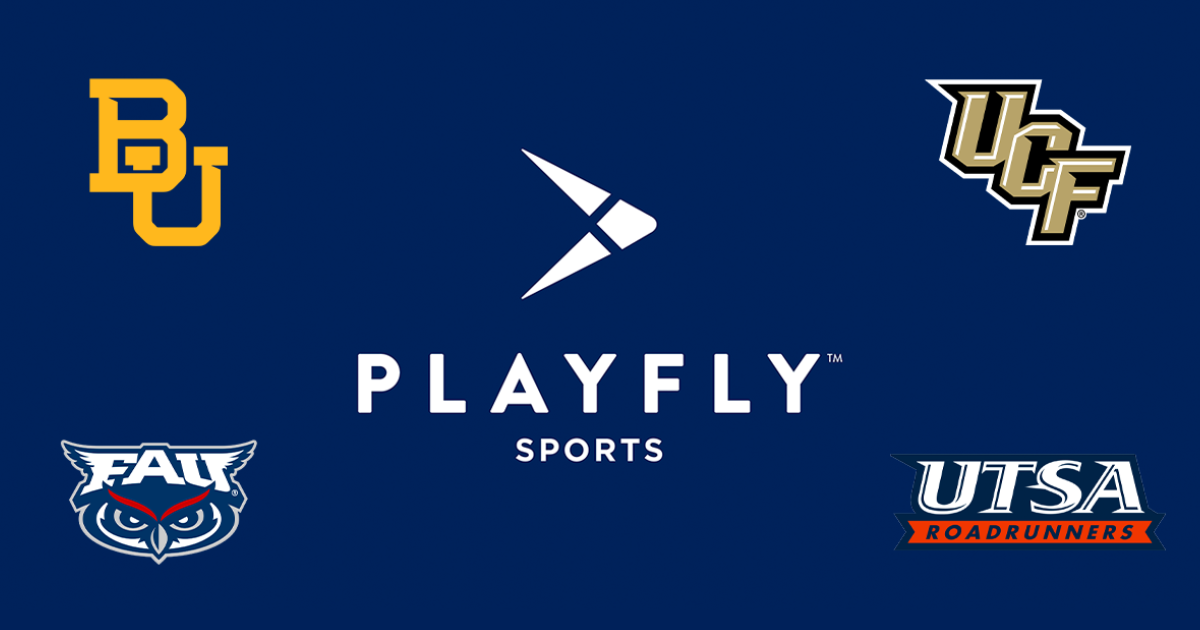 Since taking over in late 2021 as president of Playfly Sports Properties – which sells and manages multimedia rights and strategic corporate partnerships for athletic departments – Christy Hedgpeth identified a clear gap that comes into focus when a university makes a transition from one multimedia rights partner to another.
In these relationships, there are high stakes for colleges – these often are 10- to 15-year deals and it's vitally important in year one to start with a head of steam, creating strong and creative revenue opportunities while also connecting schools and brands whose values and philosophies align. So for Playfly, the sports marketing company founded in 2020, to ensure it addresses those concerns in a highly specialized manner, the company has tapped industry veteran Reba Robinson to assume a newly created position: vice president of transition.
Robinson, who started last month, leads a three-member transition team that is specifically dedicated to a critical aspect of the school-MMR partner relationship: transitioning properties during the onboarding process, which could take anywhere from six months to a year. 
"It's really a special ops team that has a mission," Hedgpeth, a former 1992 national title-winning Stanford women's basketball player and WNBA chief operating officer, told On3. "That mission is to take their highly specialized skill set and kind of pick up the pieces from the prior MMR partner and use their expertise to not only create a smooth transition but, I like to think, accelerate the process of and the quality of the transition to really set up the GM and operations team for success."
Hedgpeth, who joined Playfly in late 2021, oversees the company's fast-growing portfolio of 25 universities and conferences as well as 14 state high school associations and is responsible for driving strategy, operations and growth. Playfly's partners include, among others, Auburn, LSU, Maryland, Michigan State, USC, Virginia and the Pac-12 and Big Ten conferences. Playfly's new partners include Baylor (effective June 1), UCF (began last year), UTSA (September 1) and Florida Atlantic (starting the 2023-24 academic year).
These partnerships encompass a lot of terrain in a fast-evolving space. For instance, Baylor last month announced a 10-year multimedia rights agreement with Playfly, which is taking over complete management of Baylor athletics' rights from Learfield. Playfly will target existing platforms and pinpoint new ways for corporate partners to engage with fans, while helping the school grow its fan base. It also will manage all sponsorships, including making strategic capital investments to improve the experience for fans and corporate partners. 
Last July, Playfly entered a 13-year deal with UCF. Playfly will pay the school $125 million to serve as its sponsorship sales arm, the Orlando Sentinel reported. Playfly is banking on making more than $125 million to pay off UCF for those rights. UCF said the total value of the agreement will rank the school among the top of its soon-to-be Big 12 counterparts as the Knights prepare to enter the league July 1. 
Playfly also has integrated capabilities that expand far beyond traditional multimedia rights, including naming rights and valuation consulting, esports program development, digital technology offerings and unique sponsorship agreements related to the NIL space and collectives. 
Multimedia rights include a long list of sponsorship and advertising assets, including in-venue signage, print publications, in-game promotions, event hospitality, VIP experiences experiential activations, radio and TV advertisements, social media campaigns, digital media advertisements and more. A top priority in the Playfly transition team is evaluating how it can enhance the fan experience while they drive new revenue for the university and Playfly.
Seismic changes in college sports are here
Playfly has created its Robinson-led transition team at a time of seismic change in the college sports landscape, which includes everything from the advent of streaming platforms to student-athletes now being able to monetize their brands with NIL. In addition, Hedgpeth acknowledged what those in the collegiate business space and far beyond will be facing in the coming year. She said "we feel generally positive about FY '24. But we are realistic that, with the headwinds that are out there, it inevitably will affect, and is starting to affect, some of our partners. So what we try to do is be as customized as we can to their needs." 
Playfly believes all these elements and crosscurrents underscore the value of enlisting Robinson's transition team to dedicate itself to assisting new university partners. Playfly had more interest in and applicants for Robinson's role than for any opening it ever had. Hedgpeth said they knew instantly that Robinson would be the perfect fit, while Robinson said it felt like a job description written specifically for her.
If there's been a theme to Robinson's career, it's been startups, from companies to projects. Her background includes five years with the San Diego Padres, working on the development and operations of Petco Park; and 13 years at JMI Sports, helping to get the company started, then launching the multimedia rights division. She relocated from San Diego to Clemson because she wanted to immerse herself in the college environment while launching that property for JMI, pouring what she termed her "blood, sweat and tears" into expanding the radio network and coaches' shows and managing the client services team. 
"I'm very comfortable in new environments and creating these processes and creating operational excellence, really," Robinson told On3. "That is what really makes me comfortable in knowing, 'Yeah, I can do this.' I can really be an asset to Playfly and to universities in building those relationships and doing all of the legwork that needs to happen."
Typically, when a new university partner comes aboard, some MMR partner executives may be taken off other properties temporarily to help assist the start of the relationship with new ones. This transition team can exclusively dedicate itself to the onboarding process and doing all the heavy lifting involved; that way, when the sales and operation team comes in, there's a body of work they can run with. 
At the start of that onboarding process, Robinson said, a key point of emphasis is brand integrity, understanding what the brand is about, what the client cares about, and what is off-limits. The transition team needs to ensure it is an extension of the school's team. All that extends beyond making sure the school logo looks right, but also communicating with key individuals in the market and prioritizing getting to know what the culture is about. Also important is attention to detail and quality – improving the quality of broadcasts, the talent, the graphics, the behind-the-scenes operation. 
"Making sure that Playfly is operating as good or better than the university was," Robinson said. 
Playfly has methodical yet nimble approach
Drilling deeper into Playfly's onboarding strategy, Hedgpeth said, is a five-stage process that includes a specific list of tasks that need to be achieved to ensure a successful transition. That could take up to a year, requiring a methodical and specialized approach. Playfly also is mindful to remain nimble, with the ability to customize its approach based on what is needed from the school and in its respective market.
As soon as Playfly gets word from the university that it has won the bid as its new MMR partner, Robinson's transition team swoops in. The members meet university personnel to become familiar with their people, processes and culture. They gather all existing information: Who are your vendors, who are your sponsors, what are your brand requirements? They then build out an initial inventory list, identifying high-value sponsors that need immediate attention, understanding that relationship and collaborating on sales materials with Playfly's in-house resources. 
Playfly also enlists its in-house data team, called Insights, as well as its creative agency, Playfly Creates. The transition team works with them to understand what the market looks like, then builds initial sponsorship decks before the sales team comes in and refines them. The transition team also evaluates the flagship radio network. All this occurs before the regional vice president comes in and assumes responsibility over some aspects as the local sales team is put in place. 
A top-of-mind issue for Robinson is understanding the school's breadth and depth of advertising and sponsorship inventory and "what we can create right off the bat," she said. "The key is identifying early on what are the kind of unique assets that we can build in year one that are not already there. What's the gap? Having these strong revenues in year one translates to exponential revenue by year 10 or 15. So it's really important that we come out of the gate strong and identify new creative inventory beyond just the typical."
Each new partnership with a school comes with its own set of circumstances. Consider Florida Atlantic, which secured a highly unlikely berth in the Final Four and, thus, spotlighted the university brand to more than 11 million viewers during the national semifinals at Houston's NRG Stadium on April 1. Hedgpeth, Robinson and R.J. Martino, Playfly's general manager for FAU Sports Properties, were there sitting among the Owls' fans.
"R.J. has expressed that the interest and engagement from the community is already translating into more conversations and more opportunities with partners," said Hedgpeth, a former vice president for team marketing and business operations for both the NBA and WNBA. "We're thrilled for them and, without question, believe that they are already experiencing that their profile is higher. On the business side, you can't depend on wins and losses, but you have to be really smart about taking advantage of opportunities like this where the brand is getting national exposure. So we're really excited and very confident that it will translate really well to sponsorships and partnerships for FY '24 and beyond."
When talking about the value of the transition team, Robinson exudes no shortage of enthusiasm. She's off to Waco this week to visit with Baylor personnel. Each day in the onboarding process is important; each day offers an opportunity to build trust with a new partner. 
"It is a bit of a watershed moment for MMR for the landscape – the competitive landscape to the economy, the ramifications of COVID to the transfer portal to NIL," Hedgpeth said. "For us, we saw, even in starting the company, an opportunity to be a disrupter, and to come in and earn the trust, which is done day in and day out, with our existing properties and with new ones."
The post Playfly transition team has clear, distinct goals when it comes to deals with schools appeared first on On3.