Portal targets starting to take shape for Iowa
4 min read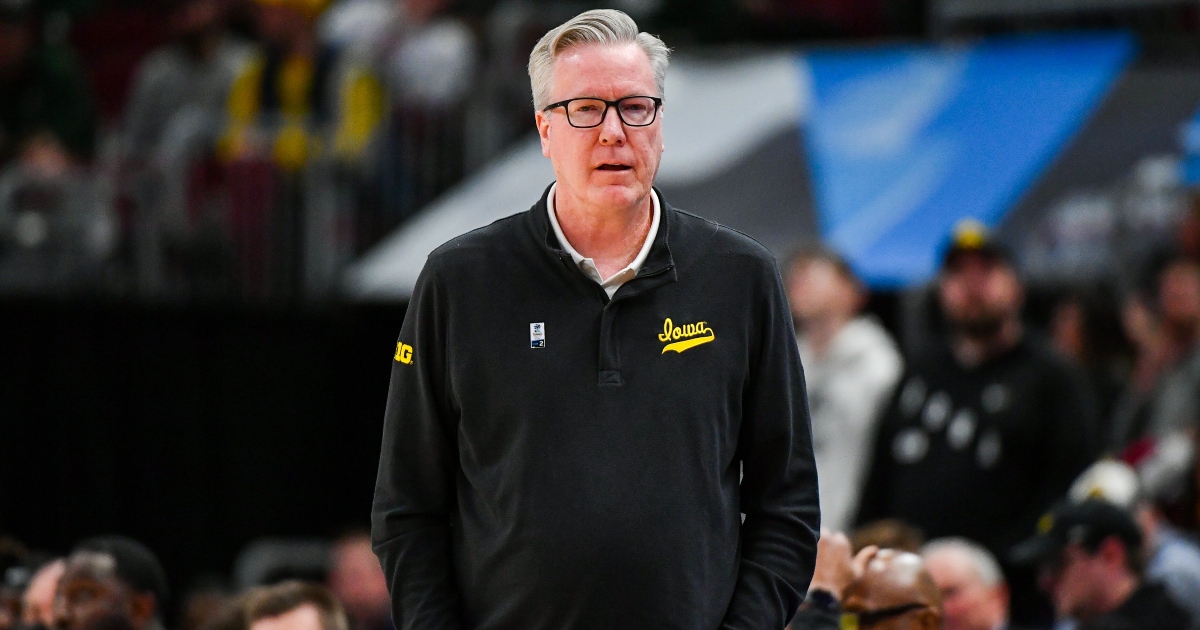 With the official end of the college basketball season and the close of a recruiting dead period, portal business is about to pick up.
There are still players from other programs that continue to enter the NCAA transfer portal, but Iowa's roster situation appears to be stable. The Hawkeyes saw two players enter the transfer portal and neither was all that unexpected.
Veteran guard Ahron Ulis, who started 27 games this season, has entered the transfer portal. Big man Josh Ogundele, who briefly went portaling last year, entered again this year.
It's also expected that Iowa's leading scorer and consensus third team All American, Kris Murray, will be declaring for the NBA Draft any day now and he is not going to be returning.
What this means is that Iowa head coach Fran McCaffery will have three potential scholarships to hand out this spring. McCaffery has been very clear that he will be adding an experienced big man to the roster and we have heard that his goal is to add two big men this spring.
Here's the class breakdown for Iowa heading into next season:
SENIORS: Patrick McCaffery and Tony Perkins
JUNIORS: Payton Sandfort and Riley Mulvey
SOPHOMORES: Dasonte Bowen and Josh Dix
FRESHMEN: Brock Harding, Pryce Sandfort, Owen Freeman, and Jadji Dembele
That adds up to ten scholarship players on the roster.
The interesting thing right now is the market is starting to take shape as far as targets with mutual interest in Iowa.
Let's open up discussing the big men, including one who has an actual visit scheduled this month. That player is Jordan Minor. He is a 6-foot-8 and 240 pound center from Merrimack. This past season he averaged 17.4 points and 9.4 rebounds.
Per Joe Tipton from On3.com, Minor has scheduled these visits:
April 6-7: Virginia
 April 7-9: FGCU
 April 14-15: Iowa
April 17-18: Seton Hall
Another player from the east coast, specifically the Ivy League, has Iowa's attention. That player is Chris Ledlum from Harvard. He was a first team Ivy League performer, averaging 18.8 points and 8.4 rebounds per game. The 6-foot-6 small forward had a visit from Fran McCaffery since entering the portal. He has said that Iowa, Tennessee, St. John's, Michigan, and Indiana are schools near the top of his list.
He has a Zoom with Michigan coming up this week and a visit this weekend to Indiana, followed by a trip to Tennessee. Iowa might be facing an uphill climb with Ledlum.
A new name that popped up this week is Micah Handlogten, who was the freshman of the year in the Sun Belt playing at Marshall. The 7-foot center averaged 7.6 points, 9.8 rebounds, and 2.3 blocks per game. Iowa reached out immediately, but he has become a very popular target with a visit already scheduled to Florida. N.C. State is also strongly involved with Indiana, Arkansas, and Auburn also involved.
One name that we have heard Fran McCaffery likes is Josh Cohen, a 6-10 big man from St. Francis (PA). He took a day visit to Penn State before their head coaching change and then recently he visited UMass. Cohen averaged 21 points and 8 rebounds this past season. That included scoring 30 against Miami(FL). He will be a name to watch.
A second name that seems to be gaining some traction is B.J. Mack. He is a transfer from Wofford and was the second leading scorer in the Southern Conference at 16.6 points per game. Iowa reportedly made a visit to see Mack in the last week after making his top ten list which includes: Iowa, Arkansas, LSU, Florida, Butler, Xavier, Mississippi State, Vanderbilt, Michigan, and South Carolina. There is an expectation that Mack will announce a top five on Tuesday.
The Hawkeyes have also reached out to 6-foot-10 center Jamille Reynolds from Temple. He averaged 10.1 points and 5.6 rebounds per game for the Owls. In addition to Iowa, Reynolds has heard from Florida, Mississippi State, Rutgers, Arkansas, Cincinnati, and South Carolina.
One name that dropped into the portal recently and would be an ideal fit for what Iowa needs is Virginia transfer Kadin Shedrick. The 6-11 center is more of a defensive rim protector than an offensive threat. Last year he averaged 6 points and 4.2 rebounds per game. He also averaged 1.5 blocks per game. In addition to hearing from Iowa, he has also has been in touch with Kansas, Texas, Kansas State, Rutgers, Indiana, Wisconsin, Nebraska, and Northwestern.
Look for portal business to start to ramp up here in the next few weeks as Fran McCaffery and his staff start to narrow their options and start to hold campus visits for their top targets.
The post Portal targets starting to take shape for Iowa appeared first on On3.