Practice cliffs: Omar Brown didn't hesitate to put 320-pound Teddy Prochazka on his back; and "Polar Bear" embraces leadership role
4 min read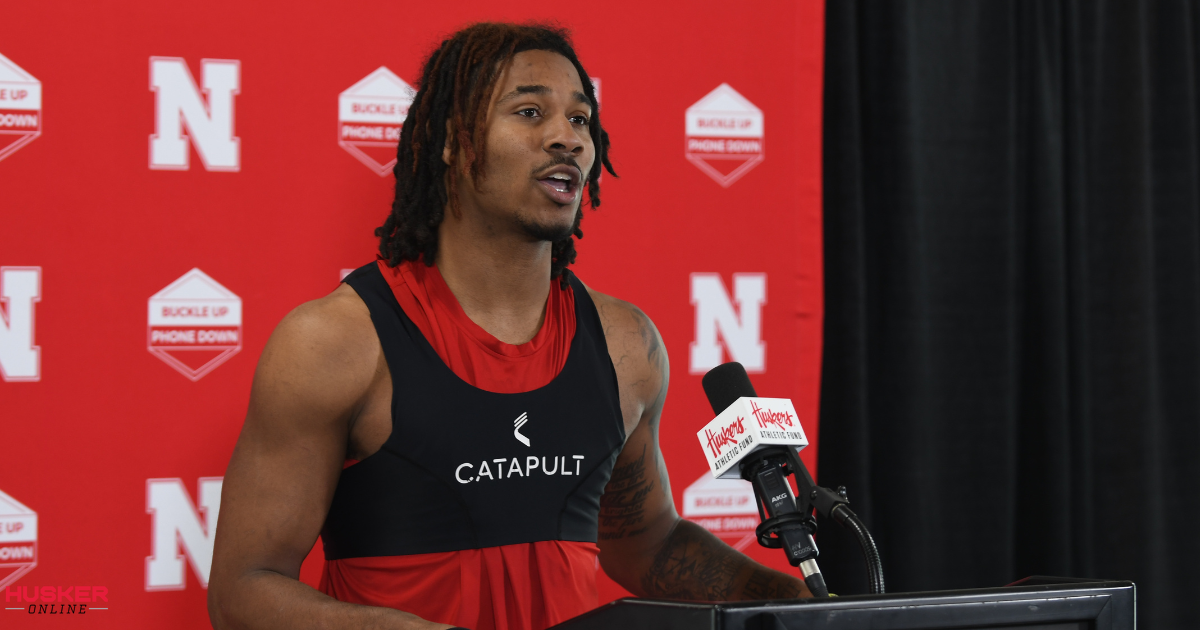 Nebraska pushed through its sixth practice of the spring season, with media availability immediately following. Here are a few headlines.
Omar Brown explains memorable photo
Omar Brown and Teddy Prochazka have a class together. They're already friends, Brown says.
Their relationship got closer one day earlier this month, Brown says, and one can understand why.
For a drill in winter conditioning, the 6-foot-1, 195-pound Brown, a senior safety, carried Prochazka on his back.
Prochazka stands 6-foot-10 and weighs 320 pounds.
A photo of the occurrence obviously captured folks' imaginations.
Brown was asked Thursday if there was any hesitation to put the big man on his back.
"There wasn't," Brown said. "When we were doing it, it was a team thing. I was looking at everybody, the matchups, and was like, 'OK, who's going to get Teddy?'" Brown said.
He determined he was the man for the job.
What a job.
Brown came out of it OK physically.
"Obviously, I was tired," Brown said. "He's big."
Thursday nuggets: Knighton, Cooper talk Nebraska's defensive progress
Hutmacher leads way among D-linemen
Defensive lineman Nash Hutmacher has impressed his new defensive line coach.
"Nash is leading the way (in the DL group) right now," Terrance Knighton said. "He's doing a good job with leadership. He's taking ownership of the room. With Ty Robinson and Blaise (Gunnerson) out right now, he's taking that leadership role to the next level. He's doing a good job of hearing the message from coach (Matt) Rhule and hearing the message from me and applying it to the rest of the room."
The 6-4, 330-pound Hutmacher, nicknamed "Polar Bear," recorded 15 tackles last season.
"When I first got here, I knew Nash was a big, strong guy," Knighton said of the junior from Oacoma, South Dakota. "He can play the run. Just trying to help him elevate his game to the next level."
Knighton wants Hutmacher to show his athleticism.
"It's getting on the edge (and) not just being a two-gap guy," the coach said. "It's being a guy who can move, get vertical, and get in the backfield. He's bought into it. His body's changing. He's losing some weight. So that's helped."
Elijah Jeudy showing versatility, coach says
Nebraska obviously recruited defensive lineman Elijah Jeudy out of the transfer portal to help the team right away.
The Texas A&M transfer has shown versatility this spring, Knighton said.
"Elijah's one of those guys who can line up anywhere," the coach said of the 6-3, 300-pound sophomore, who wears jersey number 16. "He has a great skill set. Like I said, right now we're just building our fundamentals, man. We're just doing everything from the base up. Getting in a great stance. Playing with a good pad level.
"He's a guy who can line up anywhere. He can play the five-technique, the three-technique. And with the defense that we run, with coach (Tony) White having a lot of guys being able to line up everywhere, we feel like he's a guy who can be productive for us."
In two seasons at A&M, Jeudy appeared in three games and made one tackle. A native of Philadelphia, he was a four-star prospect coming out of Northeast High School.
Two questions
***Nebraska currently lists eight available defensive linemen on its spring depth chart. Depth isn't great. Does Knighton feel the Huskers need more depth?
"Depth is always good for D-linemen. We like to rotate a lot," Knighton said. "We have a few guys banged up right now. We have some guys coming in during the summer. But right now, I think it's good for a lot of guys that our numbers are low. They're getting a lot of reps."
***Nebraska, in its new 3-3-5 defense, is employing a "rover" position in the backfield. What differentiates a "rover" from a typical safety?
"The only difference is the rover is more of a linebacker-type DB," said Omar Brown, who's among those practicing at rover in addition to his safeties duties. "So, more of a hitter, I would say. He can go in the box, he can go out of the box."
Quotable
"Right now, we're all learning. Coach Rhule does a good job of keeping his coaches on the their toes and the players as well. We have a 'What's next?' mentality, and we just go out there and we're prepared for anything" — Terrance Knighton.
Overtime
Sophomore defensive lineman Ru'Quan Buckley (6-6, 290) has admitted he wasn't ready for prime time last season. This spring, though, he falls under the category of players to watch.
"It's a fresh start for him," Knighton said. "With a new coaching staff, everyone's on a clean slate. He's done a great job. He's got his weight down. He's becoming a better student in the football classroom. He was already a great student academically. He has an opportunity. He's doing everything right and earning some reps."
Never miss breaking news or another HuskerOnline article again. Click HERE to sign up for HuskerOnline's Daily and Breaking News Newsletters.
The post Practice cliffs: Omar Brown didn't hesitate to put 320-pound Teddy Prochazka on his back; and "Polar Bear" embraces leadership role appeared first on On3.