Precocious Nic Caraway eager to improve, dominate at new position in new defense
4 min read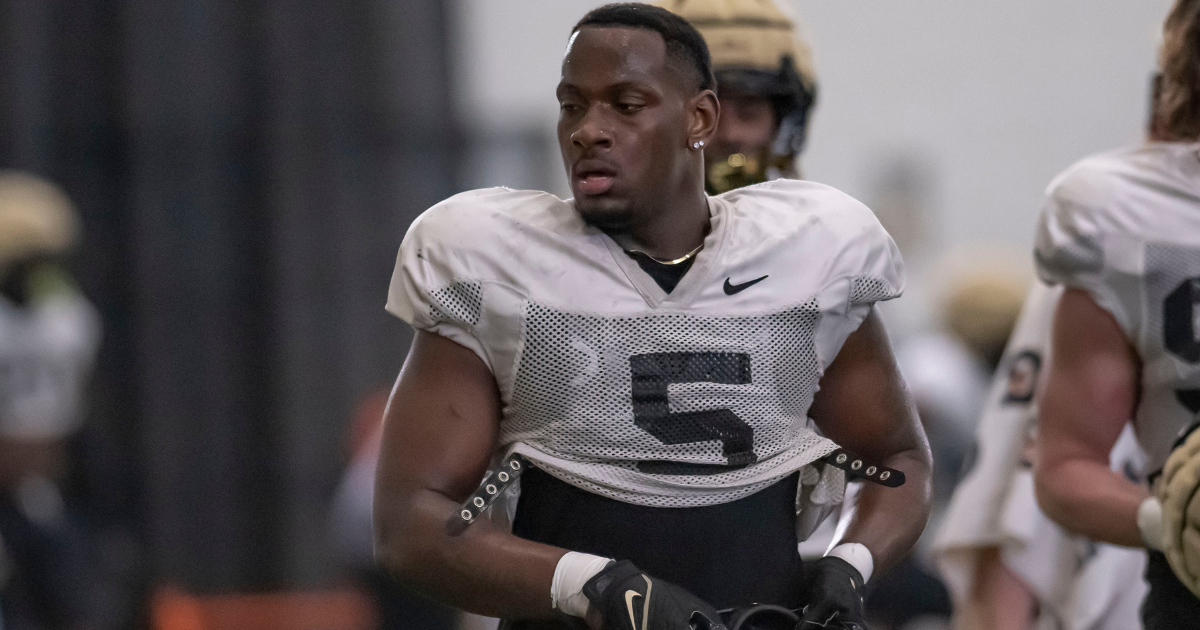 It's only Monday, but it already feels like a long week for Purdue defensive coordinator Kevin Kane. Such is life for a new coach on a new staff during spring football. Suddenly, Kane's cell phone buzzes.
Nic Caraway is calling. Kane's gonna pick-up.
"Caraway called me at 10 o'clock last night," fessed Kane.
What did the precocious outside linebacker want at that hour? Caraway wanted to know how he could be better.
"You'd like every player like that, but they're not," said Kane. "He's not the only one to do that. The guys want to be really, really great here."
Kane is getting his first look the his players in spring ball, which is in week two. There is a new defense to install, one that features a five-man front. And one of the early standouts has been No. 5: Caraway.
He could be special. Just watch him. You saw it last season, when he flashed as a true freshman playing a LEO spot, a hybrid linebacker/end. In the scheme being installed by Kane, Caraway will be an outside linebacker aligned along the line of scrimmage.
One outside 'backer is called a "Buck" and lines up to the boundary (short side of the field). The other outside linebacker is a "Fox" who lines up to the field (wide side). Caraway and all of the OLBs will be trained to play both spots.
"The Buck and Fox, it's not that different from last year's defense," said Caraway. "I mean, obviously, different techniques. But I feel like they're trusting me more to get more one-on-one rushes and drop more.
"And also more responsibility in pass coverage, as well, like one-on-one with running backs, one-on-one with tight ends. I feel like the coaches are starting to build trust in me because I've been doing pretty well in spring. I'm really liking the position."
Caraway was one of just two true freshmen to use a year of eligibility in 2022, along with nose tackle Mo Omonode. Caraway was weened along, seeing his snap count increase as the season progressed. He played in all 14 games in reserve and made 22 tackles with two TFLs and two sacks. This fall, Caraway will likely start and be the lynchpin of this unique defense.
"Nic Caraway is really standing out to me, doing some really good things," said Kane.
Caraway also is playing with more confidence.
"Oh, it's ridiculous," he said. "It's like the back of my hand. I'm very comfortable in this defense now and I'm very comfortable on the field and the confidence is starting to show up.
"I'm getting more snaps. I'm making more plays and I feel more comfortable."
He's invigorated about being an active participant on what to do.
"They are letting us go," said Caraway. "We're coming down, we're getting TFLs. Coaches are letting us have input in the defense. What do you want to do, Caraway? What do you want to do, (Cole) Brevard? Man, we want to go. He's letting us get input on defense, as well."
MORE: FaceTiming with Drew Brees helped sell QB Hudson Card on Purdue | Deep Dive Spring Practice No. 4 | Spring football photo gallery practice No. 4 | Anchored by T Eric Miller, Purdue O-line may be A-OK
The 6-4, 265-pound Caraway is ready to be turned loose. But, it's not just him at outside linebacker, which could be the best position on the defense.
"Oh, we're gonna be special man," said Caraway. "We're some young guys. We got little Will (Heldt). Man, he's coming along. He's 17. I'm freshly 18. Roman's (Pitre) 19. Khordae's (Sydnor) 19. We're coming along. We got KJ (Kydran Jenkins), he's young, too. We got some some seniority back there. We got Scotty Humpich. Yeah, we're coming along. We're gonna be a nice group."
And if Caraway finds himself searching for ways to improve his game, he knows he can call Kane like he did on Monday night.
"I got home and I was just thinking, I was watching some film and just looking at some repetitive things I kept making mistakes on," said Caraway. "I was like, 'Dang, how do I fix these? How do I progress?' OK, I had a first good day of full pads, but I was like 'How do I keep progressing and having good days?'
"So, I just called him up and asked him: 'What can I do? What type of film can I watch?' And things like that. He gave me great feedback."
MORE: QB1 Hudson Card brings talent, expectations to Purdue but left cowboy boots in Texas | The 3-2-1: Will Purdue try to add QB via portal? | Gold and Black Radio: Boilermakers through first 3 spring practices
The post Precocious Nic Caraway eager to improve, dominate at new position in new defense appeared first on On3.