Projecting Alabama's 2023 defensive line rotation (Spring edition)
6 min read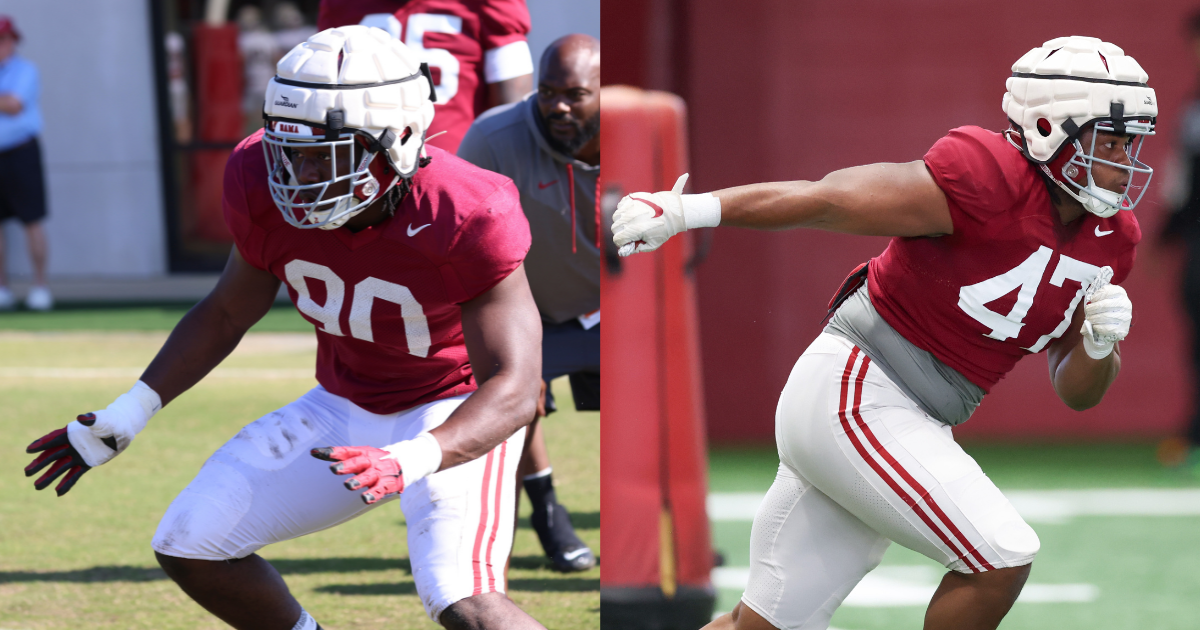 During last year's fall camp, we wrote an article projecting what Alabama's defensive line rotation might look like in 2022. Over the past six years, the Crimson Tide have usually included six guys in their main rotation (over 20% of the defensive snaps). That number shrunk in 2022 for various reasons (injuries, more edge usage, etc.), but overall, we were pretty close in a lot of the projections.
Now, we're predicting what the rotation might look like in 2023.
Keep in mind that I'm doing this a lot earlier this year. Once fall camp rolls around in August, I'll update these projections with a much better understanding of where certain guys stand. But for now, it's interesting to dive in and see how things could possibly shake out. There will be three tiers: over 40%, between 30-40% and between 20-30%.
Let's get started.
Tier 1 – Over 40% snap share
Who: Jaheim Oatis, Justin Eboigbe
Why: Going into last season, I slightly undershot the percentage of snaps Oatis would be on the field. I projected him to fall in that 20-30% range, but by season's end, he was at 31.3%. Yes, we'd been hearing the buzz throughout the offseason. I just wasn't sure if he'd hold up on more than 30% of the snaps as a freshman while still weighing 342 pounds.
Needless to say, I learned my lesson.
Right now, I'm putting him in the over 40% tier for two reasons: 1) he's a year older and should be able to handle a larger workload mentally and 2) he's another 20+ pounds lighter from last season. Considering his immense talent and disruptive abilities, I think putting him in this range makes a lot of sense. Just don't expect to see 58.2% like we saw from Byron Young last year.
I'd predict somewhere between 40-45%.
Now, Eboigbe is a different story. In the four games prior to his season-ending neck injury in 2022, the then senior was on the field for 50.4% of Alabama's defensive snaps. In fact, Young's workload saw a significant uptick once Eboigbe went down, and that's a major reason why Young was flirting with that 60% snap share.
Now, we do need to bring up the possibility of Eboigbe finding himself on a pitch count. If he's truly "100% healed and cleared" in April like his recent tweet suggests, I assume there won't be any limitations on his workload. Just keep in mind that's far from a guarantee right now. A lot could depend on what the staff thinks about the development of Jah-Marien Latham.
Either way, I expect Oatis and Eboigbe to be Alabama's two most heavily utilized players along its defensive line. That could change if someone such as Tim Smith starts to show more three-down ability going into Year 4. But I'm going to need to see it before making such an assumption.
*** TALK OF CHAMPIONS: Alabama Basketball Transfer Portal Central ***
Tier 2 – Between 30-40% snap share
Who: Tim Smith, James Smith
Why: Last year, I thought Tim Smith would fall somewhere in this 30-40% range. That's exactly how it played out too, as he was on the field for 38.2% of Alabama's defensive snaps. He's a year older now, but I'm going to keep him in this tier. Closing in on 40% of the snaps is a healthy number. Sure, Smith might not be game-wrecker, but he's been a good player in Tuscaloosa.
Now for my shocking prediction. Tim won't be the only Smith playing 30-40% of the defensive line snaps.
James Smith is a five-star talent who's plenty capable of making an immediate impact. Alabama has a good history of pulling early contributions from highly-recruited players at this position, too. Let's take a look similar quality (top 40) defensive lineman recruited during the Nick Saban era:
Jonathan Allen (5-star / No. 11)A'Shawn Robinson (4-star / No. 39)Da'Shawn Hand (5-star / No. 3)Daron Payne (4-star / No. 35)LaBryan Ray (5-star / No. 20)Antonio Alfano (5-star / No. 9)
Allen played his way into the rotation, seeing action in 13 games. He would've had an even bigger role too, but he was only a 264-pound tweener at the time who was still growing into his body. Robinson started as a freshman and led Alabama in sacks with 5.5. Payne saw 229 snaps in 2015 and Ray was on his way to a rotational role before a foot injury ended his season.
Alfano doesn't count because he was suspended before his career could even get started.
Granted, the only player above to get a 30% share during his freshman year was Robinson, but I think James Smith can be the second. With Young and DJ Dale gone, the only defensive linemen who are truly solidified in that 30% or more range are Oatis, Eboigbe and Tim Smith. In other words, there's an opportunity for James.
We've seen him running some with the first team defense in B-roll provided by Alabama, but we don't know to what degree. The A-Day Game should tell us a lot more, but I think Smith already has true three-down potential. As long as he understands what's being asked of him, I don't see the in-state product being limited much. That leads me to believe a 30-40% share is possible.
Imagine how disruptive his skill set could be playing alongside Oatis. Hopefully, we don't have to wait until 2024 to see it consistently.
Tier 3 – Between 20-30% snap share
Who: Jamil Burroughs, Jah-Marien Latham
Why: I also put Burroughs in this range in last year's predictions, but he fell a little short (17.1%). That's mostly due to him never seizing that lone defensive lineman role in the Cheetah package. He saw the spot and mop-up snaps like we thought he would, but I figured he'd be relied on in more obvious passing situations.
Instead, we saw more Eboigbe early in the year with Burroughs and Latham splitting those duties once he went down with the neck injury. With Eboigbe and Latham back, should we expect it to be any different for Burroughs? It's possible Burroughs gets enough of an increase to get into the low 20% range, but I don't think we'll see him much more than that.
Part of me thought about leaving Latham off this range and keeping the main rotation at five players. Why? Well, Latham didn't see a significant uptick in usage over the course of last season. He only played on 14.3% of the snaps in the nine games following Eboigbe's injury. A third of his snaps during that span came against Mississippi State when multiple front defenders were out with injuries, too.
Otherwise, Latham only saw 11% of the snaps over the other eight games.
Instead, Alabama chose to rotate its heavier defensive end (Young) with an outside linebacker to get the rabbits package on the field more. If the coaching staff continues that trend with Eboigbe, Dallas Turner and Chris Braswell, Latham might not see his snap share increase much. I'll leave him in this range for now, but don't be surprised if it changes as we get closer to the season.
Tier 4 – Everyone else
It was hard leaving Damon Payne Jr. off the 20-30% range. The former top-50 recruit is now going into Year 3 after seeing 25 snaps against Kansas State in the Sugar Bowl. I wanted to include him, but I'm not exceeding the six-man rotation. If anything, I'd rather condense it down to five guys. Only four got 20% or more last year, after all.
I think it would've been five had Eboigbe not gone down, but I'm still pushing it with six. That's especially true if we're wrong about Alabama using more heavy nickel (three defensive linemen, one outside linebacker) and less rabbits (two defensive linemen, two outside linebackers) this season. We'll know more by the time I go to update these projections in the fall.
We'll see Payne some. I also think we'll see some Monkell Goodwine, Isaiah Hastings, Jordan Renaud and a lot of other guys in blowouts. There's also the possibility that injuries could lead to more playing time than expected with this bunch. Their time is coming, but it just might not be in 2023. Either way, these guys make for great depth.
The post Projecting Alabama's 2023 defensive line rotation (Spring edition) appeared first on On3.