Quinn Ewers evaluates play of QBs Arch Manning, Maalik Murphy in Texas Spring Game
2 min read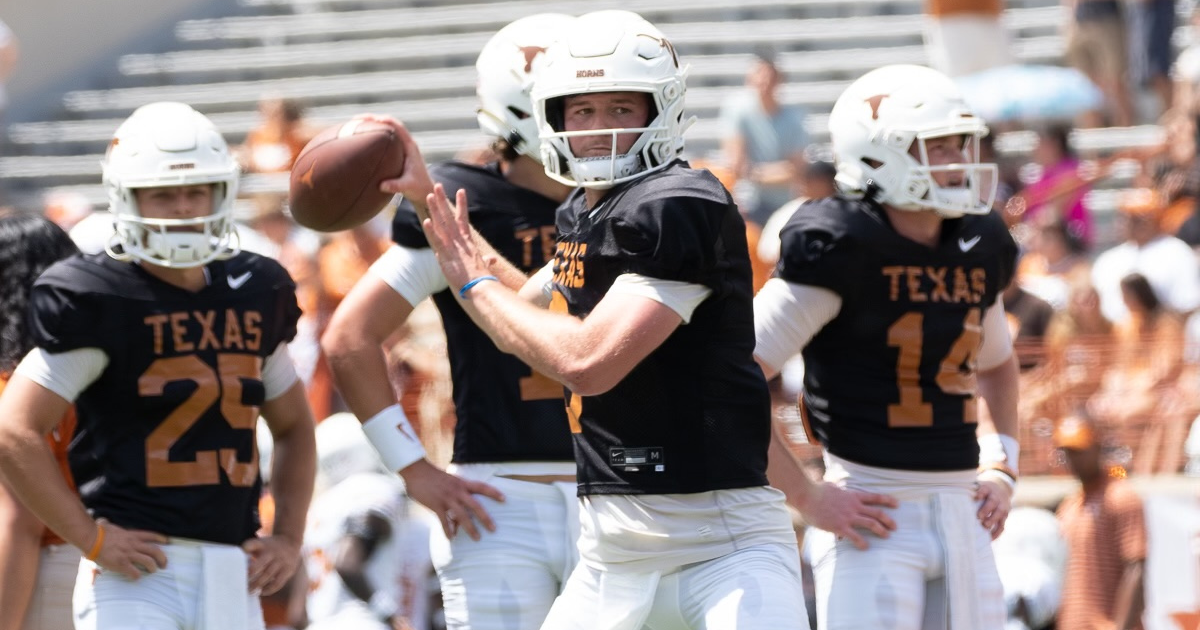 Quinn Ewers had nothing but positive things to say about his fellow quarterbacks Arch Manning and Maalik Murphy following Texas' spring game.
Following an exciting afternoon, Ewers spoke with the media, where he evaluated the play of the entire team, as well as his fellow signal callers.
"I think it was a good day," started Ewers. "Really excited to where this team's at. Excited to build in the fall, and throughout the summer. I think both those guys did really well. Obviously Arch, he just got here and he's learned the offense great. He's coming along great.
"I'm really fired up about our quarterback room. I think we all get along real well, and I'm excited for the future."
Alas, the Longhorns boast one of the most competitive quarterback rooms in the country, as all three of their throwers were highly-touted recruits. It's rare to see so much talent in a college quarterback room in this day in age.
Nevertheless, Ewers, Manning and Murphy left Texas fans and alumni alike radiating following their performances. Even Longhorns legend Colt McCoy, who was pretty good in his own right when he led Texas, was complimentary in discussing what he sees out of the team's quarterback position.
"I think it's a competitive room and (Steve Sarkisian), if I was in high school and to have the opportunity to be at Texas is one thing, but the opportunity to play in a pro-system like Sark does is another," McCoy said, raving about the head coach's offensive acumen.
Continuing, McCoy seemed particularly enamored with Murphy, the 6-foot-5, 235-pound prospect who took a redshirt last year as Ewers and Hudson Card battled it out.
"I was standing next to Maalik Murphy a while ago and he's bigger than Vince Young," McCoy said. "This guy's a monster. He threw two dimes in a row. It should've been two touchdowns. And then you have a big recruit like Arch, who obviously has the pedigree. And then Quinn did a nice job last year."
Texas was up and down a bit in Year 2 for Sarkisian during the 2022 campaign, competitive in all five of its losses — all were by just one score — but finishing 8-5 on the season.
McCoy wants to see more, and he thinks the quarterbacks on the roster have the potential to get Texas there.
"Hopefully, the one thing we just haven't done is win championships," McCoy said. "That's the goal and hopefully we get that done this last year in the Big 12."
Perhaps one of Texas' three star quarterbacks can get Texas back to the level Colt McCoy left them at. The legendary quarterback believes it's possible, but it remains to be seen.
The post Quinn Ewers evaluates play of QBs Arch Manning, Maalik Murphy in Texas Spring Game appeared first on On3.