Reassessing Texas' roster competition ahead of the Spring game
5 min read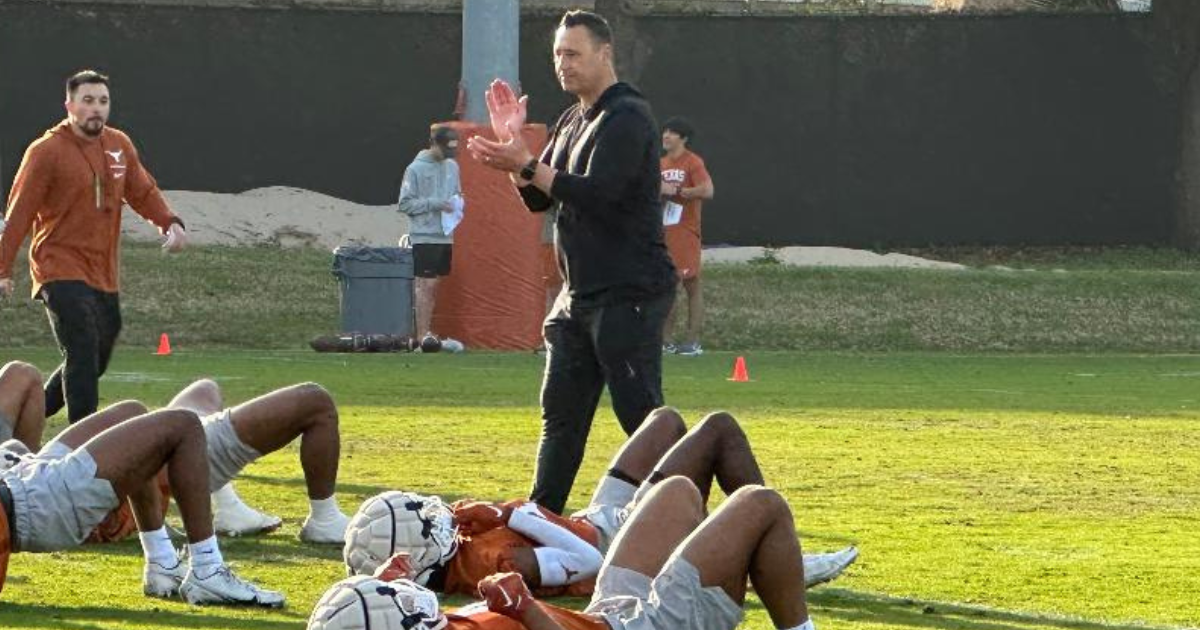 Spring ball seems to have gone about as well as one could hope. We won't really know until it's spliced with August camp to form the 2023 Texas Longhorns, but we've heard of key players progressing, depth improving, and few notable injuries.
Based on my pre-camp opinions, which were partially based on pre-camp info, things have gone about as expected. Let's revisit an article from early March before practice kicked off and reassess where competition is across the board.
Here's the article from March 1.
The article was broken up by Wide Open, Technically Open but With Favorites, Closed but Competition for Second Team, and Closed For Business. We'll keep that template.
Wide Open
Running Back: Both Jonathon Brooks and Keilan Robinson missed large portions of camp but Brooks has emerged of late and is the presumptive No. 1 heading into August. But, that still doesn't mean much. This is a fairly evenly competitive room and Brooks will have to win the job outright later this Summer. He is aided somewhat by Steve Sarkisian's preference for a lead back rather than platoon. 
Offensive Guard: Hayden Conner is emerging from Spring with a solid grip on left guard. That doesn't mean he'll start September 2, but he's the favorite until we hear otherwise. DJ Campbell didn't quite take advantage of all the reps he garnered with Cole Hutson out. Cameron Williams, Neto Umeozulu, and Malik Agbo also competed with Campbell. With all the data gathered from Spring ball, last year's offensive line might be the favorite to be the opening day starting line. Despite missing all of Spring, Hutson still has more experience than all the other potential right guards combined. 
Buck: Ethan Burke was the main mover at the position this spring. At least from a rep allocation standpoint, he overtook Justice Finkley with the ones. He's playing with greater strength at the point of attack and is a solid pass rusher. That doesn't mean he's going to star in 2023, but he's a better version of himself from last season and is the favorite to start. 
Will Linebacker: David Gbenda carried a strong Winter offseason into a strong Spring. He's diagnosing better and making far fewer crucial mistakes. He's not a finished product but not much assembly is required ahead of the season opener. This is his job to lose. Morice Blackwell has also had a good spring and is playing both Will and Sam. Highly touted freshman Anthony Hill, also playing Will and Sam, has lived up to his billing. He's showing playmaking ability on the field and the desire to succeed at football off the field. His future is as bright as the most optimistic evaluations would have hoped.
Technically Open but With Favorites
Boundary Wide Receiver: I will say Casey Cain will be a productive college player until I'm blue in the face and he's had a strong camp. If he makes some plays on Saturday, don't be surprised. That written, the position battle with AD Mitchell has played out predictably with Mitchell predominantly running with the ones.
Field Cornerback: Gavin Holmes has been terrific at times this camp but Terrance Brooks has been good as well. Texas has three starting cornerbacks but it seems like Holmes will technically be a starter this season. This is the deepest position on the team, even if you include Star. Like Anthony Hill, Malik Muhammad lived up to his billing.
Boundary safety: We listed 'boundary' but the safeties were right and left this Spring to stimulate cross training. If Texas had to play tomorrow, it's likely Jerrin Thompson would be the starter at boundary with Kitan Crawford at field. Crawford's development was one of the stories of camp. Texas has four safeties the coaches can trust in Thompson, Crawford, Jalen Catalon and Michael Taaffe, with a couple younger guys also emerging.
Jack: This position was originally listed only because we heard Jaray Bledsoe was coming along but he worked at both Jack and defensive tackle this spring. Barryn Sorrell has a stranglehold on the position.
Closed but Competition for Second Team
Quarterback: Maalik Murphy missed the first handful of practices but returned in plenty of time for Spring to be useful. Arch Manning had a good camp relative to being a freshman and the defense being ahead of the offense. We may not ever know who the true backup quarterback is unless Ewers misses time but for now I'd pick Murphy given his time in the offense. If Quinn Ewers were to miss a game and Sark had a weak to plan for it, then all bets are off.
Defensive Tackle: This portion started with, "The top three are set with T'Vondre Sweat, Byron Murphy, and Alfred Collins, but last year the coaches went six-deep." Collins has been great and the hope is the light coming on is LED and not a bulb. Vernon Broughton is going to play a lot, probably more than his 230 snaps last year, but he may give way to Aaron Bryant on running downs. Bryant has shown he's ready for playing time. Zac Swanson was also mentioned a few times by sources over the last few weeks but he still lacks bulk. He's a quality player but not quite ready yet. Sydir Mitchell has work to do to earn 20 or so snaps a game and the coaches are actively looking for someone in the portal.
Field Safety: As mentioned, Crawford has been a bit of a revelation and either he or Taaffe will make for good depth. Crawford is going to play a lot this year.
Field and Slot Receiver: Johntay Cook and DeAndre Moore showed they were as ready as expected at field and slot receiver respectively. They'll be fun to watch on Saturday as well as this upcoming Fall. They're mature players.
Closed For Business
Tight End: Ja'Tavion Sanders remains the man and was a useful outlet for Ewers all Spring. Gunnar Helm became a little more involved in the passing game, likely as an alternative to Sanders if Sanders is injured. Overall, the offense used 11 personnel a lot which limits tight end snaps.
Star/Nickel: Jahdae Barron might be the best player on the team. Jaylon Guilbeau missed camp but Austin Jordan did a good job filling in while also cross training at corner.
Offensive Tackle: Kelvin Banks and Christian Jones should be the best offensive tackle duo in the league. Depth behind them is a little dicey but Cam Williams would be No. 3 as of today. 
*****
It's not a perfect roster but this is the best depth we've seen at Texas in a long while. On top of it, Sark is great at promoting competition throughout the entire roster, not just between a few obvious positions like Will or Buck.
The post Reassessing Texas' roster competition ahead of the Spring game appeared first on On3.