Recruiting Notebook: The latest on the Kansas State hunt for guards
4 min read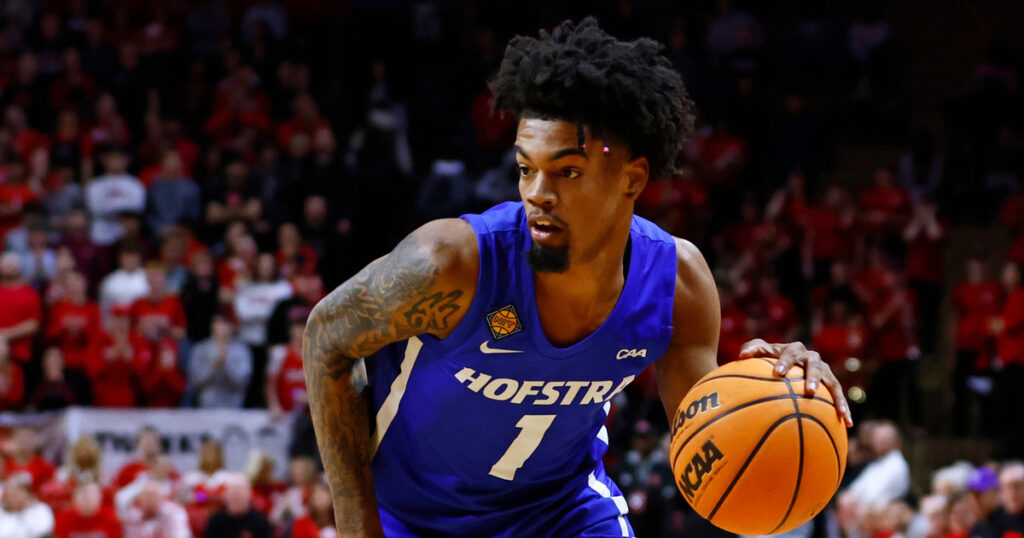 KANSAS STATE AND TRAMON MARK
As made apparent by the tweet of Kansas State assistant Jareem Dowling after Houston transfer Tramon Mark made his commitment to Arkansas, the Wildcats were not all that involved for the portal guard. The Razorbacks likely defeated Florida for his services.
In fact, after even further digging, it was not just K-State that was not all that enamored with him. It doesn't sound like he had much of a market at all according to both industry sources and those tied in at Arkansas.
That is likely why he contrived some potential destinations, to make it appear like he was far more of a priority than what ultimately met the eye.
PORTAL STRATEGY
That brings me to my next point. There is a lot of strategy playing out as it pertains to the transfer portal, and that comes from both the athlete's and the coaching staff's side. As this particular element of college basketball gets older, both players and programs are finding new methods and ways to address it.
In terms of the players, some might wonder why a few guys instantly enter the transfer portal, why some choose to wait and why another segment even waits until the last possible moment to make themselves available to other schools.
As Kansas State head coach Jerome Tang has often said, the first batch can tend to be a portion of players that were pushed out and encouraged to leave by their original school. It can also be those that already have a preferred destination mapped out ahead of time.
Others time their entry from a strategical standpoint.
They haven't arranged a marriage with another program yet and want to consider a bunch of options. Some choose to do it right away because teams are itching to fill a few voids in a hurry, and others wait because they hope to catch it at a time of lesser volume.
It can be a supply and demand scenario. If the demand is higher than the supply, the better chances that they can increase their potential options and have more places to pick from or more bidders for their services in some cases, too.
Coaches have built new scenarios to make their spots more appealing to transfers as well. Some choose to create large exoduses right away so that they can chase many targets and have maximum space to alter the team's look.
Others selectively produce a slower trot of entries to the portal. If it looks like less spots on the surface, it can influence their targets to operate with a bit more of a sense of urgency and give them the idea of scarcity, thus convincing them to pull the trigger and claim a place on the team before it disappears.
Just remember that it is not a black and white thing and not everyone has an understanding of how it is being played out and why.
Aaron Estrada/Getty
NOTES ON THREE K-STATE TARGETS
Grant Flanders of KSO brought some heat on a few transfer portal targets as well after speaking to sources, and some of it jives with what KSO's Derek Young had learned and shared in a previous big board of top options for K-State.
We have learned that both Max Abmas of Oral Roberts and Hofstra guard Aaron Estrada are indeed top targets of the Wildcats. Kansas State has locked in on both and are in the process of arranging visits to Manhattan for each.
That will likely be the first and most important objective of the week. The belief is that K-State is squarely in contention for both. We have also noted that we expect communication to increase between the Wildcats and North Texas guard Tylor Perry.
Another prospect that has been bantered about by various outlets and some even sharing that the Wildcats are in the top two for is Indiana wing Tamar Bates. For those that do not know, he is a native of Kansas City despite having transferred to IMG Academy in Florida to finish out his high school career.
We are under the impression that there has been conversations between the two sides and they remain in contact. However, our sources suggest that they have yet to reach a substantial or serious level. Kansas State has been much more insistent on being patient and not rushing it.
The post Recruiting Notebook: The latest on the Kansas State hunt for guards appeared first on On3.