Recruiting Notebook: What we know about new Kansas State target Ernest Udeh
3 min read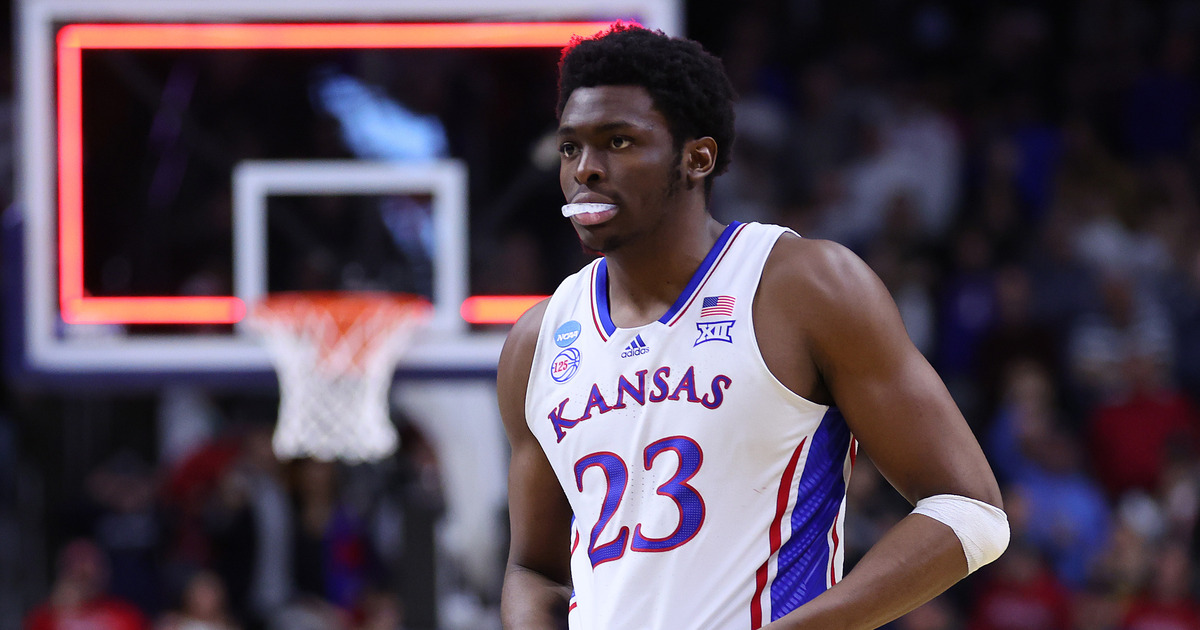 KANSAS STATE FOCUS
When seeing what targets that Kansas State is linked to, the focus for the Wildcats becomes clear. It's also not much of a surprise, either.
In one form or another, K-State has been connected to the likes of Aziz Bandaogo, Rayj Dennis, Andrew Taylor, Aaron Estrada, Max Abmas, LJ Cryer, Daimion Collins, Jesse Edwards and Kadin Shedrick. Additionally, Jerome Tang and the Wildcats landed Tylor Perry.
Of course, they backed away from a few of those names, including Taylor and Collins.
Kansas transfer Ernest Udeh has also been added to that group. Kansas State is readily involved, per Andrew Slater. The two other schools in the mix are Duke and TCU, and all three are slated to receive visits.
However, we can make a simple takeaway that K-State is focused on guards and bigs in the transfer portal.
TIMING OF K-STATE VISIT
As noted above, the visit to Kansas State from Udeh would occur after the dead period. Duke will host him first and that will occur just before the dead period begins on May 18. That runs until May 26. At that point, the Jayhawk transfer is permitted to visit both K-State and TCU.
After May 26, visits are permitted until July 5.
INFORMATION ON OTHER CONTENDERS FOR UDEH
Obviously, we know the other contenders at this point thanks to Slater's report. That is a fellow Big 12 program in the Horned Frogs, plus Duke. As one source put it, the clear best recruiting pitch of the three will be from Kansas State who has the most playing time to sell.
However, that's not always the top factor and certainly not the only one. So, it's tough to tell how much impact it will have, but the presence of the Wildcats at all shows that he is at least considering that angle. And as always, getting him on campus will be the key.
How likely is that?
TCU is also in the mix for former K-State target Daimion Collins. The Kentucky transfer nearly visited Manhattan last week before the visit was canceled. Before that took place, KSO was told that his top three also consisted of the Horned Frogs and LSU.
Another source shared that he would likely remain in the Lone Star State. That would favor the Horned Frogs and likely remove them from the picture for Udeh.
On the other hand, the situation regarding Jon Scheyer and the Blue Devils is a tricky one. They are a recruiting juggernaut that can essentially land anyone they want. But space is limited in Durham, and it was made tighter when Jeremy Roach chose to return to school.
At least one and maybe two high school signees would be encouraged to remove themselves from the letter of intent they signed with Duke. A willingness to do that is unknown since that already occurred with Mackenzie Mgbako after Kyle Filipowski decided to stay and play at Cameron Indoor Stadium another season.
Mgbako picked Indiana over Kansas.
The post Recruiting Notebook: What we know about new Kansas State target Ernest Udeh appeared first on On3.