Recruits React: Texas' Spring Game on Saturday
2 min read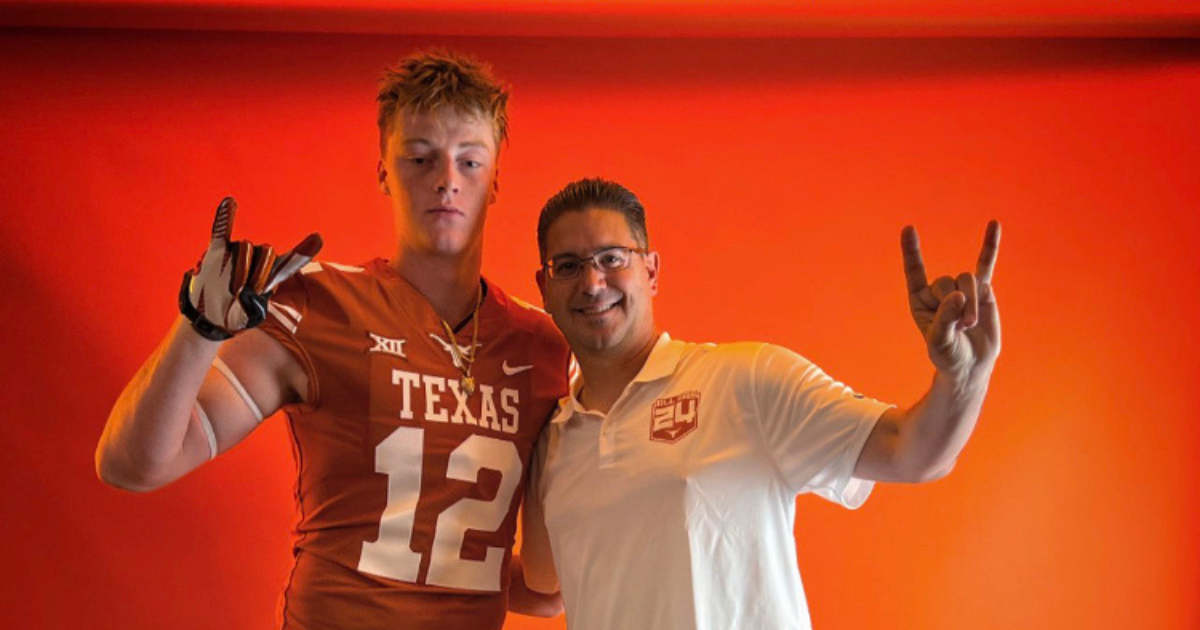 Inside Texas was able to connect with many of the Longhorns' recruiting targets at DKR on Saturday for UT's Spring game. After a offensive showcase, it was apparent prospects are playing close attention to Texas in 2024 and beyond.
Brandon Baker, OL, Santa Ana (Calif.) Mater Dei
"Texas has great traditions, I enjoy my conversations with coach Sark, who knows how it is at Mater Dei and everything we do here. He respects it and mentioned about all the great coaches at Texas like me a lot. And how they can help me achieve the things I want, which I really loved to hear."
Alex January, DL, Duncanville (Texas)
"Yes, we were back in town," said Michael January, Alex's father. "Worked out because I thought OU was Saturday but it was Friday.  So we doubled up. (Texas' Spring game) was nice. We also went inside to the air conditioning with the lettermen. I'm fortunate to have access. It was hot. We have one more trip to Florida State, then lining up which officials he wants."
Bear Tenney, TE, Lucas (Texas) Lovejoy – 2025
"The Spring game was awesome. I loved how coach (Jeff) Banks uses his tight ends. He puts them everywhere around the field and it was cool to see. The facility's were amazing. The tight end, Ja'Tavion Sanders, I like his play style."
Deondrae Riden, RB, Desoto (Texas) – 2025
"It was good and the fans are amazing. They run a lot of inside zone which I really like."
Who stood out? "Definitely Johntay Cook and other guys like AD Mitchell, who had a good catch, and CJ (Baxter) had some good runs. Of course, (Xavier) Worthy showed out as well."
Michael Uini, OL, Copperas Cove (Texas)
"It was fun, I got to talk to some of the recruits and what they thought about the game. I made the mistake of wearing long sweats and a sweater though. it was hot."
Uini spoke to Kyle Flood and the staff, and has yet to schedule an official visit to UT.
Xavier Ukponu, DL, Denton (Texas) Guyer – 2025
"It was great. I love the atmosphere and fans. Loved talking with coach Bo and touring the stadium. "Texas was definitely a fun experience."
On Texas' defense: "They know how to get after it, they were causing havoc all game."
Gekyle Baker, WR, Brownsboro (Texas)
"The game was great and the offense look on-pace and played well. AD Mitchell, Jaydon Blue and Xavier Worthy showed out."
Jacorey Watson, ATH, Pearland (Texas) Shadow Creek – 2025
"I had a great time down there at Texas. It was a great experience, good vibes, and the fan base is crazy. I love it."
The post Recruits React: Texas' Spring Game on Saturday appeared first on On3.