Ruben Report: Andy Enfield Under Pressure To Complete Roster Around Isaiah Collier
7 min read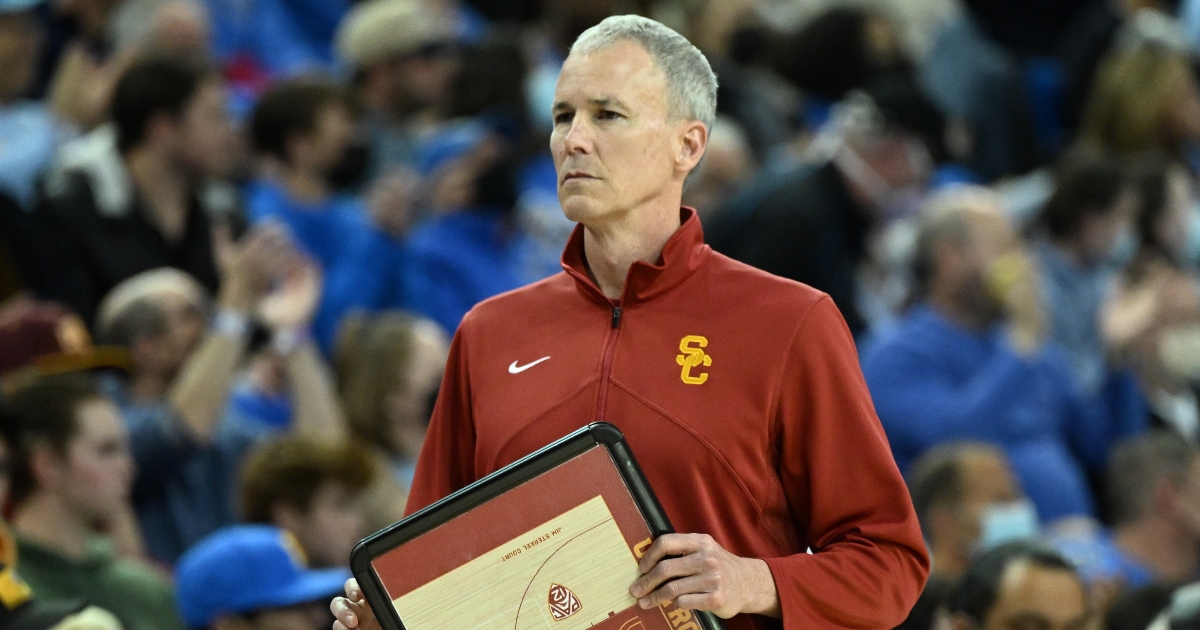 Andy Enfield and staff have been fortunate enough to land two transformative recruits in the last few years in Evan Mobley and now Isaiah Collier. Evan led the Trojans to the Elite Eight. For Collier to have similar success in what is likely his one season at USC the staff has work to do to surround him with the players needed for similar postseason success. USC basketball is not yet at the point that Trojan fans can expect a top-five talent to sign with the Trojans every year. Maybe that will come but Enfield is not there yet.
The Trojans have eleven players on the 2022-2023 roster as of now. Boogie Ellis' decision to return to USC is huge, but it's not quite what has been reported. It's fair to say today that Ellis is not entering the transfer portal and will play for USC if he plays college ball next year. But that question remains: Ellis apparently will try to determine his standing with NBA teams over the next two months and if he is not satisfied with what he learns, he will be back at USC this summer before early practice begins for the European trip in August.
The loss of Reese Dixon-Waters will be felt unless Enfield and staff is able to land wings who are at least as capable of scoring and defending the perimeter. Assuming Ellis returns, once again the Trojans only have four upperclassmen in Ellis, Joshua Morgan, Kobe Johnson, and little-used Harrison Hornery. An experienced scorer or two seems vital.
Perhaps We Should All Pay More Attention To Rumors Surrounding The Program
In February rumors began surfacing that RDW would enter the portal. I didn't put much stock in those rumors since he was playing 25 minutes a game and having good success as evidenced by his receiving the conference Sixth Man Of The Year award. Yet the rumors were dead on.
Two weeks ago rumors began floating that Ellis would return to USC for his Covid year. Again I was skeptical and was wrong once more.
The most recent rumors have Bronny James signing with the Trojans; some national experts reported he would commit last weekend at the Nike Classic, which didn't occur. Again I've been skeptical, assuming he would sign with Ohio State but now I'm not so sure. I'll address below what he could bring to the Trojans if he does indeed sign with USC.
The last rumor which has been circulating for several weeks is that Silas Demary, Jr will seek a release from his letter of intent if James does sign with the Trojans. Without any inside knowledge it's not possible to know if this is credible but if it is it would set up an interesting quandary for the coaching staff.
The Anticipated Current Roster Has Eleven Scholarship Players
Assuming Ellis does come back for a final season, the Trojans Have five front-court players and six guards/wings. 
A lot of the potential success for the Trojans next season up front depends upon Vince Iwuchukwu. Last season was almost a lost freshman year for him due to his heart problems and his back issues late in the season. I'm told he suffered a herniated disc but he will have or has had surgery and will be ready when practice begins this summer.
Iwuchukwu was inconsistent in his first year. He scored 19 points at Oregon State including 9-9 from the line but didn't approach that output again. He did not rebound well but was an improving defender. It's very difficult to know what to expect from him this coming season but the potential is clearly present.
Josh Morgan proved to be a top-level inside defensive presence, a so-so rebounder and an improved but still below-average offensive presence. Kijani Wright played much better late in their season. He is not a rim protector but can body up opposing players. He rebounds pretty well but has a very limited offensive game. Harry Hornery has the shooting ability to bet a so-called stretch four as long as his defense doesn't hurt the team. He played pretty well in limited opportunities.
Finally, Collier's high school teammate Arrinten Page joins the Trojans. Page is a 6'9", 230-pound center who will likely play the 4 if paired with Iwuchukwu or Morgan. He appears to be more athletic than Wright but we don't know how ready he is to compete on the major college level.
Everything up front comes down to Iwuchukwu. If he can score in double figures and block out and rebound the group should be good enough for the Trojans to compete at a high level.
There are also questions in the backcourt. Collier and Demary are excellent ball handlers and can get their own shots, but both are inconsistent from outside. 
I expect Kobe Johnson to take another big step forward and become one of the better players in the conference. I also expect Tre White to improve his outside shooting and continue to score inside and rebound at a high level. Finally, Oziyah Sellers appeared to lack confidence last season and the stage appeared to be too big for him, similar to Johnson's freshman season. From watching a lot of fall practices there is no question he can shoot.
The return of Ellis will be huge if he in fact does return. With Collier and Demary able to find him when he is open and his ability to create his own shot, Ellis should have a big year and contend for conference Player of the Year honors.
The defense can be very good. Johnson and Morgan were named to the five-player all-conference defensive team. Demary was recently named one of the top five high school perimeter defensive players in the country. And lurking in the shadows, James was also on the five-player high school perimeter defense list.
Where Does All This Leave The Trojans
USC could use an upper-class player from the portal who can score, either a guard or a stretch four. Even if James ultimately does sign with USC the need for more experience is still present. With two scholarships open the coaching staff has the ability to add James and a transfer. Every recent  NCAA Tournament seems to have revolved around experienced guards.
It is an intriguing question to sort out what would be the right move if Demary in fact would leave in the event James wants to sign with USC. James is described as a very good defender, very athletic, and a good three-point shooter. He is only average an average ball handler which limits his ability to drive inside. James would bring more national attention and fans to Galen, all of which would be welcome. This is true even if his role is off the bench which would seem very likely. Could James turn into a Lonzo Ball situation with LeBron questioning Enfield's decisions? It is something the coaching staff must be considering.
There is already pressure building on James to play only one year in college and enter the draft. Demary is a multiple-season college player and the likely successor to Collier as the lead guard. If the rumors about Demary's "threat" are true and the Trojans had to make a choice I think Demary will do more to help the team over more seasons.
USC does not disclose offers or visits; the only information comes from players in the portal who publicly say they have been contacted by USC, offered or visited. Several of the best players in the portal have already committed elsewhere. Adding a good player or two is vital, especially with Ellis' status not one hundred percent clear. The Trojan faithful must hope Enfield can land another  
The Trojans Should Consider Using Different Lineups Against Different Teams
Last season USC played four out. That left White trying to guard a big man too often such as Arizona's  Azuolas Tubelis, which was almost impossible. With a fully healthy roster, the Trojans may play two bigs at times and flour out in other games, and change within games depending on who is on the court for the opposition. This mix-and-match type lineup will only work if USC is getting enough production from the front court 
We can expect the Trojans to play much faster and look to initiate a fast break whenever possible. With the two freshman guards and good athletes around them, this should be an exciting team to watch.
With the right additions, USC might have enough depth to play an aggressive, pressing defense to help push the pace. It will be interesting to see what style of play the Trojans employ.
And One
The next two months are crucial for Trojan basketball. Finding a player or two in the portal to fit with the rest of the team is vital. And, high school recruiting is in full swing. While everyone is focused on the portal, high school players will also be in the recruiting process and taking visits. Two years ago USC got a couple of early commits from Wright and Iwuchukwu. Last year the staff had to wait until the fall to get the Demary and Page commitments and much later still for Collier.
What are the realistic expectations for next fall's team? With the roster not complete it's still too early, but there are a c couple of observations that can be made. First, with Ellis and Johnson USC will have a pair of experienced and very good guards which is always important in the Tournament. On the other hand, the ball handlers will primarily be freshmen. Even with two very good freshmen playing the one, that has to cause some concern.
The '23-24 team should be exciting to watch and may have the ability to be a force on the national stage. Several "way too early" rankings in loud the Trojans in the top 25, which points out how ridiculous any rankings in April are. The roasters on most grams are in flux and until they are settled it is "way too early" to have "way too early" rankings.
The post Ruben Report: Andy Enfield Under Pressure To Complete Roster Around Isaiah Collier appeared first on On3.