Sam Pittman encouraged by growth from Jacolby Criswell, Malachi Singleton
2 min read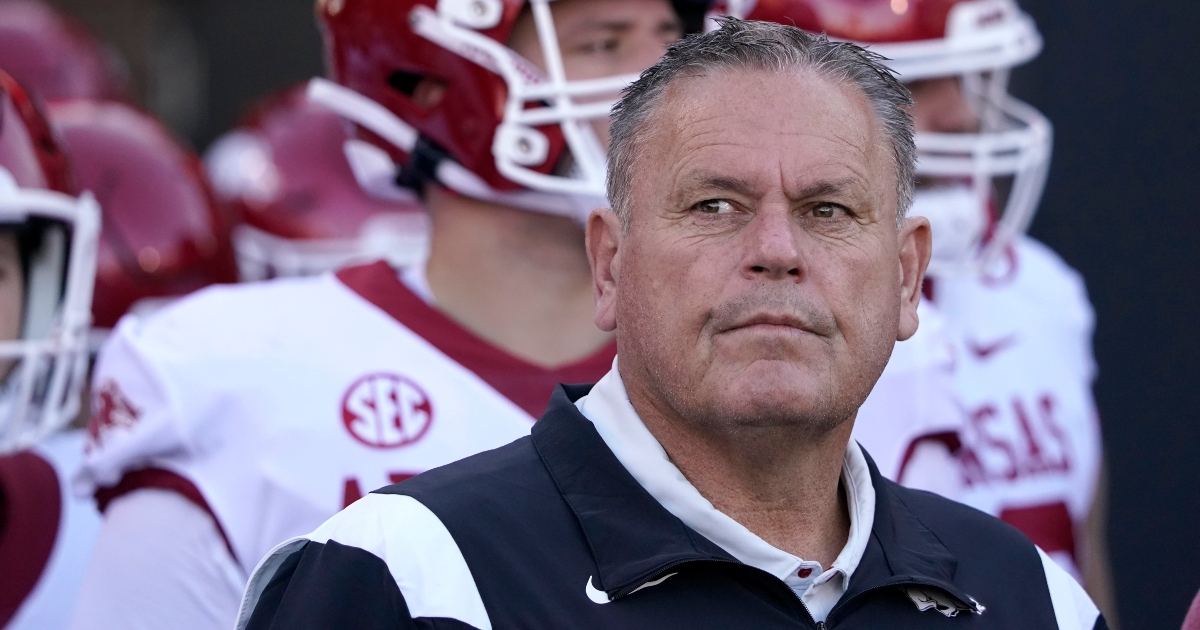 Arkansas got some much-needed depth at quarterback this offseason. Arkansas native, Jacolby Criswell, joined the Razorbacks after spinning the first part of his career with the North Carolina Tar Heels. And in their 2023 recruiting class, the Razorbacks picked up a four-star quarterback out of Georgia, Malachi Singleton.
After the team's sixth spring football practice, head coach Sam Pittman gave his thoughts on his two new quarterbacks. It may be early, but the Razorbacks' head man appears to be encouraged by the growth he's seen from the duo thus far.
"Yeah, I think what we're saying about both of them is, right now, they're better gamers than, let's say, situations that I'm talking about, like seven-on-seven," said Pittman. "They're both fine in seven-on-seven. But once you put a situation and (it's) behind them, they seem to make plays. And that's both of them. I've been really pleased with both of those guys."
Before the start of last season, Criswell was in a heated quarterback battle with Drake Maye to see who would replace Sam Howell. After a grueling competition, which lasted until the end of North Carolina's summer training camp, Maye eventually beat him out for the position. He looked every bit the part of a star quarterback for the Tar Heels, throwing for 4,000-plus yards and accounting for 45 in 2022. Seeing the writing on the wall, the redshirt junior decided to transfer to the most prestigious football program in his home state.
At North Carolina, Criswell saw limited action in his three years there. Criswell recorded a grand total of 31 past attempts connecting on 18 attempts for 204 yards, one touchdown, and one interception. He also ran the ball 20 times for 133 yards and one touchdown.
Singleton, on the other hand, is coming off a high school career where he led his high programs varsity team at quarterback for three of his four years there. The six-foot-tall freshman from Kennesaw, GA, played his high school ball at North Cobb high. According to On3's Industry recruiting database, Singleton was a four-star prospect in the 2023 cycle. He was the No. 370 overall recruit and ranked 36 in the state of Georgia.
It's still early in the spring, but it appears as if Arkansas has a bright future at quarterback. With this upcoming season likely being the last season that star quarterback KJ Jefferson is at the helm, having Criswell and Singleton ready in the wings should make for a smooth and seamless transition for the Razorbacks and coach Pittman.
The post Sam Pittman encouraged by growth from Jacolby Criswell, Malachi Singleton appeared first on On3.