San Diego State Aztecs guard Lamont Butler declares for 2023 NBA Draft
2 min read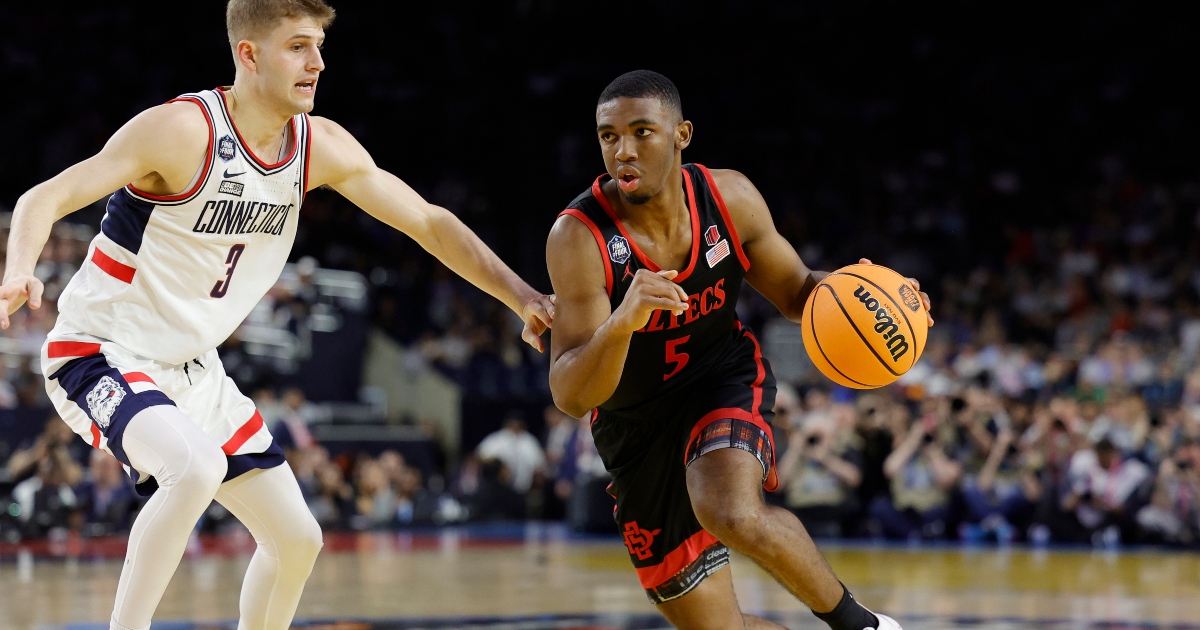 The San Diego State Aztecs success in the tournament is paying off for the program and its players in a big way. Following the Aztecs' deep run into the Men's March Madness tournament, one of the stars is cashing in on his season and tournament success. Star guard Lamont Butler recently announced that he will declare for the 2023 NBA draft.
San Diego State had a wild ride in this year's Men's March Madness tournament, which culminated in a berth in the title game against UConn. Although the Aztecs came up short, they impressed many with their defense. But Butler wowed fans with both his defense and timely shot-making. And arguably, no shot was bigger for him and San Diego State than his Final Four buzzer-beating shot against Florida Atlantic to propel the Aztecs into the national championship game.
More on the 2023 NBA Draft
The 2023 NBA Draft is set to take place on Thursday, June 22, 2023, in Brooklyn at Barclays Center. Round 1 of the draft will be announced by NBA Commissioner Adam Silver, while Deputy Commissioner Mark Tatum is expected to handle the second round of picks.
To be eligible for the NBA Draft, players must be at least 19 years in age during the calendar year that the draft is held and at least one NBA season from their high school graduation date, or the date that would have been if they are not graduated. It is not required that player spend that one year playing college basketball, though. Players can play in either college, abroad, or the G League Ignite if they choose so.
While this is a significant change from what the rules once were, players are eligible to enter their names into the NBA Draft pool and explore their options by hiring an agent to go through the process, while still keeping their college eligibility. The deadline to make that move is on April 23 beginning at 11:59 p.m. ET. Players have until June 12 at 5 p.m. ET to withdraw their name from the pool and return to college.
The NBA Draft Lottery will be held on May 16, which is also the start of the NBA Conference Finals.
The post San Diego State Aztecs guard Lamont Butler declares for 2023 NBA Draft appeared first on On3.