Scarlet Sunrise: ESPN ranks Ohio State second in future quarterback power rankings
4 min read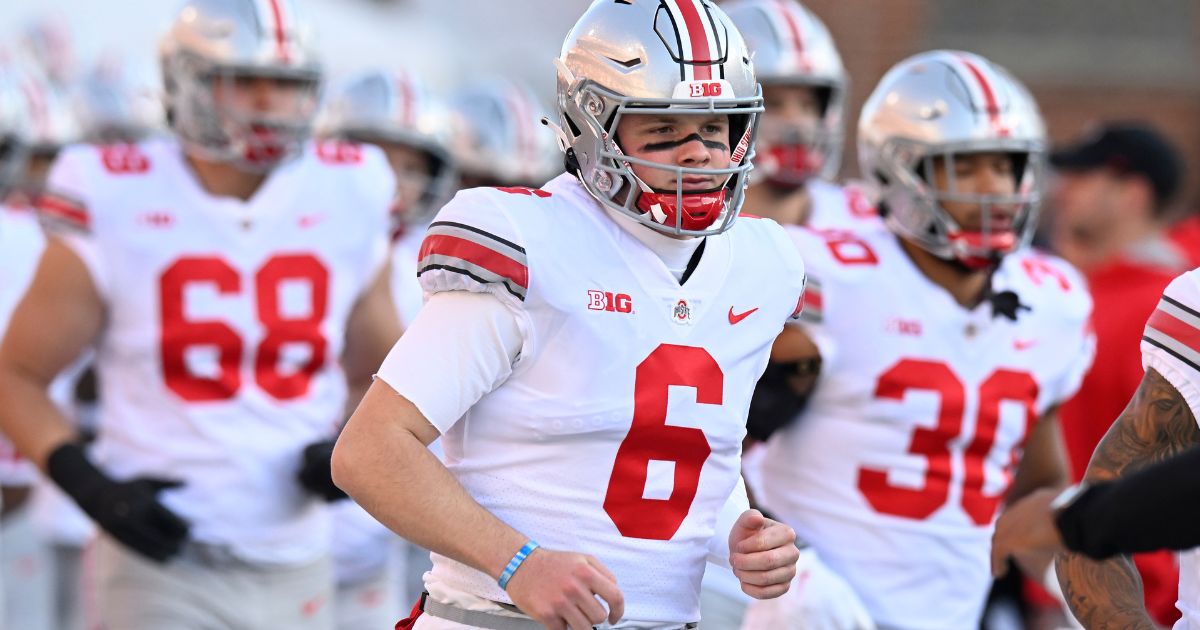 Good morning, Ohio State fans, and welcome to the Scarlet Sunrise. Football will always be our focus, but every day we'll cover news, notes and analysis from across Buckeyes sports. Join us each morning to get caught up on everything you missed in the world of Buckeyes football, recruiting, basketball and more in Scarlet Sunrise.
ESPN ranks Ohio State second in future quarterback power rankings
Since Ryan Day arrived at Ohio State, the Buckeyes have had three starting quarterbacks become top-seven Heisman Trophy vote getters: Dwayne Haskins Jr., Justin Fields and C.J. Stroud. Both Haskins and Stroud were finalists for the award, and, notably, Joe Burrow — a Buckeyes third stringer behind Haskins and J.T. Barrett in 2017 — ended up winning the Heisman in 2019 with LSU after stitching together arguably the best season in college football history.
The point is, under Day (a former quarterback himself and longtime QBs coach), Ohio State has had a knack for developing NFL talent at the sport's most important position. That hasn't gone unnoticed.
ESPN is running its annual "college football future power rankings" series where senior writer Adam Rittenberg is tasked with projecting the top-25 teams at each position group for the next three seasons (2023, 2024 and 2025). Naturally, quarterbacks have taken center stage.
First, some parameters: Rittenberg wrote, "Assessments are based on current rosters and committed recruits, while taking into account the likelihood of transfers, both in and out of programs. Programs that have continuity and success with coaching quarterbacks also received special consideration."
Ohio State finished second in the rankings, only behind USC, which is led by reigning Heisman Trophy winner Caleb Williams and have Malachi Nelson — a five-star prospect who was the No. 5 quarterback in the 2023 class, according to On3 — in the fold.
USC traded places with Ohio State. The Trojans were second in Rittenberg's rankings last year, and Ohio State was first. It's still impressive that the Buckeyes are second despite not returning a starter at the position. That's a testament to not only Day's quarterback whisperer reputation but also how highly touted both junior Kyle McCord and redshirt freshman Devin Brown were in high school.
Rittenberg writes that McCord — Stroud's backup the last two years — is "likely the next man up" yet lists Brown's qualifications, too. And he points out that Day and Co. bounced back after losing top-rated Class of 2024 prospect Dylan Raiola by reeling in 2023 signal caller Lincoln Kienholz, a former Washington commit, late in this past cycle.
Here's Rittenberg's complete top five in these future quarterback power rankings: (1) USC, (2), (3) Oklahoma, (4) Georgia and (5) Alabama. Michigan is sixth.
Buckeyes trying to create as many winner-loser situations as possible in spring ball
This Ohio State offseason is less about "toughness" and more about "competition." It started in winter workouts with strength coach Mickey Marotti, and it's carried over to spring practice, where Day said he's trying to create as many winner-loser situations as possible.
"As the pads are on, we're going to find as many ways as possible to do that," Day said. "Because I think we all work hard, and working hard gives us a chance. But the difference between that and competing is there's a winner and a loser every time you compete."
Competition is manifesting itself in offense vs. defense situations as well as at the position group level. Defensive coordinator Jim Knowles, now in his second year with the Buckeyes, emphasized the importance of his unit really competing against the Ohio State offense this offseason. Knowles recognized that last year was more about teaching. He wants 2023 to be more about doing, and that starts in spring versus a Buckeyes offense that has ranked top five in scoring three of Day's first four years as head coach.
To read more, head on over here.
After 'great day' at Buckeyes Pro Day, Tanner McCalister feels ready for NFL shot
Stroud dominated headlines during this week's Pro Day, and deservedly so. Just as he did at the NFL Combine earlier this month, he turned in another impressive throwing session, this time in front of the entire front office of the Carolina Panthers, who traded with the Chicago Bears for the No. 1 overall pick.
Whether he goes No. 1 or No. 2, or somewhere else in the top five, Stroud is all but a lock to hear his name early on Day One of this year's draft. Arguably the Buckeyes' biggest winner from Pro Day, however, was a fringe prospect: safety Tanner McCalister.
McCalister didn't receive and invitation to the NFL Combine, and the former Oklahoma State transfer spent Wednesday's pre-draft showcase in the Woody Hayes Athletic Center demonstrating why he should have — his incredible athleticism was on full display.
For McCalister's performance and insight on his motivation, go here.
RELATED
Marvin Harrison Jr. excited to have one Pro Day under his belt but focused on the now
Counting down
Buckeyes vs. Indiana: 161 days
Buckeyes vs. Michigan: 245 days
Are you subscribed yet?
Are you ready to get all your latest Ohio State news in one place? Become a member of Lettermen Row today. With your Lettermen Row/On3+ membership, you'll not only have access to the everything that's happening with the Buckeyes, but you'll also be able to peruse other fan sites within the network to hear just how rivals are feeling about Ohio State, as well. Make sure to follow along on Twitter, Instagram and on Youtube for all the latest Buckeyes news you need to know.
The post Scarlet Sunrise: ESPN ranks Ohio State second in future quarterback power rankings appeared first on On3.