Scarlet Sunrise: Ohio State set for annual spring game in the Horseshoe
4 min read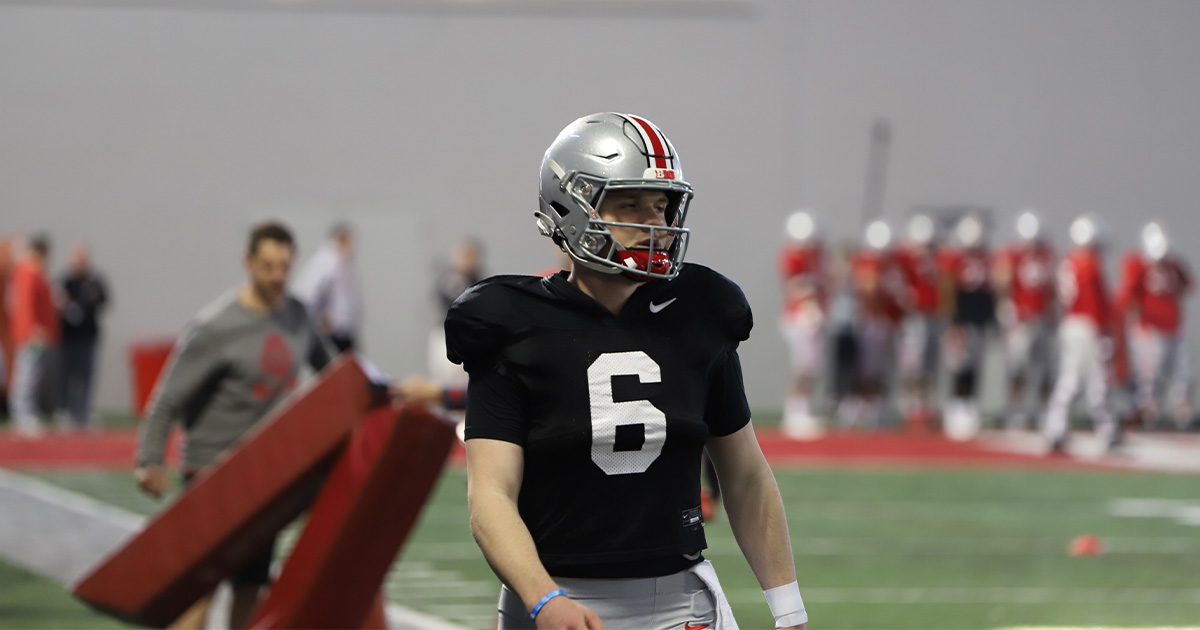 Good morning, Ohio State fans, and welcome to the Scarlet Sunrise. Football will always be our focus, but every day we'll cover news, notes and analysis from across Buckeyes sports. Join us each morning to get caught up on everything you missed in the world of Buckeyes football, recruiting, basketball and more in Scarlet Sunrise.
Ohio State spring game time, details
The Ohio State spring game is Saturday. The Buckeyes will kick off their 101st season in the Horseshoe and are expecting more than 70,000 fans in attendance for the intrasquad exhibition.
The game marks the program's 15th and final spring practice.
Lettermen Row has the details:
Time: 12:05 p.m. ESTTV Channel: Big Ten NetworkDate: Saturday, April 15Location: Ohio Stadium, Columbus, OhioWeather: 73º, 15% chance of rain at kickoff, winds 7 mph
THE GAME BREAKDOWN
Setup: Offense (Scarlet) vs. Defense (Gray)
Scoring: The offense will following a traditional scoring format. The defense, on the other hand, will be rewarded for a takeaway touchdown (6 points), takeaway (3 points), three-and-out (3 points), quarterback sack (2 points) and a forced punt (1 point).
Timing: Ohio State will play four quarters. The first three will be 12-15 minutes long with play clock stoppage in effect. The final frame will be a "10-minute victory lap with a running clock," according to the program release. Halftime will span 10 minutes.
How to watch: The game will be televised live on the Big Ten Network. Chris Vosters, Joshua Perry and Brooke Fletcher are on the call.
How to listen: Paul Keels, Jim Lachey and Matt Andrews will have the call on the Ohio State Sports Radio Network 97.1 FM (WBNS). A full list of radio affiliates can be found here.
How to stream: The game can be streamed online at FoxSports.com.
Tickets? Tickets are still on sale through the athletic department. You can get them here for $7 a pop. Children under 6 years old are admitted to the spring game for free.
Noteworthy storylines
Ohio State redshirt freshman quarterback Devin Brown will miss Saturday's spring game with an injury to a finger on his throwing hand. Brown had a procedure on that hand Wednesday, head coach Ryan Day said. Day is optimistic about the timeline of Brown's return, however. Brown has been competing with junior Kyle McCord for the starting job under center, following the departure of two-time Heisman Trophy finalist C.J. Stroud for the NFL.
Day said he isn't sure if Syracuse transfer safety Ja'Had Carter will be able to go for the spring game. Carter suffered an apparent right knee injury on Student Appreciation Day earlier this month.
Miyan Williams — who has missed some time this spring with an undisclosed injury that Day believes is nothing long term — will be available for the "thud drives" Saturday.
A full list of non-participants this spring can be found here.
READ: What Devin Brown missing spring game means for Buckeyes
READ: Ahead of spring game, Ohio State still looking for someone to step up at right tackle
Recruiting intel…
Ohio State is hot on the recruiting trail right now. The Buckeyes' 2024 class is currently third in the country and, most notably, includes a pair of five-star wide receivers in Jeremiah Smith and Mylan Graham, not to mention On3's No. 4 quarterback this cycle, Air Noland.
The Buckeyes have more commitments on the way, and the spring game is yet another opportunity to build out their already-impressive 2024 class.
Lettermen Row recruiting analyst Matt Parker has all the goods about Saturday's happenings:
Updated visitors list as Ohio State eyes annual spring gameThree key visitors expected at Ohio State spring game, what they mean to BuckeyesThree Ohio State recruiting storylines to follow heading into massive spring game
Staff Predictions: Potential storylines, breakout players
The Lettermen Row crew of Spencer Holbrook, Tim May, Andy Backstrom and Matt Parker have been in the Woody Hayes Athletic Center the last two months watching Ohio State return to practice. With access to practices and press conferences, the team has gotten an early sense of what the 2023 Buckeyes are starting to look like.
With that in mind, they provided predictions for Saturday's spring game. Instead of focusing on score picks — because spring game scores are largely irrelevant — each staffer provided a bold prediction and a breakout performer.
You can read about the selections here and here, or hear about them down below:
Stick with Lettermen Row for wall-to-wall game-day coverage
Lettermen Row will be on site for comprehensive coverage of the Ohio State spring game, as the Buckeyes' offense faces the defense in an intrasquad exhibition to wrap up the spring season. Follow along on Twitter, Instagram and YouTube for experienced Ohio State coverage.
Counting down
Buckeyes vs. Indiana: 140 days
Buckeyes vs. Michigan: 224 days
Are you subscribed yet?
Are you ready to get all your latest Ohio State news in one place? Become a member of Lettermen Row today. With your Lettermen Row/On3+ membership, you'll not only have access to the everything that's happening with the Buckeyes, but you'll also be able to peruse other fan sites within the network to hear just how rivals are feeling about Ohio State, as well. Make sure to follow along on Twitter, Instagram and on Youtube for all the latest Buckeyes news you need to know.
The post Scarlet Sunrise: Ohio State set for annual spring game in the Horseshoe appeared first on On3.