Scarlet Sunrise: Ohio State strength coach Mickey Marotti gets pay bump
4 min read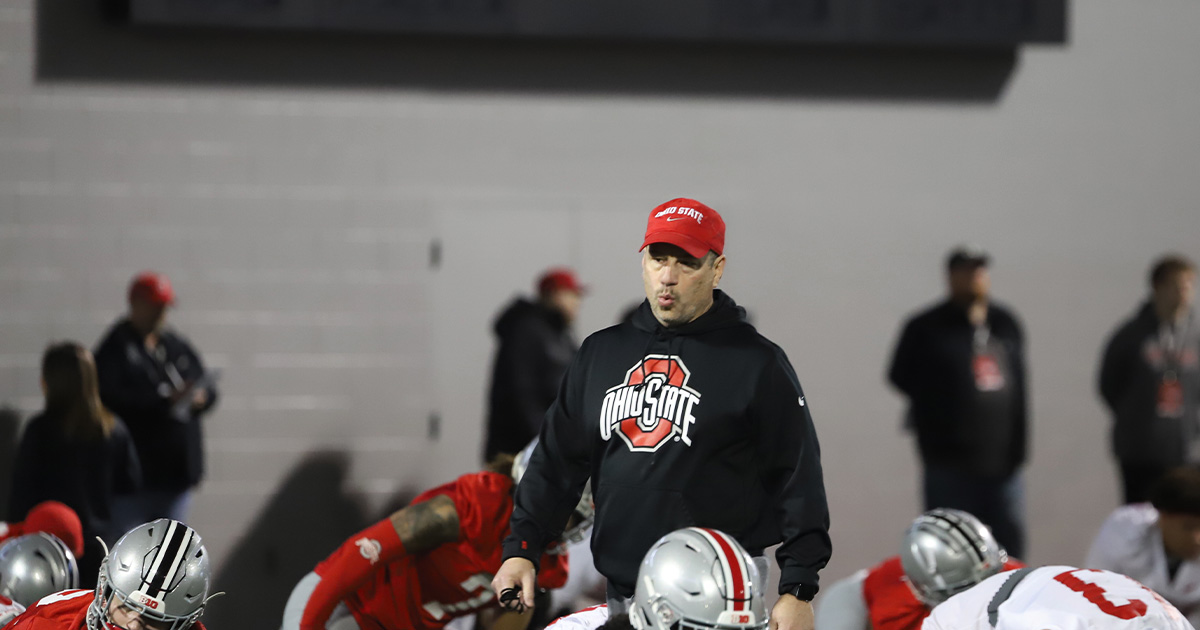 Good morning, Ohio State fans, and welcome to the Scarlet Sunrise. Football will always be our focus, but every day we'll cover news, notes and analysis from across Buckeyes sports. Join us each morning to get caught up on everything you missed in the world of Buckeyes football, recruiting, basketball and more in Scarlet Sunrise.
Ohio State strength coach Mickey Marotti gets pay bump
The Columbus Dispatch obtained a copy of Ohio State strength coach Mickey Marotti's latest contract through a public records request and reported that the deal is good for three years through the 2025 season. It has also bumped his annual salary to $862,238, according to the Dispatch.
Marotti, more formally known as assistant athletic director for football sports performance with the Buckeyes, oversees Ohio State's offseason training. Players often call upon the impact of Marotti and his winter workouts when referencing their respective development from one year to the next.
Marotti earned a base salary of $821,179 last year. Because the Buckeyes reached the College Football Playoff, he also received $174,501 in bonuses, per the Dispatch.
When comparing Marotti's 2023 base salary to his 2022 base salary, a 5% raise is evident. That's consistent with the other raises the majority of Ohio State's on-field assistants got this offseason.
Defensive coordinator Jim Knowles, defensive line coach Larry Johnson, assistant head coach for offense/running backs coach Tony Alford, safeties coach Perry Eliano and quarterbacks coach Corey Dennis all received 3% base salary raises, according to The Dispatch reports from earlier this month and last year. Meanwhile, some other on-field Buckeyes assistants got bigger base salary boosts, most notably new offensive coordinator/wide receivers coach Brian Hartline, who observed a 68.4% raise from $950,000 to $1.6 million per year.
Back to Marotti — he was Urban Meyer's strength coach at Florida and then moved to Ohio State with Meyer in 2012. Rob Glass from Oklahoma State was the only strength coach to earn a higher base salary than Marotti in 2022, according to the Dispatch and the USA TODAY Sports' salaries database.
Pair of Buckeyes sophomore offensive linemen shed black stripes
A pair of Ohio State sophomore offensive linemen shed their black stripes during the second week of spring practice: tackles Tegra Tshabola and George Fitzpatrick.
Both are in the mix for the Buckeyes' open starting tackle spots following the departure of soon-to-be early-round NFL Draft picks Paris Johnson Jr. and Dawand Jones.
Tshabola didn't arrive until the summer last year but has already made significant strides while learning under Johnson, a childhood friend and Ohio State mentor. Fitzpatrick, on the other hand, was an early enrollee last spring. He's put on north of 20 pounds since getting to Columbus and is more comfortable in the Buckeyes' offense than he was in 2022, according to O-Line coach Justin Frye.
For more, on Tshabola and Fitzpatrick, go here and here.
At left tackle, confident Josh Fryar is 'playing the position to own the position'
Ohio State senior offensive lineman Josh Fryar hasn't always had the confidence that he walks and talks with now. He's had to build that over the previous three years while he's waited his turn for his moment to shine.
His freshman year took place during the COVID-19-affected season in 2020. The next season, he tore his ACL. And, last year, he was the Buckeyes' No. 6 lineman, a spot that second-year Ohio State offensive line coach Justin Frye labeled "the hardest position" for anyone up front.
In the process, however, Fryar has evolved into a more versatile lineman. That's why his shift from the right to the left side hasn't been dramatic this offseason. He calls protecting the blind side at Ohio State "an extreme honor." Although he hasn't been named the starter at left tackle yet, he's "playing the position to own the position," according to Frye.
To read the full story on Fryar, head on over here.
RELATED
Carson Hinzman using work ethic to push for Buckeyes starting center job
Counting down
Buckeyes vs. Indiana: 162 days
Buckeyes vs. Michigan: 246 days
Are you subscribed yet?
Are you ready to get all your latest Ohio State news in one place? Become a member of Lettermen Row today. With your Lettermen Row/On3+ membership, you'll not only have access to the everything that's happening with the Buckeyes, but you'll also be able to peruse other fan sites within the network to hear just how rivals are feeling about Ohio State, as well. Make sure to follow along on Twitter, Instagram and on Youtube for all the latest Buckeyes news you need to know.
The post Scarlet Sunrise: Ohio State strength coach Mickey Marotti gets pay bump appeared first on On3.