Scarlet Sunrise: Ryan Day pleased with Buckeyes leadership in spring ball
4 min read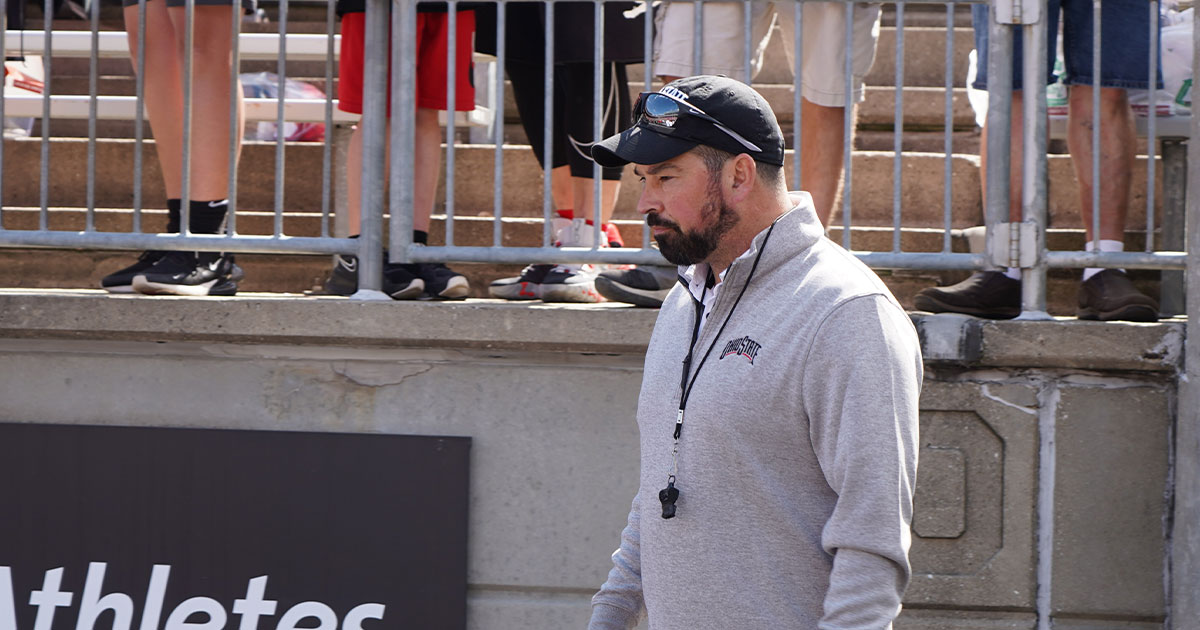 Good morning, Ohio State fans, and welcome to the Scarlet Sunrise. Football will always be our focus, but every day we'll cover news, notes and analysis from across Buckeyes sports. Join us each morning to get caught up on everything you missed in the world of Buckeyes football, recruiting, basketball and more in Scarlet Sunrise.
Ryan Day pleased with Buckeyes leadership in spring ball
Ohio State has been running back the leadership system it adopted last season, head coach Ryan Day said after Saturday's spring game.
Last offseason, there was an emphasis placed on leadership. So, ahead of winter workouts, the team voted 24 players onto a leadership committee. The rest of the players were split into 12 squads. Each squad was assigned two members of the leadership committee.
That's the first step in determining captains, Day explained. He thought the second go-around of that approach was "excellent."
"We're going to do that again," Day said. "We start again right after the spring. We'll pick some new leaders because some guys that you think are leaders in February maybe don't do a great job. Or some emerge, and so that changes."
Day continued: "Then we'll go through and have another draft, go through the summer workouts with with Mick [Marotti], and then we'll have a really good idea of who the captains will be when we get into August. So this is our second year doing the leadership committee and having these squads. And I think it's really built strong leadership in the team. I feel good about where our leadership is at right now."
That strong leadership has helped Day's team forge its identity this offseason, which has been based around competition. The words "winner" and "loser" echoed throughout the Woody Hayes Athletic Center during spring ball, as Day and his staff constantly pitted players against each other in winner-loser situations.
"We've talked long and hard about how there's a difference between hard work and competing," Day said. "Everybody's working hard. Without it, you don't have a chance. But competing means winning or losing.
"When you go against your clone, when you go against your equal — and talent's equated — what are you going to win? What's your edge? That's been a huge message for us and a focus and emphasis."
Brian Hartline 'doing well' after being hospitalized from crash
Ohio State offensive coordinator and wide receivers coach Brian Hartline tweeted that he is "doing well" after being hospitalized from a vehicular crash early Sunday morning.
Hartline was the driver in a side-by-side UTV crash around 1:20 a.m. on his property near Powell, according to a report from NBC4. A Delaware County Sheriff's Office spokesperson confirmed to NBC4 that the crash resulted in the vehicle rolling over.
Ohio State football released a statement on the matter, noting that Hartline and a friend — unaffiliated with Ohio State — were transported to Riverside Hospital Sunday morning with "non-life-threatening injuries."
The statement read that Hartline expected to be released from the hospital Sunday evening. Hartline tweeted Sunday afternoon that he appreciated "everyones (sic) support."
The crash took place less than 14 hours after Ohio State's spring game kicked off.
Hartline is in his first season as the Buckeyes' offensive coordinator. He's in his sixth year with the program, where he played his college ball before launching a seven-year NFL career. Hartline has developed the reputation as one of the best recruiters in the sport, particularly at the wide receiver position.
Buckeye Leafs: 'Pro approach' showing immediate results for Denzel Burke
Ohio State cornerback Denzel Burke shined during the spring game, continuing what's been an impressive offseason for the junior.
Burke did more than just get 100% healthy since the end of the 2022 campaign. He's taken the "pro approach" head on.
"Honestly, it's just being in the facility before everyone in the morning," Burke explained Saturday. "Get some work in before practice, get some work in after practice, watch some extra film. Just having the edge on my opponent."
That's allowed Burke to be on point. He certainly was during this weekend's intrasquad exhibition. Burke wasn't the only Ohio State player turning heads, though.
Lettermen Row handed out Buckeye Leafs for the spring game. Check it out here.
RELATED
Photo Gallery: Team Gray wins annual Ohio State Spring GameLessons Learned from up-and-down Ohio State spring game
Counting down
Buckeyes vs. Indiana: 139 days
Buckeyes vs. Michigan: 223 days
Are you subscribed yet?
Are you ready to get all your latest Ohio State news in one place? Become a member of Lettermen Row today. With your Lettermen Row/On3+ membership, you'll not only have access to the everything that's happening with the Buckeyes, but you'll also be able to peruse other fan sites within the network to hear just how rivals are feeling about Ohio State, as well. Make sure to follow along on Twitter, Instagram and on Youtube for all the latest Buckeyes news you need to know.
The post Scarlet Sunrise: Ryan Day pleased with Buckeyes leadership in spring ball appeared first on On3.