Should Duke be the front-runner for preseason No. 1?
3 min read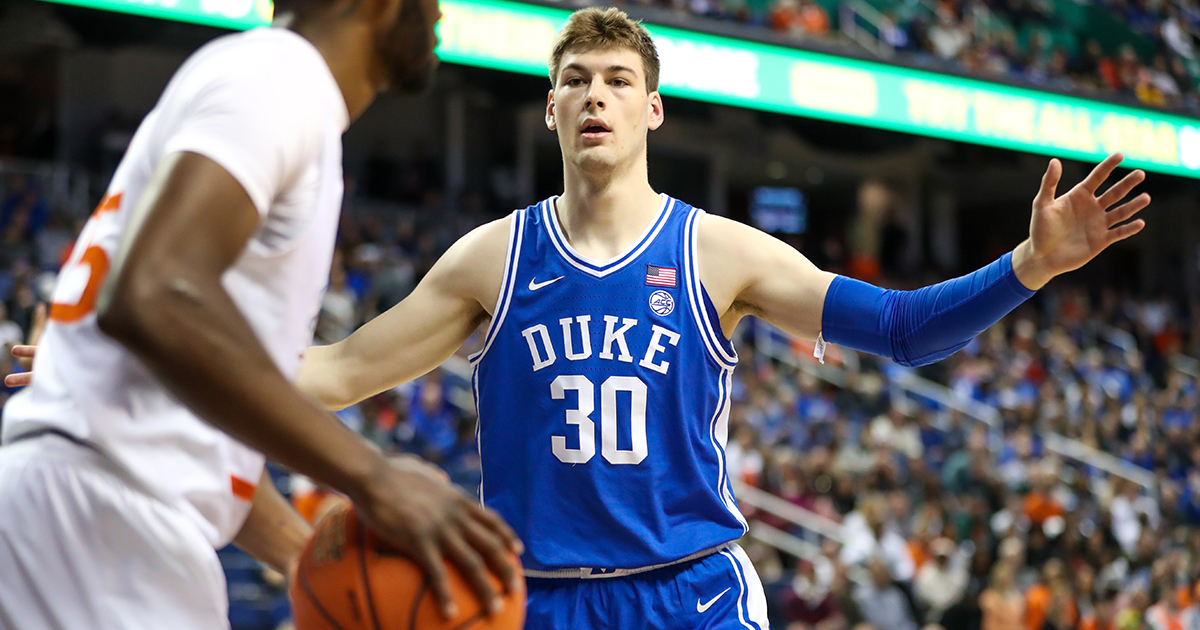 Duke carried a ten-game win streak into their second-round NCAA Tournament loss to Tennessee. This run came on the heels of a 13-game stretch that saw the Blue Devils go 7-6. While starting four freshmen, Duke won the ACC Tournament and earned a five-seed in the NCAA Tournament.
It was a season with some downs and some ups for Duke's first-year head coach Jon Scheyer, but it was a season that ended with a lot of momentum and with analysts talking about the team's growth throughout the year.
One of college basketball's biggest talking points heading into the off-season was what would Duke's roster look like next season. They had a top class coming in, but who would be back?
First, it was Ryan Young that announced he would be returning. Then Tyrese Proctor and Mark Mitchell. On Monday, Jeremy Roach announced he would be testing the NBA Draft waters while keeping his eligibility. On Tuesday, ACC Rookie of the Year Kyle Filipowski said he will be playing at Duke next season.
If Roach ends up returning, Duke will now return its top four scorers, its top two rebounders, its top four in assists, and top two in steals. The Blue Devils will return 81.1 percent of its starts next season from a team that won the ACC Tournament and finished No. 12 in the final A.P. Poll.
The Blue Devils will also be welcoming the No. 2 recruiting class in the 2023 On3 Team Ranking. A class that includes three five-star players, Caleb Foster, Jared McCain, and Sean Stewart, and a fourth, TJ Power, who is also a top-25 recruit.
Is this enough to head into the season as the No. 1 ranked team? There is certainly a depth of talent, both entering and returning. They have size, length, and shooting. There is also room for another player to add through the transfer portal.
Projected Starting Five
G Tyrese Proctor
G Jeremy Roach
G/F TBD
F Mark Mitchell
C Kyle Filipowski
If Jeremy Roach does come back, you feel comfortable penciling him in to join Tyrese Proctor, Mark Mitchell, and Kyle Filipowski in the starting lineup. The fifth spot could be interesting because they have some positional flexibility. TJ Power is a 6-foot-7/6-foot-8 freshman who can handle, shoot, and pass it, the ultimate connector piece. If Power is the guy, he and Mitchell could fluidly toggle between the two forward positions.
The Blue Devils could also comfortably start three guards and add either freshman Jared McCain or Caleb Foster there. Super senior Ryan Young started seven games this season; the Blue Devils could go with two bigs with freshman Sean Stewart as well.
There is also the chance the fifth starter could come from the transfer portal. With the roster construct and flexibility, Duke could add a wing, forward, or post. Jon Scheyer showed that he preferred a two-big lineup in year one, but will he keep that philosophy in year two?
The post Should Duke be the front-runner for preseason No. 1? appeared first on On3.