Signs Oscar Tshiebwe may ultimately return to Kentucky?
3 min read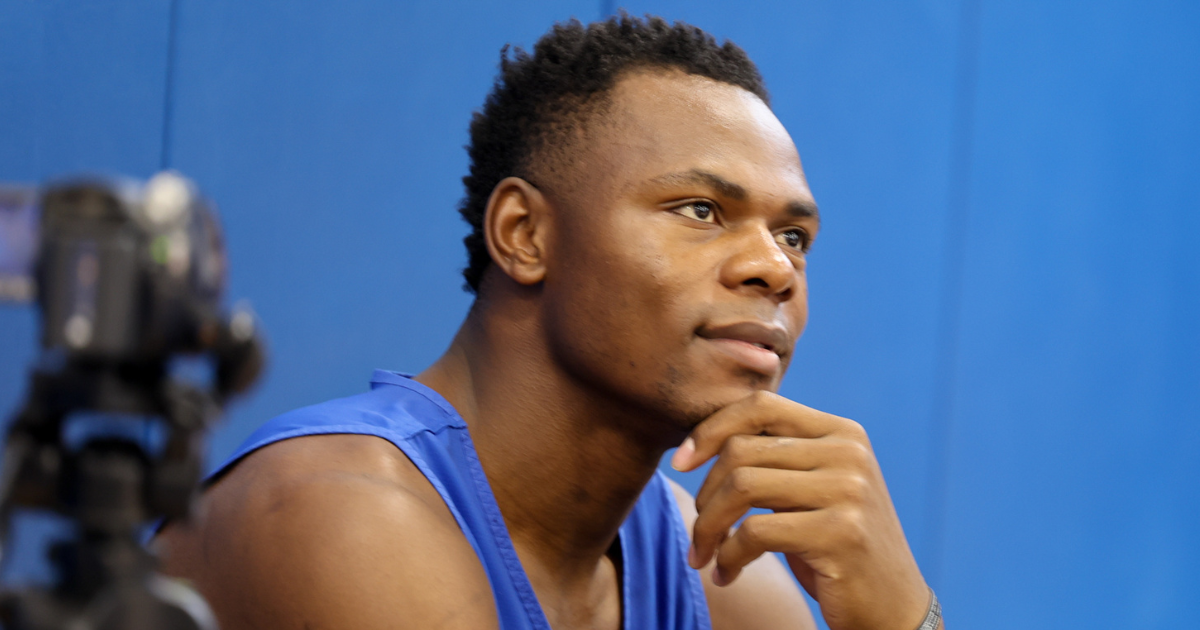 Oscar Tshiebwe has yet to announce any plans regarding his future, although it's expected he'll test the NBA Draft waters to help determine which is more profitable, his current path in the pros or a super-senior season at Kentucky and NIL.
As we wait for news from Oscar, it's worth passing along two items of note. First, a tweet from Oscar's agent Nate Conley late last night, which shows Oscar working out at a gym in Charlotte. As you can see, he's wearing Kentucky gear and showing off an improved three-point shot. In the caption, Conley tags a BBN Twitter account and says "Stay tuned."
Sign up for the KSR Newsletter to get breaking news and daily recaps delivered directly to your inbox.
Seth Greenberg thinks Oscar will return to Kentucky
Secondly, at least one national media member — who is a good friend of John Calipari — believes Oscar will be back. During appearances on "The Dan Patrick Show" and "The Leach Report" this week, Seth Greenberg said he thinks Oscar will return for a final year at Kentucky, and that it would be a win-win for both sides.
"That's why [Calipari has] got to complement it in the [transfer] portal," Greenberg told Patrick. "He's got to get Oscar Tshiebwe to come back, first and foremost, which I think he will actually end up coming back."
"He's gotta complement DJ Wagner and that recruiting class. He's gotta complement them with juniors and seniors that will be great role players. Juniors and seniors in the portal that will basically coach their locker room."
"I saw something the other day, McDonald's All-American Game, they interviewed that freshman class. And they said, we're going to be the freshman class that brings Coach Cal another championship. Those guys have no clue how hard college basketball is…You can't win, I don't think with five freshmen, you need veteran maturity, toughness, that can coach your locker room that when you go and lose six of eight [games like UConn did]."
In his conversation with Tom Leach yesterday, Greenberg said the reason he thinks Oscar will be back is, it's the most logical solution.
"Why wouldn't he? That's my thing. It sounds silly because he would make more money at Kentucky than where his NBA stock is going to be."
Greenberg also mentioned Oscar's legacy and impact on the community as additional reasons another season in Lexington makes sense but ultimately, said it comes down to money.
"Financially, his value with NIL in that state, playing for Kentucky is far greater than his value [in the NBA]. And he's not ready. That's the most [important] thing. It's not a rite of passage. Guys think it's a rite of passage. It's just not that way. He needs to continue to improve. And I don't care if he's going to be 23, 24 years old, he needs to continue to improve. Going to the G-League or going overseas compared to playing at Kentucky? Come on man. It's two different worlds."
The post Signs Oscar Tshiebwe may ultimately return to Kentucky? appeared first on On3.