SMU Football spring practice notebook: April 4, 6
3 min read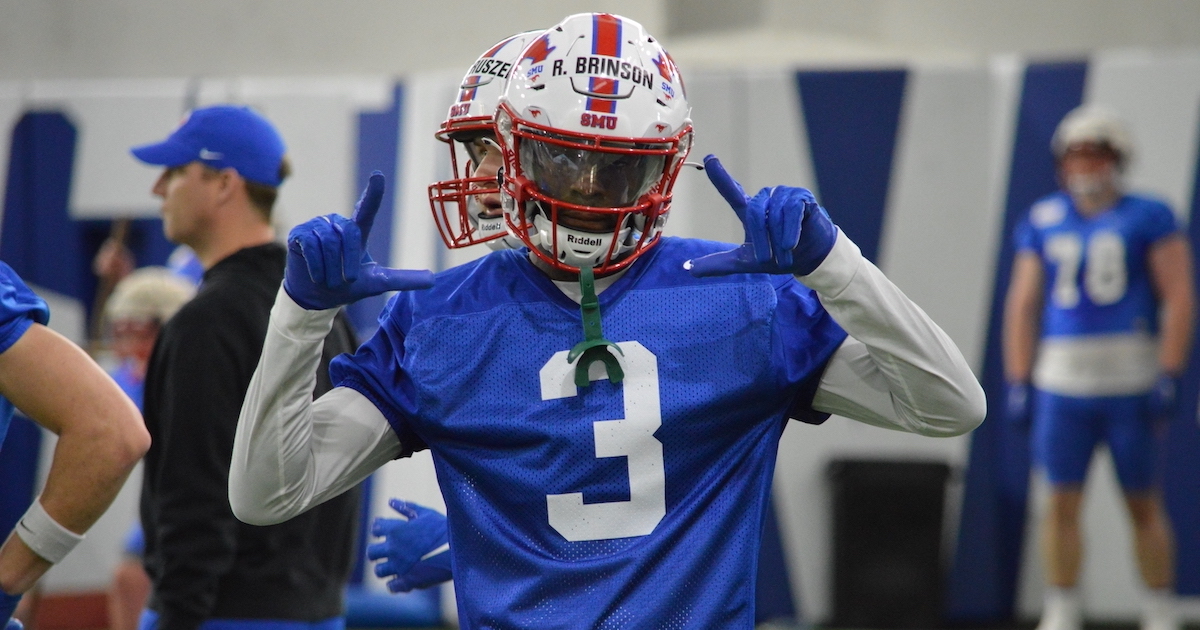 SMU Football was back on the practice field on Tuesday and Thursday, continuing a productive run of spring practices with a week away until the spring game.
Here's the rundown on what to know from practice after the Mustangs wrapped up another week of spring practice.
Romello Brinson shines for SMU offense
SMU wideout Romello Brinson came in this spring and it took a minute for him to get comfortable as he tries to fight his way into a starting spot. On Tuesday, he displayed what made him a highly-touted prospect coming out of the Miami area.
Brinson caught a few passes, both intermediate and deep balls. Preston Stone hit Brinson down the field for a big gain on Tuesday. Stone might've been sacked in a real game, but he stepped up and the staff let the play go to hit Brinson for another big gain down the field. Brinson took a drop-off pass over the middle to have a big gain. Thursday, Stone hit Brinson for a first down in the team period.
Safeties continue to impress
Among Bryan Massey, Jonathan McGill, Brandon Crossley and Ahmaad Moses, the safeties have had a strong spring. Massey and McGill both had multiple interceptions this week, continuing to have a strong spring. Crossley is always around the ball and Moses had multiple breakups.
Crossley had a near interception and grabbed one during Thursday's practice. Moses meanwhile showed his physicality, making a big hit on Thursday. Isaiah Nwokobia even got into the action, making a pair of breakups during the team period.
Other SMU practice notes
*** Offensive lineman Hyrin White was back at his right tackle spot after spending last week with family following the birth of his child.
*** Offensive lineman Thalen Robinson was in blue for the first time in spring on Tuesday, manning the second team left tackle spot. Robinson's been a player that's been heavily involved helping teammates with assignments and encouraging players. Now, he's poised to make a push for more reps over the final few practices.
*** Cornerback Charles Woods was back as well following the last week or so in concussion protocol. He was spending his usual amount of time with the first team defense.
*** Punter Ryan Bujcevski had a couple terrific punts over the two days of practices.
*** Freshman defensive end Braeden Flowers has been out with an injury for the last few practices.
*** SMU worked plenty of redzone on Tuesday and worked some on Thursday as well, but then worked a situational period with the offense backed up on its goalline on Thursday.
*** Running back Camar Wheaton is continuing to work on getting back into football shape, working with the training staff off to the side on Thursday.
*** Defensive lineman Stephon Wright is now a full-go in practice after ditching the red jersey on Thursday. He had a good rep in 1-on-1 against Dalton Perdue.
*** Wide receiver Teddy Knox was off to the side on Thursday, sporting just a jersey and unable to practice.
*** Wide receiver Jaxson Lavender had a big gain on a pass from Jennings on Thursday, making a move to pick up more yards.
*** Thursday was a bit of a struggle for the offense with multiple interceptions by both quarterbacks.
*** Nelson Paul continued his strong spring, notching a sack during the team period. Paul also did a nice job stringing out a sweep during the team period to make a stop.
*** Key'Shawn Smith and Moochie Dixon both caught touchdown passes from Stone during the practice.
*** Running backs Jaylan Knighton and Brandon Epton both had strong practices with big gains during the team periods.
*** Tight end Gage Haskin had an impressive 1-handed catch early in practice before grabbing a couple more nice balls for gains during the team period.
The post SMU Football spring practice notebook: April 4, 6 appeared first on On3.