Sooners Offer List Keeps Growing
6 min read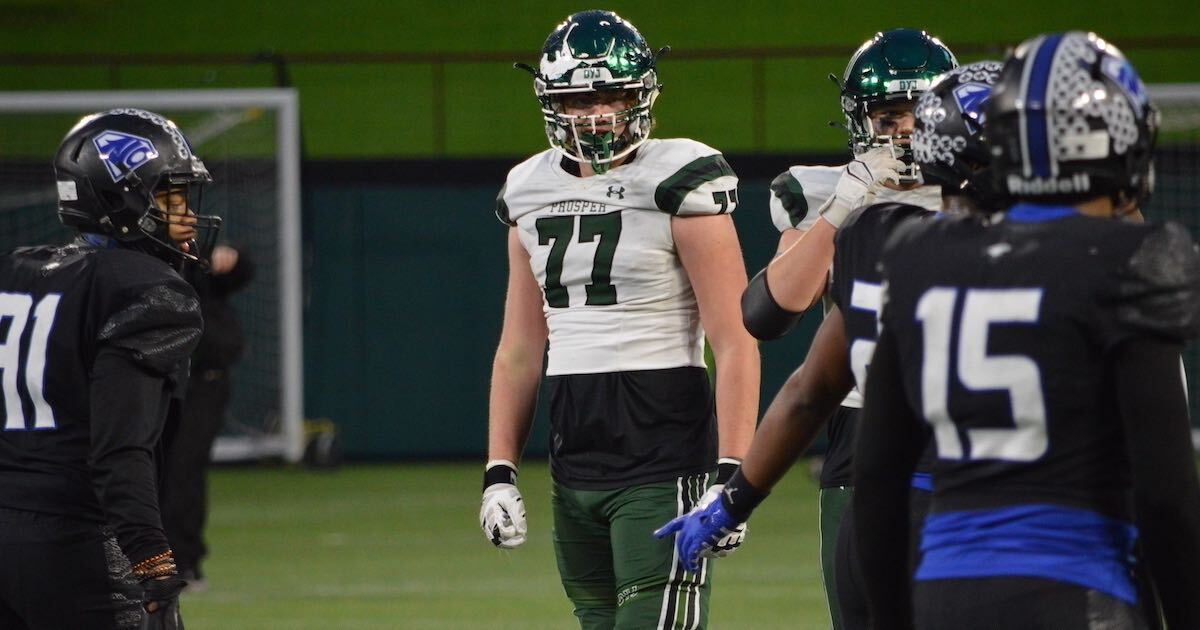 With the Sooners firmly entrenched in working on the 2024 class and a 2025 class that is well ahead of it's two predecessors, with two commitments already on board, the offer list hasn't seen explosive growth. Still though plenty of new names have come along including an ever-growing group in the 2026 class that hold Oklahoma offers. We take a look at each new offer over the last month or so – what they show on tape and just where the Sooners may stand.
What's on Tape: A smart and instinctual corner who plays longer than his frame would lead you to expect. Very good at reading routes and reacting to receivers.
OU's Chances: The Oklahoma Sooners in Philadelphia has never been a very successful story and there's a feeling Clemson may be out in front, including being a 83-percent favorite by the recruiting prediction machine (RPM).
What's on Tape: A tight end with a lot of natural gifts, even if he's still figuring out best to use them. He's extremely talented and does a nice job using his body to clear space for his quarterbacks.
OU's Chances: Armstrong seems pretty open to the process at this point but the Sooners seem likely to get a visit at least.
What's on Tape: Brew is a guy that is well worth the early hype. His speed is smooth and easy and he's a natural at high-pointing the ball. He figures as a receiver with his ball skills but defensive back could work well.
OU's Chances: Landing an elite wide receiver from Ohio, considering what Ohio State has going right now, seems like a tall task.
What's on Tape: A big outside receiver who is still growing into his massive frame, he's a natural when the ball is in the air.
OU's Chances: Emmett Jones's relationship in the area and as Choice's potential position coach makes a lot of sense for the Sooners to make a run.
What's on Tape: Crader gets by a bit on athleticism and overall nastiness but as he refines his game there's plenty of chance to grow and develop.
OU's Chances: Crader is an Oregon commit and so far there's not a lot to say that's going to change.
What's on Tape: Davis is a strong finisher in spite of still being quite light at the moment. As he fills out his big frame and gets stronger there's a lot of potential to develop into a high upside player.
OU's Chances: Davis has already been to Norman and seems very likely to return again this summer.
What's on Tape: Whether it's in press man or playing as a center field Denson shows a good feel when the ball is in the air.
OU's Chances: Denson is expected for an official visit this summer and the Sooners are very real contenders.
What's on Tape: A smooth wide receiver with easy burst and an amazing ability to high-point a football. He's got potential to climb the rankings considerably.
OU's Chances: Ferguson likes what he's seen from Oklahoma and the Sooners seem to be real contenders for the young receiver.
What's on Tape: Geralds is incredibly young playing against elite competition and holding up as well as he does, it's no surprise to see such massive recruiting attention already coming in for him.
OU's Chances: It's never easy taking an elite talent from Georgia, particularly along the defensive line, but if the Sooners can start to show some NFL production in Norman? Maybe they can get in line for a visit and start making some headway.
What's on Tape: A big tight end with a great frame who looks natural working to the second level.
OU's Chances: The LSU commitment seems like a near lock to end up in Baton Rouge.
What's on Tape: Grimsley is a two-way standout who has impressive burst for a player with such length. That length allows him to make difficult jump ball catches as well as get his hands into passing lanes on defense.
OU's Chances: Though Grimsley is now at Tampa Catholic he didn't share a roster with 2023 signee Lewis Carter, still though perhaps a visit could happen for the Oklahoma Sooners.
What's on Tape: A very active defender who does a nice job shooting underneath blocks and disrupting interior run plays.
OU's Chances: Oklahoma seems to be renewing their interest in Southern California but it's going to be an uphill climb.
What's on Tape: McKinley is an athletic pass rusher who can turn the corner and win with speed. As he gets bigger and stronger he'll become even more dynamic.
OU's Chances: If the Sooners could shock the world with his brother, maybe something happens but it's tough to envision that scenario.
What's on Tape: A powerful defensive tackle who does a nice job getting underneath blockers and then using his strength and quickness to get around them.
OU's Chances: Due to numerous connections, the Oklahoma Sooners would seem to have a very real chance here.
What's on Tape: Impressive length and the ability to close in space, both behind the line of scrimmage as well as in the flats. He's a unique athlete with a wide-range of potential roles.
OU's Chances: Nesta seems to like his early communication with Oklahoma but beyond that it seems pretty open-ended.
What's on Tape: Redeaux flashes big-time speed and once he gets into the secondary has the quick feet and vision to make plays.
OU's Chances: Demarco Murray seems to give Oklahoma a puncher's chance in about any race but beyond that it's probably too early to be sure.
What's on Tape: Smith is strong with his hands and does a good job turning his blocker. Once he does he's got the burst to get up field and make plays behind the line of scrimmage.
OU's Chances: Oklahoma hasn't had a huge role in the DMV over the last few years but with a bit more on-field success perhaps things can start to turn?
What's on Tape: As such a young player there isn't much take to find on Stewart at this point but the early reviews on his potential are glowing.
OU's Chances: Stewart has the feel of another LSU/Alabama battle in the SEC but that's pure speculation on a player so young.
What's on Tape: Terry is an interesting evaluation because he plays in a number of roles but his size and speed are easy to see on tape.
OU's Chances: Surprisingly, the Oklahoma Sooners have done very well in Central Texas for a long time and a visit in the near future – seems very possible.
What's on Tape: It's not hard to see what there is to like about Topui, he is violent with his hands and finishes blocks with aggression. He's also a guy with the athletic ability to work to the second level.
OU's Chances: It'll be tough to break up the Mater Dei to USC pipeline for a player who'll be such a need for the Trojans.
What's on Tape: Williams has outstanding length while reading well and triggering quickly on both run and pass plays in front of him.
OU's Chances: Oklahoma seems to want to have a bigger role at Marshall than they'd have in years past and getting started with WIlliams early could help make that, at least, possible.
What's on Tape: Wilson has easy acceleration and does a nice job of working his routes and creating lanes for himself downfield. He also shows off outstanding body control.
OU's Chances: Wilson has already been to Norman and seems to have a lot of early interest in the Sooners.
What's on Tape: WIlson has a motor that runs hot and a potentially elite first step. There's a lot to like as a future interior pass rusher.
OU's Chances: Oklahoma will likely do all it can to try and land an elite interior defensive lineman like Wilson but we'll have to see if they can have any real success.
The post Sooners Offer List Keeps Growing appeared first on On3.