South Carolina defensive players media availability recap – 3/22
4 min read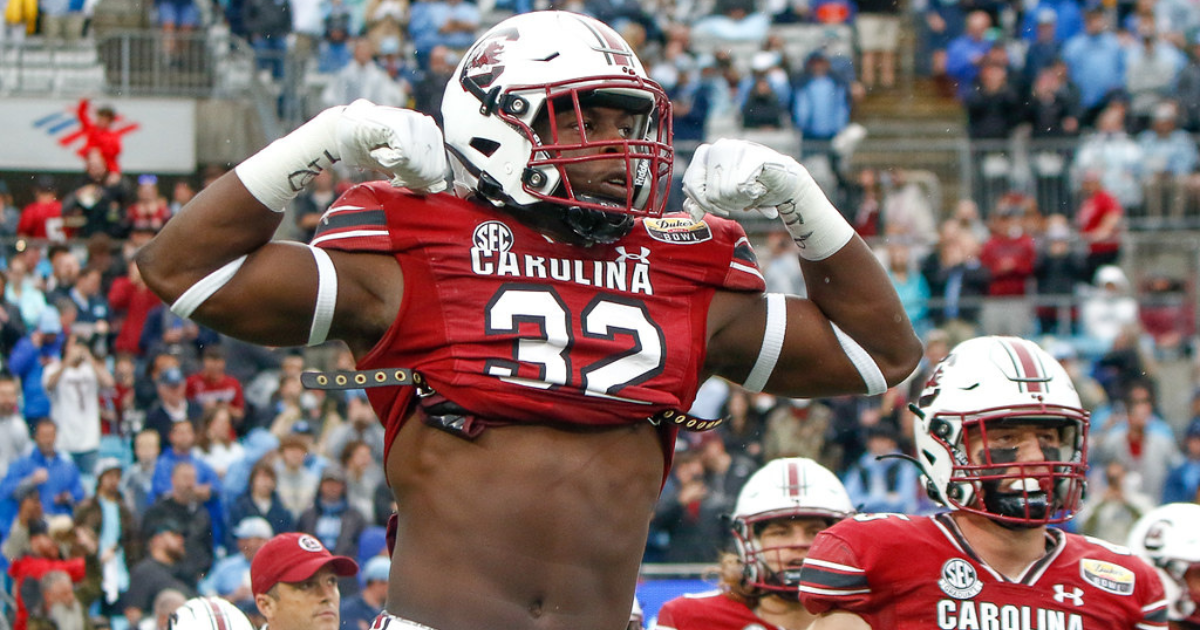 On Wednesday, five South Carolina defensive players met with the media. Those players were linebacker Mo Kaba, edge Terrell Dawkins, defensive back O'Donnell Fortune, linebacker Stone Blanton, and defensive back Nick Emmanwori.
Below is a link to every player's press conference from Wednesday in its entirety. What's also included are a few notes from what each player had to say for those who don't want to watch each video.
Nick Emmanwori 
Last year wasn't a surprise to him. He had a feeling he was gonna play as a freshmanGoing back and watching his tape from his first couple games last year he wasn't really reading his keys. Said it took probably until the Charlotte game that he was feeling more comfortable when he was out there and with reading his keys. Added that Coach Gray worked him a lotShares that he stays off of social media during the season so that he's not hearing all of the noise"I got to make sure I'm ready. I just wanna shock the world again."
Stone Blanton
As far as his baseball career goes, he's been working on building up his shoulder stability and time will tell moving forward what that means for his baseball careerCalls Mo Kaba selfless; has given him a lot of teaching points to work on and calls him another coach with how much he helps out the younger guysAn avid golfer, he joked his game is getting there. Shared that he got a new set of TaylorMade sticks and that he's working on his swing when he gets a chanceDropped about 5-6 pounds of fat and gained 10 of muscle. He's playing without his shoulder braces for the first time since he was a freshman in high school
Terrell Dawkins
Feels good as he comes back from his injury. Called the injury bug he's battled the past two years "annoying."After having three surgeries throughout his career he views his current situation as needing to get as many reps as he can; pushing through the mental hurdles that comes with coming back from an injury and the pain that will occur at timesAsked if he considers himself a starter – he smiled and said he wouldn't touch that question adding that everyone competing at EDGE are working hard "I need to keep taking reps to build confidence"Despite the EDGE room being so thin, he says everyone in that room is looking at it as an opportunity to get better since they have an opportunity to get more reps right now"I have to live everyday so I don't have an option to say I can't do something"Praying and as well as talking with coach Sterling Lucas has helped him through the past few months but because he's been injured several times before throughout his career, going back to NC State, he feels like he's mentally tougher this time aroundCalls coach Lucas a great coach and someone that can relate to the players from being close to their age to the fact of being able to understand some of the struggles they deal with as players since he went through it himself
O'Donnell Fortune
He's watched his 100-yard pick-6 from the Gator Bowl about 100x. Adds that he tried to watch it every day for inspiration.Says DB coach Torrian Gray brings more energy than any coach he's ever been around. Says Gray connects with you on a personal level because he's a family man and knows what's going on in your life off the field, which helps players build trust with himBeen going up against Juice Wells a good bit in practice. Says you never know who's gonna come down with the ball when it's in the air because they've been battling
Mo Kaba
Rehab has been going well. Doesn't expect to be back on the field this spring but will be good to go for fall campKnew exactly what his injury was when it happened. Knows how to go about the process of handling everything, which has helped him out a lot this time around.First two weeks after the injury he was trying to go through all of the emotions. Once he was able to get the emotions out of the way, he was able to have the surgery and move forward.Because he can't be out there on the field he feels like his note taking has been better when it comes to learning the playbook. He's constantly asking questions to the players who are out there in practiceHas been proud of the way Stone Blanton has been able to make the most out of his opportunities so far
The post South Carolina defensive players media availability recap – 3/22 appeared first on On3.