South Carolina hitter trends, putting Ethan Petry's start into perspective before top-10 tilt
5 min read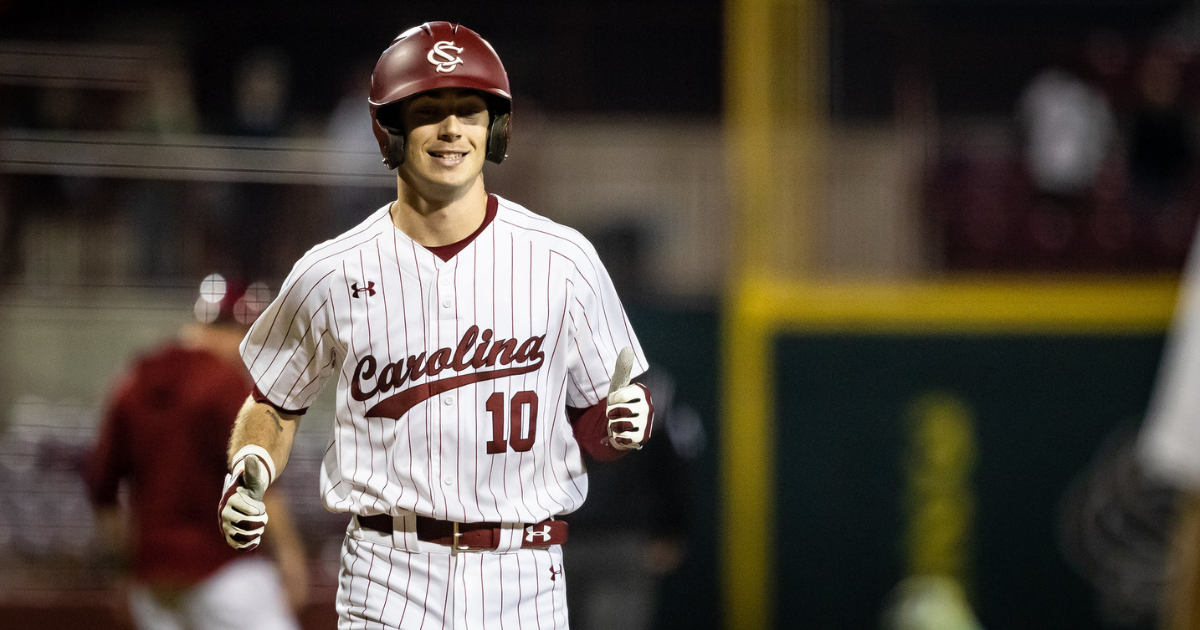 For the second straight week, the eyes of the college baseball world will be on a series South Carolina is playing. 
The Gamecocks head up to Vanderbilt for a top-10 showdown against the Dores, three games featuring two candidates for national seeds with six weeks left to play. 
It's the second of three straight massive tests for the Gamecocks, who played LSU last week and host Florida next.
One of the reasons South Carolina is in this spot is because of its offense, so let's look at some hitter trends before the weekend series.
[Subscribe to Gamecock Central until Aug. 31 for only $29.99!]
Infielders
South Carolina's infielders have been feast or famine at times over the last 10 games, effectively since Will McGillis went out with a broken arm. 
His injury forced Braylen Wimmer into the leadoff role and there have been some good moments–including a pair of leadoff bombs against Mississippi State–and some inconsistencies. 
Wimmer is slashing .233/.327/.465 with 10 strikeouts to five walks. He has driven in nine, including two against LSU with one a solo shot off of Paul Skenes. 
The Gamecocks would obviously like their leadoff hitter to get on base a little bit more than at a .327 clip, and Wimmer is still trying to settle there. 
One hitter playing very well right now is Talmadge LeCroy, who's slashing .314/.457/.371 and giving the Gamecocks a boon at the bottom third of the order. 
Teams have walked (8) LeCroy almost as much as they've struck him out (9). LeCroy also has six runs driven in to pair with it. The Gamecocks are going to need LeCroy to keep up that kind of on-base percentage and set the table for the top of the order.
His batting average on balls in play (BABIP)–which measures batting average when a player isn't hitting homers or striking out–is .407, which is incredibly good. 
[Become an NIL supporter of your South Carolina Gamecocks!]
After a red-hot stretch, Gavin Casas has cooled some, hitting just .250/.400/.550 with 14 strikeouts in his last 40 at-bats. Teams have walked and hit him a ton (10 combined) while Casas has six extra-base hits. But his average has dipped. 
"Teams are trying to pound him in right now. You're seeing a lot of hit by pitches with him recently. They're trying to pound him in. That's the great thing about baseball," Kingston said. "It becomes a chess match. He adjusted to them early on and he adjusted back. Now it's his turn to adjust, sit on certain pitches and adjust so they feel like they have to make another adjustment."
The on-base percentage and slugging are there, though, which still makes him a very valuable piece of the offense. He'll make his return to Vanderbilt, where he began his career, this weekend.
"I think everyone handles that differently. The key for him is as best he can treat it like it's baseball," Mark Kingston said. "He's a Gamecock going back to play another good team. Try and handle that as best as you can. They'll be some emotions for him. He's human. There will be emotions there. 
PlayerSlash lineRuns scoredRBIWalksStrikeoutsHome runsBABIPGavin Casas (40 at-bats).250/.400/.5501086143.304Braylen Wimmer (43 at-bats).233/.327/.4651095102.233Cole Messina (39 at-bats).256/.383/.436109571.290Talmadge LeCroy (35 at-bats).341/.457/.37136890.407
Outfielders
It's hard to put into context how good Ethan Petry has been this year for the Gamecocks, but it's he's on pace to finish with the best freshmen season in program history. 
Right now he's hitting .449/.507/.898 and is on pace to finish with 88 hits, 26 homers, 86 RBI and total 176 bases. That would shatter school freshman records in average, home runs, RBI, total bases and slugging. He'd finish one hit shy of tying Jackie Bradley's 89 hits in 2009. 
Over his last 10 games, he's slashing .486/.592/1.023 with six homers and 20 RBI. 
But he's not the only outfielder hitting really well right now. Since being reinserted into the lineup against Mississippi State (seven games, 18 at-bats), Dylan Brewer is slashing .435/.594/.870 with more walks (7) than strikeouts (5). He's also hit three homers and scored 10 times in that stretch. 
The Gamecocks are also 5-2 in that stretch. He gives the Gamecocks another really quality left-handed bat in the lineup and, if he can continue to hit well, another potential top-of-the-lineup bat.
[Subscribe for free to Gamecock Central's YouTube page!]
"He's swinging the bat for us as well as anybody over the last two weeks. I'm really happy with him," Kingston said. "He started the year as a starter, came out of the lineup for a while but kept working and kept a great attitude as a teammate. You tend to be rewarded when you do that. Now that he's been reinserted into the lineup and swinging it well, he's another really good story for this team."
PlayerSlash lineRuns scoredRBIWalksStrikeoutsHome runsBABIPEthan Petry (37 at-bats).486/.592/1.02715206116.571Dylan Brewer (23 at-bats).435/.594/.870105753.467
Catcher
Cole Messina continues to have some really good moments and some inconsistent play, similar to Braylen Wimmer. He's hitting .256/.383/.436 with nine RBI and four doubles in his last 10 games. 
The average isn't gaudy, but Messina is hitting for a lot of power, still getting on base at a decent cilp and scoring 10 times in 10 games.
The average could certainly tick up, but it's hard to argue Messina's production right in the heart of South Carolina's order.
Scouting Vanderbilt
The Dores started off the year slow offensively but have really picked it up since the start of SEC play. Vanderbilt is slashing .290/.403/.482 this season but a whopping .383/.497/.742 in 12 SEC games en route to an 11-1 start.
Ranked No. 4 in both major polls and No. 7 in the RPI, Vanderbilt started SEC play with sweeps over Ole Miss, Mississippi State and Georgia. The Commodores went 2-1 last weekend at Missouri.
It's led by Chris Maldonado, Matthew Polk, RJ Schreck and All-American Enrique Bradfield Jr., who's one of the best centerfielders and base-stealers in the country. 
[Get South Carolina baseball news and analysis via email]
Vanderbilt as a team has stolen 54 bases in 67 attempts, 25 of those by Bradfield. 
It's arguably the best pitching staff in the SEC, headlined by lefties Devin Futrell and Hunter Owen. The two have combined to allow just 27 earned runs in 86.2 innings. Carter Holton (3-0, 2.59 ERA), another weekend starter, missed last week's start and is questionable this weekend.
As a staff, Vanderbilt has just a 3.18 ERA this year with 330 strikeouts to 119 walks. Teams are slashing just .195/.293/.313 against them. In SEC play, Vanderbilt has a 3.28 ERA with 94 strikeouts and 29 walks. They're allowing teams to hit .212/.279/.349 in 12 games.   
Series details
Who: No. 6 South Carolina (29-4, 9-2 SEC) at No. 4 Vanderbilt (27-6, 11-1 SEC)
When: Friday, April 14 through Sunday, April 16
Game times (ET): Friday, 7 p.m.; Saturday, 3 p.m., Sunday, 2 p.m.
How to watch: SEC Network Plus
How to listen: 107.5 FM and the Gamecock Radio Network
Probable pitchers
Friday: RHP Will Sanders (2-1, 4.72 ERA) vs. RHP Bryce Cunningham (1-0, 3.20 ERA)
Saturday: RHP Jack Mahoney (3-0, 3.12 ERA) vs. TBA
Sunday: TBA vs. LHP Devin Futrell (6-1, 2.21 ERA)
The post South Carolina hitter trends, putting Ethan Petry's start into perspective before top-10 tilt appeared first on On3.