South Carolina, Shane Beamer adjusting to ever-growing transfer portal
3 min read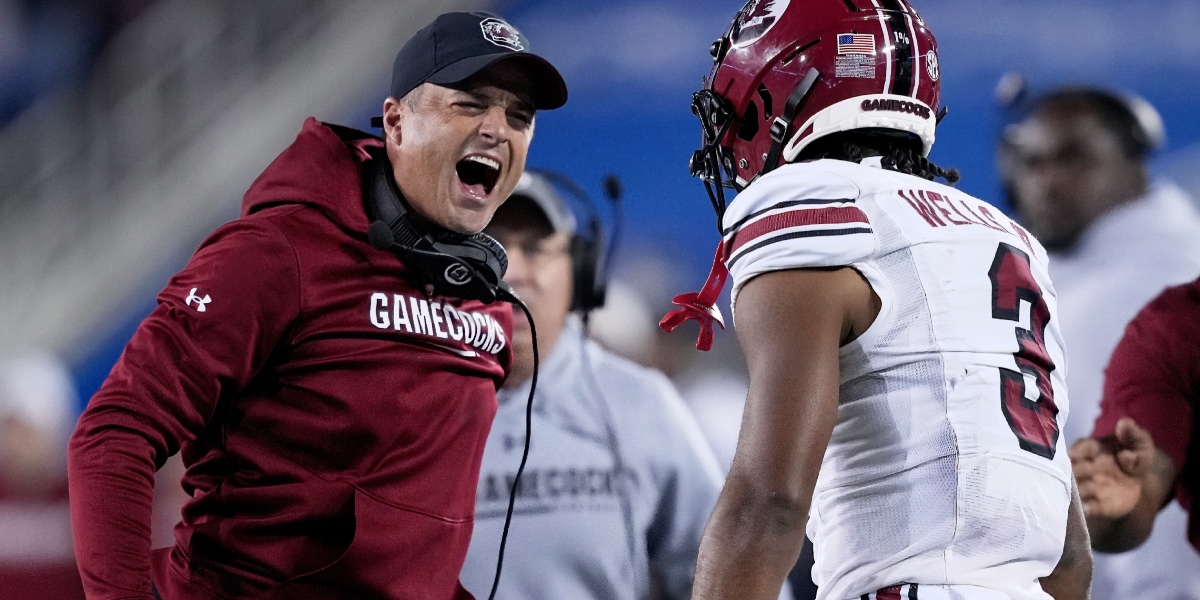 The transfer portal is changing college sports as we know it. But regardless of how a coach feels about the portal, it's not going anywhere anytime soon.
Instead of complaining about it, South Carolina has adjusted to this new norm the best they can.
"You hate to see anyone leave but you realize that it's inevitable," said South Carolina head football coach Shane Beamer. "We're gonna have guys that, as long as I'm the head coach here, will probably enter the portal after the season in December and then after spring practice(s) for whatever reason. You understand that but you don't like it. I want everybody to have a great experience at Carolina and want to be here."
This past academic year, 16 players from South Carolina entered the transfer portal. While that number may sound high it's not even close to what some other SEC schools are facing. Florida and Arkansas each saw more than 25 players from their programs hit the transfer portal. Meanwhile, Ole Miss and Texas A&M saw 30 players each leave. In fact, only Colorado had more players transfer out than the Rebels and Aggies.
"We had some guys who left our program after spring practices that I talked to (last Monday) and just trying to help them find somewhere. We had some guys that left after the season for different reasons and you wish them well. (You) don't spend a lot of time worrying about the ones who aren't in the program. We have 120 players on the team. If we lose three or four players like we did after the season or whatever it was that means I have 116 other guys. I feel pretty dang good about what we're doing as a football program and I choose to focus on that. I see what's going on with some of our competitors and how many people they have in the portal. You understand it's a reality and you're gonna have some (players who will enter the transfer portal). But, I'm pleased with where we are. I'll say that."
According to On3's database more than 2,650 FBS players entered the portal this past academic year. Between playing time, wanting to be closer to home, or seeking different NIL opportunities, there's not just one reason why players are entering the portal.
"The thing that we try to do in recruiting is to be honest with them. They understand what they're getting into when they come to our program. They understand that there's gonna be a lot of joy and we're gonna have a lot of fun but it's gonna be really, really hard. It's not easy being a player in our program. And if a guy leaves for whatever reason, whatever it may be and every situation is different, you wish them well."
At some schools, players have dipped their toes into the transfer portal only to turn around and return to that same school. On3 has tracked at least 52 players who have done just that this past year. While that hasn't happened to Shane Beamer before, he shed some light on how they would handle it at South Carolina.
"I think every situation is different. I think a lot of that is based on what was that particular player's status on the team before they went in the portal? Why did they go in the portal? Were they getting pressure from the outside from different people to go in the portal? Why do they want to come back? What do their former teammates say about them? So, I think every situation is different and I don't want to back myself into a corner on any situation. Like I tell out players and coaches, every decision I make as the head football coach as South Carolina will always be what I feel like is best for the South Carolina football program. That's short-term, long-term, and that's not just necessarily winning games. That's what's best for us as a program."
The post South Carolina, Shane Beamer adjusting to ever-growing transfer portal appeared first on On3.