South Carolina women's basketball: Year-end notebook
4 min read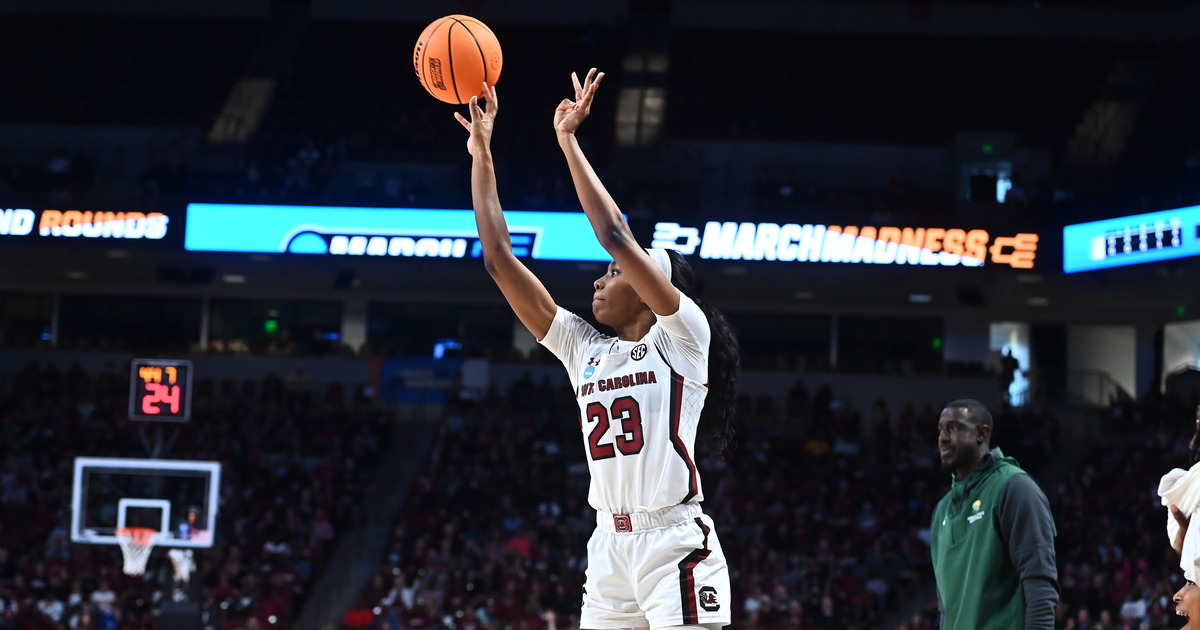 South Carolina Women's Basketball: News • Recruiting • Schedule • Roster • Stats • SEC • Polls • Scholarships
Ratings
The ratings for this year's tournament weren't just through the roof, they were astronomical. South Carolina's semifinal loss to Iowa averaged 5.5 million viewers with a peak of 6.6 million. That was not only the most-viewed semifinal ever, it dwarfed last season's championship game (4.85 million).
The championship game aired on ABC for the first time and drew an average of 9.9 million viewers with a peak of 12.6  million. It was the most-watched women's basketball game ever, despite airing in the middle of the day instead of prime time. At the risk of sounding like a homer, it also reached those numbers despite not including South Carolina, which has been the biggest draw in the sport the past two seasons. 
The men's championship game was in prime time Monday but only drew 14.69 million viewers. According to Sports Media Watch, that was one of only three men's tournament games that outdrew the women's final. 
According to Sports Media Watch:
"Sunday's audience matched or exceeded every game of last year's NBA Playoffs except for the NBA Finals (Game 7 of the Celtics-Heat Eastern Conference Finals also averaged 9.9 million) and topped every game of last year's Major League Baseball Postseason except for the World Series, every NASCAR race since 2017 (including the Daytona 500) and every NHL game in more than 50 years (including the Stanley Cup Final).
Only 11 college football games averaged a larger audience during last season, including the playoff. The Rose Bowl had only slightly more viewers at 10.19 million."
Vindication
Funnily, Sunday's national championship was good for South Carolina even though the Gamecocks had been sent home.
Dawn Staley has been complaining about the racial undertones used in covering her team for several years, but with limited results. She hasn't complained about the officiating as much, but everyone who watches South Carolina games knows that the officials often let opponents hack away at the Gamecocks while calling a tight game on the other end.
Both things happened in front of some 10 million people on Sunday, and everyone noticed. The people who criticized Angel Reese, a black player, for trash-talking, were confronted with the fact that she was only mimicking Caitlin Clark, a white player. But she was being judged differently, just like Staley has said.
The officiating was roundly criticized, but it was a problem all tournament. Crews, even very good crews, seemed to waffle between swallowing the whistle and calling every foul. Some coaches seemed to be able to easily intimidate officials to get calls. 
I saw one official run away from a coach instead of issuing a technical, and coaches, especially Kim Mulkey, were repeatedly allowed out near midcourt throughout the tournament (even during an opposing payer's free throws).
I've said before, there is no easy fix to the officiating problem, and that is still true. NBA officials are the best in the world and look how many calls they miss. Women's college basketball is at least three rungs below that, so naturally, it is going to be worse. But at least maybe the problem will get some attention now.
Future sites
The future Final Four schedule is Cleveland (2024), Tampa (2025), Phoenix (2026), Columbus, OH (2027), Indianapolis (2028), San Antonio (2029), Portland, OR (2030), and Dallas (2031).
The future region sites are Albany and Portland (2024), Birmingham and Spokane (2025), and Fort Worth and Sacramento (2026). 
The wisdom of the scheduling for both is questionable. Having two host sites produced record attendance this year, but in two of the next three years, there is no host site in the southeast. The southeast is the hotbed of women's basketball, with the last two national championships and three of the Final Four teams.
Growth
For the media covering this year's Final Four, it became immediately apparent that the NCAA and the host committee did not anticipate the amount of interest generated this season. 
They ran out of room in the media hotel, credentials were still being printed on the second day of pickup, and the seating chart had three people squeezed into two spots.
In every case, the host committee did an admirable job of making things run as smoothly as possible. I'm not trying to embarrass them or complain. But it was obvious that the women's Final Four is close to outgrowing its "one basketball arena" hosting pattern. 
It's a good problem to have, obviously, but a problem nonetheless. That's why scheduling Final Fours a decade in advance feels like another case of the NCAA deliberately undervaluing women's basketball. It's not big enough to move to football stadiums like the men's Final Four, but by announcing the future sites the NCAA has ended the discussion before it can start.
The post South Carolina women's basketball: Year-end notebook appeared first on On3.