Spring Camp Notes & Observations: Day 13 Report
5 min read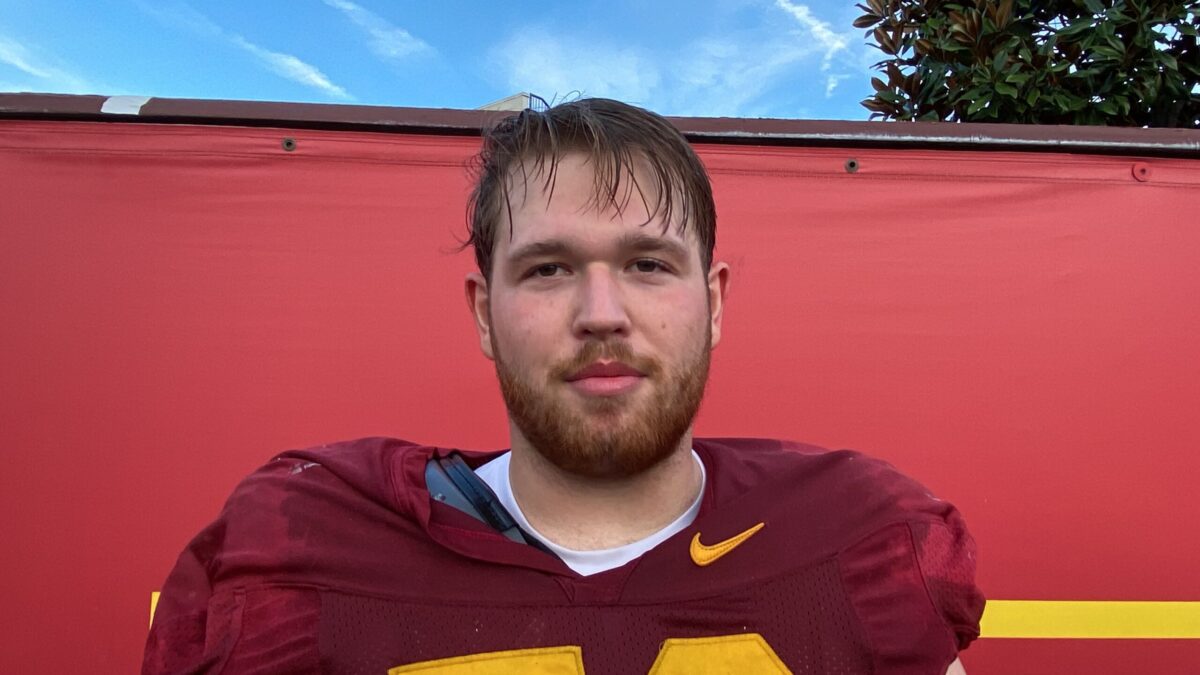 **Back in California and back to the regular routine of getting to campus way too early.
**I left behind the 98-degree heat forecast for the week in Arzona and found myself in 70-degree bliss with an overcast sky burning off like a Santa Barbara summer's day.–For future reference, summers along the coast in Santa Barbara/Goleta are hazy and overcast until around 1:00 PM, and then it's gorgeous.
**Around 3:15 the snack carts come rolling through after the practice music started 5 minutes earlier.
**Let's get the bad news out of the way early.–You've probably heard by now that Courtland Ford has decided to leave the team. Per one source, Lexington Kentucky is a destination.–Sometimes things don't work out.
**The Oline is now on my "we have some mild concerns" list.–I'll peel back the layers later about what I can say, as well as on the Locked On USC podcast.
**Practice is at 4:05 PM. At 3:35 I spy my first players, Daniel Meunier(he is always 1st), Michael McAllister, Will Rose, Denis Lynch, and Jac Casasante. The kicker and snapper have their gold-plated helmets in hand. After practice, Riley mentioned that a few more players have earned theirs but he wants to have a "special announcement." He talked about how last year's standard to earn the plate has been raised.
**Shaun Nua is the first among the coaches to hit the field. He's followed soon after by Kiel McDonald is having a conversation with Aadyn Sleep-Dalton and wishing "him all the good."
**Solomon Tuilaupupu has a new haircut. He shave it all off and if you thought he was intimidating before, he not only looks like a D1 DLineman, he's playing like one. I keep getting off-the-record reports from players and folks attached to the program that "Solo is killing it!"
**Head of S&C, Bennie Wylie is coming up the ramp from the McKay Center and it looks like he's wearing Kevlar bullet-proof vest.
**There are a lot of guests watching practice today. One of them is Stafon Johnson. When Taylor Mays spots him they have a warm embrace. Stafon brought his son and nephew as well as members of the Dorsey high school team that he coaches. I also saw Daniel Imatorbhebhe hanging out.
**Lincoln Riley had his running shoes on heading to practice and one of the security guards directed him to where he needed to be. Following practice there is typically some whooping and hollering. Not today, for nearly 30 minutes it was quiet inside while the team huddled up.
**What was interesting is when the media was asked to join the practice, I had a Deja Vu moment. I saw recruits, parents, and coaches, and some brought their own chairs and were enjoying the practice like the old Pete Carroll days.
**Coach Bookie Radley-Hiles is bringing some energy to the DB position drills. On his way to practice, he's all about "Let's Rock N Roll!" When the defense goes through its pursuit/hustle drill, Bookie wasn't happy with a player's effort and made him give him 10 pushups.
**I have no idea about their personal relationships, however, Alex Grinch, Donte Williams, and Bookie are high-energy when they're coaching.—Not sure, but I think it was Alex who said, "bring something to the group."–The message was to make us all better.
**Coach Roy Manning kept saying "54….54…54" as he ran by Jamil Muhammad. Hard to believe he was once a QB at Vanderbilt. He looks like an LB plain and simple with a gold-plated helmet.
**Always cool when the players say hello before or after practice. I put the request in with Katie Ryan on Monday to speak with Andrew Milek at Tuesday's practice. Milek was ready when it was his turn and he killed it!
**I asked him about the Oline room and the news about Courtland, and he was very candid with his responses. He, Jonah Monheim, and Andres Dewerk are the last OLinemen from the 2020 class still on the team.
**His name is Rob and he is one of the team videographers; he had players mugging for the camera on their way to practice. When Caleb Williams saw him he ran up saying "3—2—1—-Cheese!!!" All of the players were having fun with this, including Brenden Rice.
**Following practice Caleb said he anticipates a bigger spring game crowd than last years.
**Lincoln Riley knows that defense and special teams are important to the team's success in 2023. This was the first time I remember watching him watch the returners doing drills during the skip & stretch portion of practice. After Quinten Joyner received one of the kickoffs, Riley patted him on the helmet in support of his work. Raleek Brown, Dorian Singer, and Tahj Washington were involved too.
**Zachariah Branch and Michael Jackson III are doing most of the punt returns.
**When the team breaks into their position groups, there was a hold-your-breath moment during the tackle-the-donut drill. Zion Branch lost his footing at the whistle, and for a second it was like, "uh oh." He was fine, he just slipped. When Zion tackles, he tackles with violent intent; it looks like he's trying to rip the donut in half and he is not the only one.
**Eric Gentry is walking around with a walking boot. I think I remember Riley saying Gentry would be ready right after camp.
**The linebackers are tackling to the ground in their coverage drill. Happy Birthday Raesjon Davis whose place in the rotation earns him a solid shot from Tackett Curtis. When the two are walking side by side after practice, you can see how big the freshman is next to Davis.–And Raesjon got bigger!
**The DLine and Rush Ends are working on the blocking sleds with their hand placement.
**Random observation** while waiting for the interview session after practice. Some Yahoo wearing a UCLA warmup jacket is riding one of those electric skateboards down McClintock, and he has a girl riding sidesaddle between his legs.
**The horn section of the Spirit of Troy is playing a rendition of Kung Fu Fighting in front of Heritage Hall.–Yea, no—it doesn't work for me!
**The team will be back on Thursday and then the spring game on Saturday. And then camp is over.
**I asked Lincoln what Mike Leach would say knowing a couple of his proteges are working together at USC. He started to laugh and was looking for a G-rated version. Riley knows that Mike would have said something leaning towards a joke not meant for the workspace, but deep down he would have loved it.
The post Spring Camp Notes & Observations: Day 13 Report appeared first on On3.