Spring Camp Notes & Observations: Day 14 Report
5 min read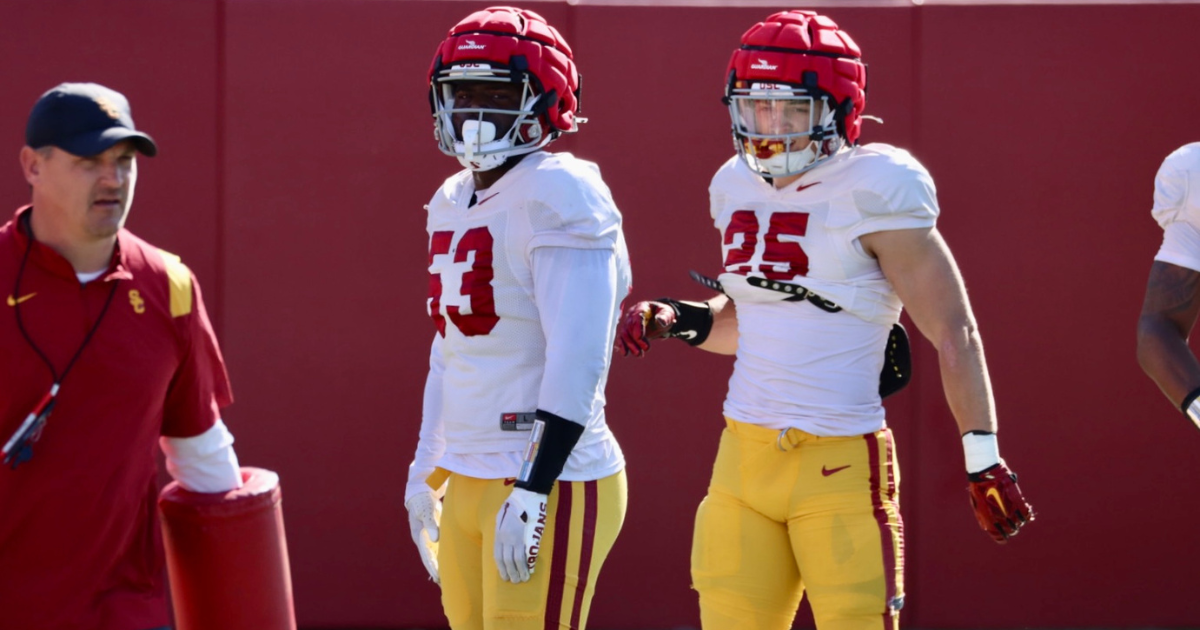 **How many schools now get to lay a claim to Jalen Hurts? The former Alabama, Oklahoma, and current Philadelphia Eagles star QB, Jalen Hurts was the day's special guest. The allure of USC stealing Lincoln Riley away from Norman is one thing, but now this? Who's next Kyler Murray?
**Clark Stroud orchestrated the VIP's arrival. When Stroud arrived for practice he was riding one of the scooters that everyone on the roster received. When Jalen showed up to get his parking permit from Clark in the middle of McClintock, let's just say Jalen's scooter had a much higher price tag.
**Jalen might be an NFL superstar, however, Jake Olson is still a Trojan superstar. He's at practice with his best friend Quebec, and after rekindling with friends for a while he heads over to the special teams group and takes a picture.
**Thursday marked the last practice day before the team suits up for the spring game on Saturday. Is it still called the Trojan Huddle? Once the game concludes, that's it until summer PRPs.
**Unlike the next to last day of camp, by the time PRPs start the sun should be an everyday sight. It was cold, overcast gray, and it even drizzled a few drops.
**Marc just got the memo—you're on your own today!
**At 3:15 I can hear Meek Mill playing over the loudspeakers as the guys slowly start to trickle in for practice. I like to point out how often I arrive early for practice all the time. You know who is always first to the field like clockwork No. 48 Daniel Lemeunier. I sort of recognize the Meek song, however, I definitely know what's playing when the media is watching the start of practice, Eminem's Lose Yourself. I think enough time has passed that USC should bring that back and make it their permanent Enter The Sandman.
**Coach Kiel McDonald is "Ready to go!"—And so is his position group. Typically special teams are the first guys to make their way through Goux Gate but today the running backs receive the early-bird award. They are an impressive bunch to stare at, and there is a consensus true freshman A'Marion Peterson is already physically bigger than the rest.–No. 27 will remind fans on Saturday of a young LenDale White.
**Coach Nua let his hair down and it has a flow to it when he walks, meanwhile Solomon Tuliaupupu and his shaved head are flashing the Victory Salute. I told you he was having a solid camp. He ran with the 1st unit in the hustle/pursuit drill.
**Korey Foreman is hustling out to practice doing a quick jog and I think it was Bookie who is walking with Bennie Wylie said, "You go No. 0!"
**Anthony Lucas challenged the Trojan Sword with his gauntlet but the sword kept the glove. I think they were new gloves because they stuck to the bronze as he was passing it.
**I see Gavin Morris and he has on a We "heart" transfers shirt so when we make eye contact I gave him the finger-shame motion for celebrating the Lakers making the playoffs on Twitter. He saw it online and said, "Marc making people mad again lol"–I'm sorry, just making the playoffs is not what Laker fans should celebrate.
**Each time I see freshman OT Elijah Page I am more convinced that he'll play this season. Not making the claim he'll start but he passes the eyeball test. When the squad broke into offense and defense I saw an OLine group lined up from L–R: Michael Tarquin, Gino Quinones, Justin Dedich, Jarret Kingston, and Jonah Monheim. Of that group, Kingston is the smallest.
**Not sure if he's a recruit, however, Carson Tabaraci's little brother is getting a tour from big brother. Other notables watching practice on Thursday were 2023 commy Micah Banuelos and 2024 prospect Jason Mitchell.
**Backup OLineman Cooper Lovelace looks at the gray sky and feels the cool air and yells out "What a beautiful sunny day!!"
I think Caleb Williams just mocked the few of us from the media who showed up for the player's practice entrance. He came running up saying cheese for the cameras, but it felt sarcastic.
**Yogi Roth is walking the practice field with Lane Kiffin's Denny's menu play sheet.
**Brian Odom spoke with the media following the day and he is pretty excited with the group he has, and spoke very highly of the freshman Tackett Curtis. On Mason Cobb, Odom said, "He was born to play middle linebacker."
**When the LB group was going through the drills, one routine showed the backers racing around a cone and then meeting for impact with the ball carrier —Curtis is 100% physical effort every repetition.
*Shane Lee met with the press after practice and the player that impressed him the most so far is Anthony Lucas. Lee is not sure how a guy of Lucas's size can do the things he does. Freaky athlete.
**I wanted to know how they're keeping Eric Gentry involved when he's unable to practice, and Coach Odom gave a great detailed answer. Lee followed Odom up with a funny anecdote about a video clip Lee saw of Gentry watching the action from the sideline; Shane said Eric was doing some funny body gesticulations while in the moment from the sidelines.
**Donte Williams was asked about Joshua Jackson Jr.'s status with the team during the media scrum, and Donte said he wasn't sure of his status. It was obvious that he was uncomfortable with the question. He was very comfortable talking up Ceyair Wright and the other CBs who are "making plays this spring."
**Alex Grinch was into it today while putting the guys through their drills. At one point he had to tell the guys to dial it back while they were attacking the rolling donut tackle drill.
The post Spring Camp Notes & Observations: Day 14 Report appeared first on On3.